printer friendly version
Yokogawa launches Rotamass TI product portfolio
July 2016
Mass Measurement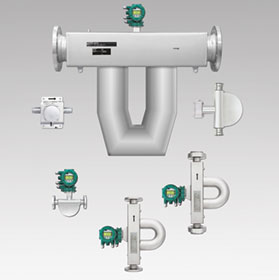 Yokogawa has announced the global release in all markets other than Japan of Royamass Total Insight (TI), a new portfolio of four-wire Coriolis mass flowmeters and transmitters. This new Coriolis product platform was developed based on a 'Total Insight' concept that seeks to optimise operations and reduce maintenance costs at all phases of the product lifecycle.
Development background
Of the two main types of flowmeters that are in use today – the volume flowmeter and the mass flowmeter – the latter is generally more accurate as its measurements are less susceptible to variations in temperature and pressure. Coriolis mass flowmeters are versatile and highly accurate instruments whose utility extends beyond mass flow, inline density, and temperature measurement. They have evolved into multi-functional devices that can measure concentrations, function as net oil computers (NOC), and even measure heat transport. Its customers expect first-class performance from these instruments in demanding process control applications that involve liquids with high viscosity, entrained gas, and two-phase flows.
Rota Yokogawa, a Yokogawa subsidiary in Germany, has been producing and supplying Rotamass series mass flowmeters to the global market since 1993. The company continues refining these products to add more value and future proof the investments that its customers make. By giving greater insight into the processes, these Coriolis meters help them improve the efficiency and flexibility of operations and reduce maintenance costs at every stage of the product lifecycle.
Product features
Designed based on a unique philosophy that emphasises full product lifecycle support, ease-of-use, and reduced total cost of ownership, the Rotamass TI product portfolio consists of six new sensor product lines and two new transmitters, which can be configured to suit the specific requirements of an application. At the heart of this design is the concept of gaining 'Total Insight' into a plant's operations. The new sensor product lines have each been designed for specific application requirements and process conditions, be it high pressure or high temperature applications, or highly challenging processes involving hygienic or cryogenic conditions. The new general-purpose (Essential) and high-end (Ultimate) transmitters are all supplied with an AC/DC universal power supply and can be flexibly configured to handle a range of functions.
Introduction phase solution – selection tool and expert guide: Yokogawa has developed a new tool that will assist our customers in selecting the optimal sensor and transmitter combination for specific applications. In addition, an online expert guide and a built-in configuration wizard are provided to ensure quick and error-free commissioning.
Operational phase solution – Process Guard function for event management: Yokogawa has added a Process Guard function that can be used to select event patterns for the issuance of alarms, configure the triggering of data logging based on alarms or manually set points, and specify whether data is to be backed up to a microSD card for use in root cause analysis.
Post-implementation phase solution – facilitating preventive maintenance and advanced flexibility: A Maintenance Manager function that includes Yokogawa's patented Tube Health Check technology monitors all key sensing elements while the flowmeter is in use, yielding data that can be used to minimise disruptions and thereby reduce maintenance costs. All data can be stored on a microSD card for easy data transfer. A new Feature On Demand (FOD) option is available that allows users to upgrade already installed flowmeters by adding new product functions such as the Tube Health Check and a concentration measurement function.
Andreas Dobratz, the managing director of Rota Yokogawa, offered the following observations about these new products: "Yokogawa's new Coriolis mass flowmeter portfolio sets a new standard in the industry. Rotamass TI offers improved specifications under real conditions, supporting an increased number of applications. The holistic approach of the 'Total Insight' philosophy supports the customer in all stages of the product lifecycle, significantly improving operations and plant maintenance."
Masatoshi Nakahara, a Yokogawa director and executive vice president who is head of the IA Platform Business Headquarters, commented: "With its Transformation 2017 mid-term business plan, Yokogawa has set forth a number of strategies for its industrial automation business. One of these strategies is to enhance and develop the platform products that are at the core of our solutions. Based on our new 'Total Insight' concept, Rotamass TI will generate new value for our customers."
For more information contact Christie Cronje, Yokogawa South Africa, +27 (0)11 831 6300, christie.cronje@za.yokogawa.com, www.yokogawa.com/za
Credit(s)
Further reading:
Water resource sustainability management
July 2021, Yokogawa South Africa , System Integration & Control Systems Design
One way Yokogawa is successfully pursuing its sustainability goals is through its service to the global water industry.
Read more...
---
Digital twin for refinery production
June 2021, Yokogawa South Africa , IT in Manufacturing
Within Repsol's Industrial Business, the development of a refinery digital twin leads the digitalisation program. The digital twin maximises production while optimising energy consumption.
Read more...
---
Expert advice for a stress-free digital transformation journey
May 2021, Yokogawa South Africa , IT in Manufacturing
The journey begins with a digital roadmap, which is a strategic plan to bring change to the company. It is all-encompassing in the organisation and goes beyond technology, IT and OT."
Read more...
---
Make bin level sensors redundant
November 2020, DRH Components , Mass Measurement
Today it is critical to know and understand inventory down to the last unit in order to be efficient.
Read more...
---
Best practices in measurement
September 2020, Yokogawa South Africa , Maintenance, Test & Measurement, Calibration
Operating envelopes are changing and the impact of these changes on instrumentation must not be underestimated. Instrumentation with a design rating of a particular capacity is heavily stressed when the load is increased.
Read more...
---
The digital twin explained
August 2020, Yokogawa South Africa , IT in Manufacturing
The digital twin defined
A digital twin is a virtual, digital copy of a device, system, or process that accurately mimics actual performance in real time, is executable, can be manipulated, and allows 
...
Read more...
---
How investing in a niche market placed Yokogawa aboard the International Space Station
June 2020, Yokogawa South Africa , News
While the world was abuzz with excitement over the revival of U.S. manned spaceflight, another equally promising space endeavour flew under the radar. On 20 May, the H-II Transfer Vehicle (HTV-9), affectionately 
...
Read more...
---
Belt conveyor weighing applications
June 2020, Loadtech Loadcells , Mass Measurement
Loadtech's LT1320 is a precision digital indicator for belt weighing applications. The unit takes the weight and speed information from a belt conveyor system and accurately calculates the rate and total 
...
Read more...
---
Positive displacement vs Coriolis meters
March 2020, Soliflo , Mass Measurement
Positive displacement (PD) is a practical and accurate method to achieve volumetric measurement of refined hydrocarbons, according to tests undertaken by Brodie International in the USA.
Read more...
---
Ultra-compact weighing electronics
March 2020, Siemens Digital Industries , Mass Measurement
Siwarex WP351 is Siemens' newest solution for intelligent weighing automation. Measuring 20 mm width by 65 mm height, the module is one of the smallest weighing electronics units available. The device's 
...
Read more...
---