printer friendly version
SMC's energy efficient regulators deliver savings
March 2016
Pneumatics & Hydraulics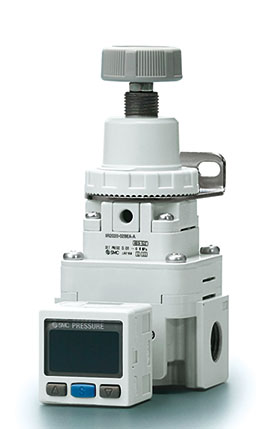 SMC has launched two regulators, the basic IR#200-A and precision IR#000-A that feature a new internal bleeding structure, which almost doubles the flow rate and eliminates the fix throttle.
The result is a number of savings for those in manufacturing utilising pneumatic applications, such as accurate balance pressure setting, contact pressure control and residual pressure relief.
SMC said: "We are always seeking ways to enhance our existing product range so that our customers can be as efficient as possible in terms of costs, environment and performance. These two new regulators certainly deliver on all levels and we are confident they will be a successful addition to our existing range."
The IR#000-A offers exceptional precision by achieving repeatability within 0,5% of full span and low air consumption of just one l/min or less. Although not as accurate, with repeatability within 1% of full span, the IR#200-A features a bleed air '0', generating less noise by reducing the frequency of the compressor start-up. Their intelligent design also avoids the need for purchasing additional components, such as a mist separator, delivering cost and space savings.
Flexibility is key when it comes to both series, as they are available in three sizes with a trio of set pressure ranges. Together with a knob direction that can be moved upwards or downwards, they also feature a digital pressure switch as standard.
Lighter in weight, these regulators are easy to handle and mounting is interchangeable with the existing IR Series, making it simple for customers to adapt to the new models.
For more information contact SMC Pneumatics South Africa, +27 (0)11 568 2407, sales@smcpneumatics.co.za, www.smcpneumatics.co.za
Credit(s)
Further reading:
SMC's energy efficient vacuum solutions
October 2020, SMC Corporation South Africa , Pneumatics & Hydraulics
SMC has placed great emphasis on the design of its vacuum range and helps its customers select the best vacuum system for their application.
Read more...
---
Rethinking pneumatic technology for the factories of the future
September 2020, Parker Hannifin - Sales Company South Africa , Pneumatics & Hydraulics
Does a technology such as pneumatics have a central role to play in the flexible, smart production lines of the factories of the future?
Read more...
---
Hydraulic hose installation and maintenance
September 2020, Bearing Man Group t/a BMG , Pneumatics & Hydraulics
BMG's portfolio of components includes the full range of Eaton Winner hydraulic braided and spiral hose and fittings.
Read more...
---
New product releases from SMC Corporation International Training
September 2020, SMC Corporation South Africa , Training & Education
To ensure a smooth transition and integration for learners from education institutes into industry, SMC International Training equipment is designed based on the latest automation technology used in industry.
Read more...
---
SMC launches wireless valve bank in SA
July 2020, SMC Corporation South Africa , Industrial Wireless
In response to customer demand for a reliable communication system, which could limit the number of cables needed to communicate between multiple valve banks/field sensors and a PLC, a wireless communication 
...
Read more...
---
SMC steps up to support essential service customers through lockdown
June 2020, SMC Corporation South Africa , News
SMC Corporation South Africa, as a leading supplier of advanced pneumatic and electrical automation technology, has remained open and certified as an essential services supplier throughout lockdown. We 
...
Read more...
---
SMC offers services as well as components
April 2020, SMC Corporation South Africa , Enclosures, Cabling & Connectors
Besides being a leading supplier of industrial automation components, SMC South Africa also offers value-added services. One of these is in-house control panel design and construction. This takes a labour 
...
Read more...
---
RS adds self-adjusting double-acting air cylinders
December 2019, RS Components SA , Pneumatics & Hydraulics
RS Components has expanded its offering from factory automation manufacturer Festo to include new double-acting pneumatic cylinders in the DSBC product range. Aimed at both machine builders and maintenance 
...
Read more...
---
Refrigeration compressed air dryers
January 2020, Artic Driers , Pneumatics & Hydraulics
The R Class range of compressed air refrigeration dryers and RSXW chemical adsorption dryers have consistently low dew points, with an attractive entry price and a low cost of ownership once in operation. 
...
Read more...
---
Parker enhances H Series ISO valve portfolio
September 2019, Parker Hannifin - Sales Company South Africa , Pneumatics & Hydraulics
Parker Hannifin has added an expanded range of features and capabilities to its H Series ISO valve platform as part of its global focus on factory automation. Designed with a new universal manifold, the 
...
Read more...
---