printer friendly version
Transformer maintenance essential
March 2016
Electrical Power & Protection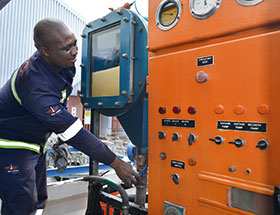 Transformers have often been referred to as one of the most efficient pieces of equipment developed by mankind and, as they have limited moving parts, many individuals believe them to be maintenance-free.
This is far from the truth, according to Andre Mans, COO of WEG Transformers Africa (a division of Zest WEG Manufacturing), who says getting optimum performance and a long functional life from this essential asset is contingent on having a comprehensive preventative maintenance and service strategy in place.
"Preventative maintenance of transformers is critical, not only from an operational reliability perspective, but also because a well-structured maintenance programme will significantly extend the life of the transformer. In most cases it is not inconceivable for a well-maintained transformer installation to have a lifetime that outstrips that of an average human," says Mans.
Custom support programmes
WEG Transformers Africa (WTA) offers a suite of support services for its transformer customer base and these include preventative maintenance programmes that can be structured to accommodate customer needs and/or budgets. Mans stresses that it is, however, most important for customers to do an initial assessment of the transformer installation as this will allow a base-line to be verified and following any corrective action, a customised support programme can be implemented to ensure the optimum reliability of the transformer.
During a preventative maintenance assessment, WTA's team of skilled technicians will rate the transformer according to the application in which it is being used. Following this, a needs-based maintenance strategy is implemented with the objective of reducing the probability of transformer failure.
"We are able to provide verifiable reporting on the condition of the transformer using oil sampling, analysis and thermal graphics surveys, all of which meets international quality standards reporting requirements and are accepted by most insurance policies," says Mans.
"Our maintenance strategies are customised for each installation to track the asset condition and enable verifiable reporting on performance degradation. Preventative maintenance can provide an early warning mechanism as it provides crucial information that could facilitate an early intervention with major servicing or even component replacement," he continues.
On-site preventative maintenance
Transformer oil sampling is carried out by skilled individuals to ensure accuracy and reliability. The manner the sample is taken is critical to the result and sampling tins are only used once to avoid cross contamination.
When drawing the oil sample, the sampling technician will also do a visual external inspection of the transformer against a checklist, as this will pick up any physical issues with the transformer. Evidence of leaks or a change in colour of the silica gel will be a clear indication that there is moisture ingress. The general condition will also give an indication of corrosion.
In addition to the visual assessment and oil sampling and analysis, the WTA team undertakes thermal graphic surveys to determine areas where excessive heat may be present in the transformer and other electrical equipment.
All information is accurately documented to ensure it can be compared against new information from subsequent follow-up on-site condition monitoring inspections.
WTA oil sampling laboratory
One of most important differentiators for the WTA customer base is that the operation has a fully-fledged oil sampling laboratory at its facility in Heidelberg. According to Mans, it is considered by industry as the best privately-run laboratory in the country.
Samples are brought back to this laboratory where state-of-the-art equipment and international best practice is used to analyse the oil. The oil sample is compared to a base-line and this enables the technicians in the laboratory to identify potential problems which cause transformer failure.
The Karl Fischer titration procedure (moisture parts per million (PPM)) is used to determine the moisture content of the oil. High moisture will result in dielectric breakdown.
The oil is analysed to determine where Polychlorinated Biphenyl (PCB) is present because of the high risk factor associated with exposure to this substance and the potential risk should it catch fire. The PCB test is done to identify whether the oil contains PCB and, if so, the amount.
Furanic analysis is also done and this determines the cellulous breakdown products in the oil and gives an indication of the life expectancy of the insulation in the transformer.
Follow up interventions
Following the comprehensive oil analysis, WTA's mobile field service teams are able to implement interventions to address identified issues. These interventions could include anything as basic as re-torqueing the transformer to replacing gaskets and cone rubbers, right up to major on-site repairs, including replacing offload tap changers.
Significantly, the WTA field service teams operate from fully equipped vehicles with all the necessary tooling as well as a 4500 litre per hour high vacuum purification unit. These skilled technicians are able to do the most basic physical inspection to full on-site repair work.
"We are one of few OEMs that can offer this level of support to industry and on-going training ensures that our team is kept abreast of technology, as well as operational skills such as working at height, fire fighting and HV regulations," says Mans.
Other maintenance activities done on site deal primarily with the condition of the transformer and could entail purification and regeneration as well as vacuum treatment being done to eliminate entrapped air.
Oil samples are taken after all interventions to gauge the success of the intervention.
For more information contact Kirsten Larkan, Zest WEG Group Africa, +27 (0)11 723 6000, info@zestweg.com, www.zestweg.com
Credit(s)
Further reading:
Electrical loggers for energy savings
October 2020, Comtest , Electrical Power & Protection
Fluke energy loggers deliver a complete picture to reduce energy costs and improve the bottom line.
Read more...
---
Power supply components and services for marine applications
October 2020 , Electrical Power & Protection
Vert Energy works closely with the marine and offshore sector offering the supply of quality branded components and the support of a comprehensive repair and maintenance service.
Read more...
---
Mines reduce fire hazards
August 2020 , Electrical Power & Protection
Underground mines in southern, central, and west Africa have been seeing the safety benefits of dry-type transformers from Johannesburg-based Trafo Power Solutions. According to managing director 
...
Read more...
---
RS Components stocks Eaton contactors
August 2020, RS Components SA , Electrical Power & Protection
RS Components now stocks Eaton's complete Moeller series of compact DILMT contactors. Easy to integrate in a variety of industrial machines and systems, the contactors enable space savings of up to 40%, 
...
Read more...
---
Zest WEG partners with Panaco Katanga
August 2020, Zest WEG Group , News
As part of strengthening its African footprint, Zest WEG has appointed established local firm Panaco as its value-added reseller (VAR) in the Katanga region of the Democratic Republic of Congo (DRC). 
...
Read more...
---
Power supplies for building automation
June 2020, Phoenix Contact , Electrical Power & Protection
The new Step Power power supplies from Phoenix Contact are specifically tailored to the needs of modern building automation. With their comprehensive approval package, which includes the standard 
...
Read more...
---
Skid-mounted dry-type transformer
June 2020 , Electrical Power & Protection
In a specialised application on a coal mine, Trafo Power Solutions recently supplied a dry-type transformer mounted on a mobile skid. "The harsh environment of a coal mine required us to specially 
...
Read more...
---
Zest grows Africa base with local partners
June 2020, Zest WEG Group , News
"The key to sustainable growth in Africa is partnering with locally owned companies which have proven track records, are technically sound, have strong market knowledge and a business culture aligned 
...
Read more...
---
Customised transformers for renewables and beyond
June 2020 , Electrical Power & Protection
A focus on application engineering allows Trafo Power Solutions to supply customised dry-type transformers for a range of sectors including renewable energy. "We begin at the proposal stage by engaging 
...
Read more...
---
Electrical certificate of compliance (COC) for instrumentation: non-hazardous installations
June 2020, Everest Equipment & Control , Electrical Power & Protection
An instrument and control installation's scope of work often never makes a request for a certificate of compliance: it is assumed to be an electrical function and hence many installations are non-compliant. 
...
Read more...
---