printer friendly version
How does a Zener barrier work?
March 2016
Editor's Choice
For an explosion, all three of gas/dust, oxygen and source of ignition (spark or heat) need to be present. Intrinsic Safety (IS) works on the principle of removing the source of ignition. This can be achieved by using a Zener barrier or galvanic isolator.
The three principles of Ex i design are defined as follows:
1. Limit current.
2. Limit voltage.
3. Limit stored electrical energy.
A Zener barrier is a simple device where the voltage and current (power, energy) is limited into the hazardous area. The voltage is limited (clamped) by a Zener diode and the current limited by an output resistor. The fuse is there to protect the Zener diode. The key to safety is the intrinsically safe (IS) earth. Without it, there is no protection. These components are all 'Safety Components' meaning components upon which safety depends. The Zener barrier is usually designed for zone 0 connectivity [Exia] and can then be used for zone 1 [Exib] and zone 2 [Exic]. For Exia, the Zener barrier has to be safe with two faults, so the safety components have to be assessed to ensure they cannot fail unsafe. This is achieved through duplication of Zener diodes. Safety components also have a 1.5 safety factor which means that under fault conditions, they never dissipate more than 2/3 of their commercial rating.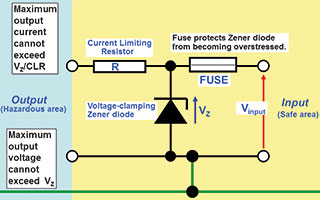 Modes of operation
When Zener barriers are used, they need to be considered in 2 modes: fault condition and operational.
1. In a fault condition, the input voltage Vi to the Zener barrier is higher than the Zener voltage Vz and the Zener barrier has to ensure that the output to the hazardous area is limited for safety. Under these conditions, the 'Safety parameters' Uo, Io and Po are the only parameters applicable. These parameters have nothing to with operational characteristics and define the maximum output power/energy into the hazardous area. This is accomplished by the Zener diode(s) conducting and diverting all current to the IS earth. If this condition is maintained, the Zener diode(s) is likely to blow, so the fuse is there to protect it.
2. When operational, Vin is always less than Vz and minimal current flows through the Zener diode(s). In this situation, the loop designer needs to take account of end-end resistance, maximum voltage at the input terminals and leakage current through the Zener diodes. A calculation has to be done to ensure that there is sufficient voltage at the field device for it to function (don't forget additional voltage required if Hart is being used). So the voltage at the transmitter will be Vin – (Iloop x loop resistance). The loop resistance is the end-end resistance plus cable resistance. This can be quite tight and as this is not an issue for galvanic isolator (no end-end resistance), it makes using isolators easier.
In a current loop, leakage current through Zener diodes can affect accuracy. Vworking is defined as maximum voltage at which leakage current is less than 10 μA. Vmax is defined as maximum voltage that can be applied continuously at the input terminals such that the fuse will not blow.
For further information on product selection and loop approval, please refer to http://www.instrumentation.co.za/7571a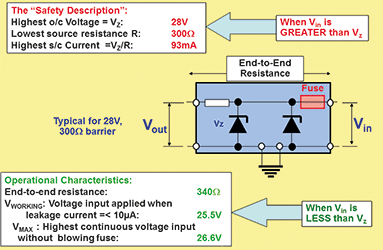 Conclusion
Zener barriers are an older and proven way of implementing intrinsic safety with a huge installed base in South Africa and the rest of the world. The requirements for an IS earth and the calculations of voltage drop and loop voltage make it less flexible than using galvanic isolators. Although Zener barriers are cheaper, for a green field site (or a site that does not have an IS earth), the cost of ownership (installation and maintenance) of an IS earth makes isolators a better option.
IS offers a simple and flexible solution for zone 0, 1 and 2. It is the only protection that considers faults of the field wiring and offers live working without the need for a gas clearance certificate. It does require some design and planning to ensure that the system loop analysis is acceptable.
Zener barrier components are carefully specified and selected to ensure safety and operation. Components cannot be replaced. Once a Zener barrier has done its job and the fuse is blown, a replacement barrier is required.
IS allows live working so careful attention has to be taken to ensure than the Zener barrier is 'short circuit proof'. i.e. the fuse must not blow when a short circuit is applied at the hazardous area terminals.
Zener barriers are normally encapsulated. This is done for heat dissipation under fault conditions and also prevents tampering with safety components.
IEC/SANS60079-11 Table A2 defines the maximum output capacitance Co for a defined safety voltage Uo. Gas group and zone also have an impact on this value.
Remember:
1. Using Zener barriers without an IS earth is not safe!
2. Inserting a barrier or isolator with a non-certified (active) field device is not safe!
For more information contact Gary Friend, Extech Safety Systems, +27 (0)11 791 6000, gary@extech.co.za, www.extech.co.za
Credit(s)
Further reading:
Control loop question answered
June 2019, Michael Brown Control Engineering , Editor's Choice
Control loop expert Michael Brown recently received a question from reader, Hansell Williams. The question relates to applying neural network and machine learning concepts to plant automation and control. 
...
Read more...
---
Mobile application for barcode scanning
Africa Automation Fair 2019 Preview, Extech Safety Systems , IS & Ex
Extech is exhibiting the mobXscan app for use in hazardous areas, which adds the capability of barcode scanning to any Windows 10 tablet or Android device. It can be seen at Stand E03. It uses the built-in 
...
Read more...
---
Equipment for hazardous areas
Africa Automation Fair 2019 Preview, Extech Safety Systems , IS & Ex
Extech Safety Systems is showcasing Sensear digital communication and active listening headsets and earplugs at Stand E03. These are for use in high noise and hazardous environments. Sensear's patented 
...
Read more...
---
Nick Denbow's European report: Trends in plant monitoring
March 2019 , Editor's Choice
Early last year, the interest from many large automation and sensor suppliers focused on condition monitoring, for example, using wireless communications to monitor the condition of the motors and bearings 
...
Read more...
---
Now might be the time to have a talk with your IT service provider
March 2019, Absolute Perspectives , Editor's Choice, IT in Manufacturing
The Gartner hype cycle provides a simple graphic representation of how emerging technologies are adopted in the market. The principle is quite simple: a new technology (such as augmented reality) will 
...
Read more...
---
Nick Denbow's European report: Will UK industry pull out of the Brexit torpor?
February 2019 , Editor's Choice
Whether the UK – whoever is in charge – decides in March to remain in the EU, drop out, or make a negotiated partial exit, the last year has been disastrous for UK industrial investment in instrumentation 
...
Read more...
---
New toolkits for innovation
January 2019, Absolute Perspectives , Editor's Choice
Why you might want to bypass the DCS and scada systems.
Read more...
---
Emerging technologies pose a pressing governance challenge
December 2018 , Editor's Choice
As the year draws to a close, multiple factors compel the continuation of the Industry 4.0 theme and its challenges, particularly those related to governance. Many readers of this column, as well as social 
...
Read more...
---
Nick Denbow's European report: Condition monitoring resurrected yet again as sensors get smarter
December 2018 , Editor's Choice
Back in the mists of time, that is, in the sixties, the engineers in charge of the gas turbines used to generate electricity in power stations, and others monitoring helicopter gearboxes, used sensors 
...
Read more...
---
First rack-mounted switches that comply with the IEC 61850-3 Edition 2 Class 2 Standard
November 2018, RJ Connect , Editor's Choice
In today's industrial processing environment, industrial Ethernet has become a de-facto standard to connect to the company's PLCs in manufacturing, IEDs in substations and cameras for CCTV, in harsh environments. All of these demand ruggedised networking switches to ensure stable communications to the company's scada, ERP and MES software. Often, industrial networking products are installed in and around the production areas where they are subjected to high temperatures, vibrations and electrical noise from VSDs and motors.
Read more...
---