printer friendly version
Technews to bring EtherCAT Technology Group seminars to SA during October
March 2016
News
Technews Publishing (publisher of SA Instrumentation and Control) is proud to announce that together with the EtherCAT Technology Group (ETG), it will organise a series of breakfast seminars in South Africa during September/October.
The seminars, an extension of those conducted by the EtherCAT Technology Group (ETG) around the world, focus explicitly on the EtherCAT technology and its applications – delving deeper than an ordinary product lecture. This includes a detailed introduction to the technology as well as user-oriented presentations covering a range of topics from installation and troubleshooting, through smooth transitioning from classical fieldbus systems to EtherCAT. All seminar content relates intensively to the practical use of EtherCAT, as well as the relevant benefits of the technology in comparison to traditional fieldbus systems.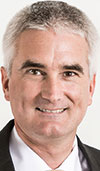 Martin Rostan.
ETG executive director, Martin Rostan, will host the South African presentations. For many years, Martin has travelled the world spreading the EtherCAT message through the roadshows, and for him the benefits are clear: "EtherCAT combines Ethernet with the simplicity and the low costs of a fieldbus system. And due to its outstanding performance and the topology flexibility it improves every automation application. This has made EtherCAT the fastest growing fieldbus system globally. Through our EtherCAT seminars, we strive to provide access to the benefits of EtherCAT to an even larger community – we are delighted to be back in South Africa again!"
A further highlight of the events is a table-top exhibition to take place in parallel with the seminars. Here, supporting companies will have the opportunity to show and explain their individual EtherCAT applications to interested delegates. The South African seminars will mainly address machine builders, OEMs and system integrators, and are free of charge to all attendees.
With over 3500 members from 60 countries, the EtherCAT Technology Group has become one of the world's largest fieldbus organisations since it was founded in 2003. Within the ETG, key end-users from various industries and leading automation suppliers join forces to support, promote and advance the EtherCAT technology.
Endorsed by the SAIMC
In line with the SAIMC's objective of elevating the profile of bus technologies in South Africa, the SAIMC is proud to endorse the 2016 EtherCAT Breakfast Series. The EtherCAT fieldbus technology is a very cost effective solution with fantastic performance. Such bus technologies are essential for the improvement and optimisation of manufacturing operations in our region. In the medium to long-term, this is a key enabler for Industry 4.0 and all the benefits that can potentially be realised by harnessing the Industrial Internet of Things (IIoT) and the Big Data that this type of technology brings. The SAIMC is excited about this event being hosted in South Africa again and is hopeful that a local EtherCAT Technology Group will be spawned post this event to further collaborate with the SAIMC in driving bus technologies in the re-industrialisation of our region.
Save these dates
Johannesburg – 30 September (The Fairway Hotel).
Cape Town – 4 October (Durbanville Hills Wine Estate).
Port Elizabeth – 6 October (The Beach Hotel).
Durban – 7 October (The Hilton Hotel).
For further information on sponsorship opportunities and attendance please email jane@technews.co.za or call on +27 (0)31 764 0593.
Credit(s)
Further reading:
From the editor's desk: AI in manufacturing and a virtual exhibition booth
October 2020, Technews Publishing (SA Instrumentation & Control) , News
Artificial intelligence (AI) is seen by many as the core of the Fourth Industrial Revolution (4IR), yet its vision is not fundamentally new. The ideas have been around since the mid 1950s, but progress 
...
Read more...
---
Endress+Hauser strengthens presence in the Middle East
October 2020, Endress+Hauser South Africa , News
Endress+Hauser is strengthening the Group's presence on the Arabian Peninsula with the establishment of Endress+Hauser Middle East.
Read more...
---
BMG launches online shopping platform
October 2020, Bearing Man Group t/a BMG , News
BMG has announced the launch of the company's new online shopping platform - BMG Online - which makes doing business in the industrial sector even easier.
Read more...
---
WearCheck moves to Westville
October 2020 , News
Condition monitoring specialist, WearCheck, recently relocated its head office and main laboratory from Pinetown to Westville, just outside Durban.
Read more...
---
Skyriders inspection at pulp and paper plant
October 2020 , News
Online teaser: When a pulp and paper producer required inspection of its fire-water reticulation system, it turned to rope access specialist Skyriders.
Read more...
---
Trafo supplies skid-mounted dry-type transformer
October 2020 , News
In a specialised application on a coal mine, Trafo Power Solutions recently supplied a dry-type transformer mounted on a mobile skid.
Read more...
---
OPC Foundation welcomes Emerson to its board of directors
September 2020 , News
Emerson has joined the OPC Foundation Field Level Communications (FLC) initiative to drive a holistic approach to sensor and device level communications across process and factory automation.
Read more...
---
Siemens Energy MEA Energy Week conference draws world-class line-up
September 2020 , News
Siemens Energy & partners are holding a major Middle East and Africa-focused virtual conference, entitled "Shaping the Energy of Tomorrow", from 19-21 October.
Read more...
---
BMG launches online shopping platform
September 2020, Bearing Man Group t/a BMG , News
BMG has announced the launch of the company's new online shopping platform - BMG Online - which makes doing business in the industrial sector even easier.
Read more...
---
SJC Creative wins Media Communications Specialist Award
September 2020 , News
SJC Creative, a specialised B2B and industrial media communications consultancy, was recently awarded the Media Communications Specialist Award 2020, Gauteng.
Read more...
---