printer friendly version
KROHNE introduces complete pressure portfolio
December 2015
Pressure Measurement & Control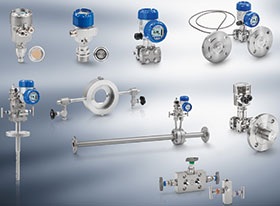 With the release of the Optibar series, KROHNE is extending its range of process instrumentation to include pressure measurement.
Since the release of the first compact pressure transmitter in 2012, KROHNE has been continuously working on its own pressure portfolio. With Achema 2015, a complete portfolio for process pressure, hydrostatic pressure and differential pressure is unveiled. The new Optibar series includes a variety of pressure transmitters with ceramic or metallic measuring cells, application specific diaphragm seals, primary elements and accessories to equip flow, level or process pressure applications – from single transmitter to complete measuring points.
Starting with transmitters, the portfolio holds pressure transmitters with ceramic or metallic measuring cells for standard applications: Optibar PC 5060 with capacitive ceramic measuring cell is aimed at all applications up to +100 bar / +1450 psi gauge. Optibar PM 5060 with metallic measuring cell and fully welded process connection is used for high pressures up to 1000 bar gauge, aseptic processes, and, in combination with diaphragm seals, for high temperature or corrosive applications. Compact and ultra-compact transmitters, e.g. for OEM applications, are also available.
The differential pressure (DP) transmitter Optibar DP 7060 marks the centre of the transmitter range. It can be used for either flow, level or process pressure applications up to 420 bar / 6091 psi. The integrated absolute pressure measurement eliminates the need for an additional sensor in flow and level applications, e.g. to measure head pressure in closed/pressurised vessels. Smallest measuring span of 10 mbar gauge is ideal for applications with small turndown ratios, and quick step response times allow for use e.g. with pulsating flows.
All Optibar PC, PM and DP transmitters are based on a modular concept and share interchangeable housings, electronics, display and adjustment modules. Hereby, different requirements such as intrinsically safe / explosion proof concepts, or 4...20 mA HART 7 / HART SIL 2/3, Foundation fieldbus, Profibus PA communication options can be met with just one platform.
For DP volume or mass flow measurement of liquids, gases or steam, KROHNE offers a wide portfolio from primary elements to complete measuring points from one source with matched, pre-configured components. Medium temperatures -200 To 1000°C , process pressure up to 420 bar, and line sizes from DN25 to 12000 can be covered. As primary elements, averaging pitot tubes are available as a simple, cost-efficient and long-term stable alternative next to orifice plates. Pitot tubes are especially suitable for applications that require a low pressure loss, retrofit of existing pipes with a flow measurement, line sizes > DN 300, or low pressure gases. The portfolio also includes wet-calibrated meter runs for small line sizes and low measurement uncertainty, a flow computer, optional pressure and temperature compensation as well as accessories for safe and easy installation of pressure transmitters in the process such as valves and manifolds, condensate pots, or general accessories. All DP flow instruments can be wet calibrated up to DN 3000.
Hydrostatic pressure is used to measure liquid level, density or liquid-liquid-interface in open and pressurised vessels of any size. The Optibar modular product line offers a complete portfolio of pressure and DP transmitters, diaphragm seals and accessories for measurement of corrosive and non-corrosive liquids and slurries up to 450°C and 420 bar. As a simple level measurement solution for wells or tanks, submersible probes are available. A large portfolio of process connections, including different hygienic process connections for a hygienic, dead zone-free installation, covers the requirements of various industries.
The Optibar modular product also covers process pressure applications to measure pressure in pipes or vessels from -1 to 1000 bar gauge and 0 to 600 bar gauge absolute. Over 250 thread, flange and aseptic process connections are available for different industry standards, including special materials. As standard, the transmitters cover process temperatures up to +150°C / +302°F without diaphragm seal. For temperatures up to 450°C or corrosive mediums, Optibar DS diaphragm seals are available, also pre-configured with direct, capillary or combined direct/capillary mounting.
For more information contact John Alexander, Krohne SA, +27 (0)11 314 1391, j.alexander@krohne.com, www.krohne.com
Credit(s)
Further reading:
Correct choice of diaphragm seal for a pressure gauge or transmitter
September 2021, SA Gauge , Pressure Measurement & Control
This isolation is achieved by using a pressure-sensitive diaphragm made from a material resistant to the process medium and enclosed in a system fitted to the base of the instrument. The space between 
...
Read more...
---
Pressure switches with metal bellows
September 2021, WIKA Instruments , Pressure Measurement & Control
What advantages do pressure switches with metal bellows offer and what is the basis for these?
Read more...
---
Miniature pressure sensor
August 2021, ASSTech Process Electronics + Instrumentation , Pressure Measurement & Control
Measuring just 14 mm in diameter, the new weFluxmicro pressure sensor from Wenglor meets the challenges presented by confined mounting spaces.
Read more...
---
Clean and colourful
September 2021, VEGA Controls SA , Pressure Measurement & Control
VEGA has completed its measurement technology portfolio for hygiene-sensitive processes with two new compact instrument series comprising pressure sensors and level switches.
Read more...
---
Robust pressure transmitters with IO-Link
July 2021, Turck Banner , Pressure Measurement & Control
Pressure transmitters from Turck Banner's PT1000/2000 series are now also available with an IO-Link interface and two programmable switching outputs.
Read more...
---
Ultrasonic sensor for PL d applications
July 2021, Pepperl+Fuchs , Pressure Measurement & Control
Pepperl+Fuchs has expanded its factory automation portfolio and acquired the USi safety ultrasonic sensor from Mayser, a renowned supplier of products and system solutions, many of which are relevant to safety engineering.
Read more...
---
Digital pressure gauge with IO-Link
July 2021, Instrotech , Pressure Measurement & Control
Instrotech now offers Kobold's new MAN-SC/LC intelligent digital pressure gauge with IO-Link
Read more...
---
Key factors for picking the optimal flowmeter
July 2021, KROHNE , Flow Measurement & Control
While a variety of factors impact meter performance, the most common culprits are flawed sizing and failing to choose the most appropriate technology.
Read more...
---
KROHNE – 100 years in the spirit of creativity
August 2021, KROHNE , News
When Ludwig Krohne founded the company in 1921, the first customers were a small number of steel producers from the Ruhr area.
Read more...
---
Advances in pipeline leak detection
June 2021, KROHNE , Maintenance, Test & Measurement, Calibration
The high rate of false alarms in standard pipeline leak detection systems can force system operators to waste labour chasing down problems that do not exist. Fortunately, newer technology provides an alternative.
Read more...
---