printer friendly version
Energy saving variable speed drive
December 2015
Motion Control & Drives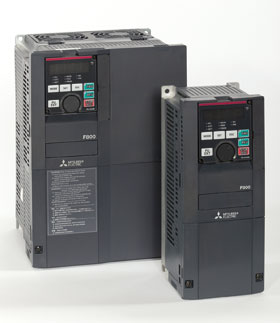 In a variable-torque load such as a fan, pump or blower, the power consumed is proportional to the cube of its rotation speed. Adjusting the air volume by controlling the inverter rotation speed can lead to substantial energy savings. With Adroit's FR-800 variable speed drive (VSD), optimum excitation control allows the motor capability to be utilised to the full. This is achieved by continuously adjusting the excitation current to an optimum level to provide the highest motor efficiency.
Another new feature is the improved starting torque, which provides a large starting torque while maintaining the motor efficiency under the conventional optimum excitation control. In addition the new offline auto tuning function measures the circuit constants of the motor, enabling optimal operation even when motor constants vary, a motor from another manufacturer is used, or there is a long wiring distance.
Another new energy saving feature of the FR-800 is the standby power reduction. The input MC signal can be turned off after the motor is stopped and turned on before activating the motor. The VSD enables self-power management to reduce standby power. The cooling fan can be controlled, depending on the temperature of the VSD heatsink. The energy saving effect can be checked on the energy saving monitor using an operation panel, output terminal or network.
Multiple VSDs can be connected to the power regeneration common converter or the high power factor converter through a common PN bus. The regenerated energy is used by another VSD, and if there is still an excess it is returned to the power supply, saving on energy consumption. Further new functions contributing to energy saving and cost reduction in fans and pumps are:
Multiple rating: The rating can be selected between the two types LD (light duty) or SLD (superlight duty) depending on the load of the fan or pump to be used. The optimum VSD capacity can be selected suitable for the motor to be used.
Enhanced PID control: Two PID operation units are available in the VSD, which can control the motor operation and external equipment at the same time. The PID output shutoff (sleep) function restricts energy consumption during low speed operation with low motor efficiency. Rapid acceleration or deceleration can also be avoided using PID action to control the water flow to the pipe and prevent water hammer.
The load characteristics measurement function allows mechanical faults such as clogging of the filter or breakage of the belt to be easily detected. Foreign matter on impellers or fans can be removed by repeating forward/reverse rotation and stopping of the motor. After a power failure the operation is restartable from the coasting motor speed. With the advanced flying start function, the operation can be smoothly started from low speed. The operation frequency is automatically increased to prevent the regenerative overvoltage fault from occurring. This function is useful when a load is forcibly rotated by another fan in the duct.
With the new PLC control function, parameters and setting frequency can be changed at the program. Control programs can be created in sequence ladders using the VSD setup software. VSD control such as VSD operations triggered by input signals, signal output based on VSD operation status and monitor output can be freely customised based on the machine specifications.
The FR-800 supports BACnet MS/TP as standard, as well as Mitsubishi VSD protocol and ModbusRTU (binary) protocol. Communication options are also available for major network protocols such as CCLink, CCLink IE Field, LonWorks, FLnet remote I/O, Profibus DP V0 and DeviceNet.
There are also a range of features focused on safety and security. Controls with safety functions can be easily performed. PLd and SIL2 are supported as standard (STO). The VSD is equipped with an internal temperature sensor which outputs a signal when the internal temperature is high. This facilitates the detection of rises in temperature inside the VSD or the surrounding air temperature. With easy fault diagnostics, the service life of the cooling fans can be further extended by On/Off control of the cooling fan. The new enhanced life check function with internal thermal sensor enables monitoring of the installation environment for life diagnosis.
For more information contact Adroit Technologies, +27 (0)11 658 8100, info@adroit.co.za, www.adroit.co.za
Further reading:
V-belts designed for food applications
September 2021, Bearing Man Group t/a BMG , Motion Control & Drives
BMG supplies a wide range of power transmission components, designed to enhance efficiency and safety in the food and beverage sector.
Read more...
---
Control automation excellence
September 2021, SEW-Eurodrive , Motion Control & Drives
Movi-C from SEW-EURODRIVE is a unique automation control system that sets a new benchmark in control automation, embracing Industry 4.0 technology.
Read more...
---
Efficient agriculture systems from BMG
Technews Industry Guide: Sustainable Manufacturing 2021, Bearing Man Group t/a BMG , Motion Control & Drives
BMG's Boer Slim/Smart-Farming agricultural team works closely with farmers throughout southern Africa, assisting them with the selection, installation and operation of new electromechanical systems. These 
...
Read more...
---
Inertial spin filters save energy
Technews Industry Guide: Sustainable Manufacturing 2021 , Motion Control & Drives
RTS Africa's inertial spin filters provide an effective, maintenance-free solution to dust problems in MCC rooms, transformer rooms, control rooms and the like.
Read more...
---
Drives for the chemical sector
July 2021, Bearing Man Group t/a BMG , Motion Control & Drives
BMG's range of Danfoss electronic, mechanical and intelligent mechatronic devices are designed to optimise automation processes and reduce energy consumption in many sectors, including the chemical industry.  
...
Read more...
---
The benefits of mobile robots and cobots
July 2021, Omron Electronics , Motion Control & Drives
Easily configurable production lines will in future consist of collaborative and flexible transport and transfer solutions, tailored to specific production environments.
Read more...
---
XTS transport system handles demanding packaging applications
July 2021, Beckhoff Automation , Motion Control & Drives
Beckhoff's intelligent XTS transport system sorts bottles while managing automatic format changeovers.
Read more...
---
Ana-Digi boosts energy efficiency at local mine
Technews Industry Guide: Sustainable Manufacturing 2021, Ana-Digi Systems , Motion Control & Drives
When a major player in the gold mining industry wanted to reduce the high cost of electricity required to run the shaft ventilation fans at a particular site, it approached Ana-Digi Systems for a solution.
Read more...
---
BMG's integrated geared motors for efficiency
June 2021, Bearing Man Group t/a BMG , Motion Control & Drives
An integrated geared unit that combines the recently launched Nord IE5+ synchronous motor and a single-stage helical gear unit offers optimum system efficiency.
Read more...
---
New motors extend the Sinamics S210 system
June 2021, Siemens Digital Industries , Motion Control & Drives
Siemens has added new servo motors to its proven Sinamics S210 single-cable servo drive system, thereby expanding its range of applications.
Read more...
---