printer friendly version
Bosch Rexroth facilitates cabinet-free drive technology
October 2015
Motion Control & Drives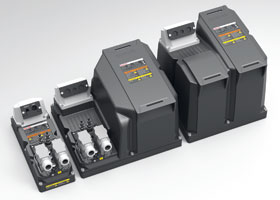 Reallocating control functions to the individual machine modules allows machine engineers and operators to make maximum use of valuable site space, enhancing their production capacities. The cabinet-free drive technology, IndraDrive Mi from Bosch Rexroth, enables this idea to be implemented in automation applications across numerous industries and production sites.
The IndraDrive Mi merges its drive electronics and motor into an integral unit. This combination virtually eliminates drive electronics housed within a cabinet and drastically reduces the wiring required to connect the individual components. With the integrated drive control unit, drive functions, motion control and flow logic merge into an open automation platform. Complex motion tasks can be handled with the motion logic system, which is fully designed in accordance with IEC 61131-3.
"The cabinet-free drive technology extends the possibilities to modularise machine concepts," Georg Venter, divisional manager, Tectra Automation, explains. "Machine manufacturers pre-assemble machine modules and then connect them to one another at the cabinet without any further work."
Central to the reallocation of drive control components are the Bosch Rexroth decentralised supply and mains modules. "This is how machine manufacturers can integrate all drive components directly into the machine without needing a cabinet," Venter explains.
The mains module includes a mains filter, mains regulator and mains protection in a single unit. The supply module includes an energy-recovering power supply, control electronics and brake resistors. The connection of the machines or modules to the power supply is carried out directly and without deviation via the cabinet. This reduces wiring in the assembly by as much as 90%.
A newly developed hybrid plug for adjacent near-motor drives further reduces assembly work. These protected connector pieces for communication and power supply are simply plugged into adjacent IndraDrive Mi units by assembly technicians.
IndraDrive Mi supports all of common Ethernet-based protocols, including Profinet, EtherNet/IP and EtherCAT, all on a single piece of hardware with the multi-Ethernet interface via the automation bus Sercos. The hardware remains identical, with selection occurring purely via software parameters. A connection to Profibus can be created via a gateway.
The motor-integrated and near-motor drive modules are designed in accordance with IP65-class protection for dust and water stream protection.
Up to 20 IndraDrive Mi modules can be connected in series in a cable harness up to 200 m long. The drive-based control by Bosch Rexroth coordinates up to nine IndraDrive Mi as slaves in real time.
For more information contact Georg Venter, Tectra Automation, +27 (0)11 971 9400, georg.venter@tectra.co.za, www.tectra.co.za
Further reading:
Drives for the chemical sector
July 2021, Bearing Man Group t/a BMG , Motion Control & Drives
BMG's range of Danfoss electronic, mechanical and intelligent mechatronic devices are designed to optimise automation processes and reduce energy consumption in many sectors, including the chemical industry.  
...
Read more...
---
The benefits of mobile robots and cobots
July 2021, Omron Electronics , Motion Control & Drives
Easily configurable production lines will in future consist of collaborative and flexible transport and transfer solutions, tailored to specific production environments.
Read more...
---
XTS transport system handles demanding packaging applications
July 2021, Beckhoff Automation , Motion Control & Drives
Beckhoff's intelligent XTS transport system sorts bottles while managing automatic format changeovers.
Read more...
---
BMG's integrated geared motors for efficiency
June 2021, Bearing Man Group t/a BMG , Motion Control & Drives
An integrated geared unit that combines the recently launched Nord IE5+ synchronous motor and a single-stage helical gear unit offers optimum system efficiency.
Read more...
---
New motors extend the Sinamics S210 system
June 2021, Siemens Digital Industries , Motion Control & Drives
Siemens has added new servo motors to its proven Sinamics S210 single-cable servo drive system, thereby expanding its range of applications.
Read more...
---
Why Cobots? From myths to a simpler reality
May 2021, SMC Corporation South Africa , Motion Control & Drives
While robotics led the way for the rapid growth of automation, cobots are the democratisation of robotics technology. They eliminate the cost and complex programming that robots usually require while providing much greater flexibility.
Read more...
---
Adroit connection to solar powered VSDs
May 2021, Adroit Technologies , Motion Control & Drives
Adroit Connect is a simple and cost-effective solution that allows users to remotely monitor their Mitsubishi solar VSDs, change parameters from anywhere and save unnecessary trips to site.
Read more...
---
New Fenner couplings ensure effective torque transfer
March 2021, Bearing Man Group t/a BMG , Motion Control & Drives
BMG's new reinforced Fenner Triflex couplings, with forged steel flanges, provide an integrated solution for the safe and efficient transfer of torque, even in extreme conditions.
Read more...
---
Enhance machine safety with locking cylinders
March 2021, SMC Corporation South Africa , Motion Control & Drives
Stopping the flow of compressed air using an air circuit combined with a mechanical locking cylinder gives the most enhanced level of safety.
Read more...
---
30 years of linear motion technology
March 2021 , Motion Control & Drives
This year, factory automation specialist Bosch Rexroth celebrates 30 years of linear motion technology and innovation.
Read more...
---