printer friendly version
Electrical machines with hazardous area certification
October 2015
Electrical Power & Protection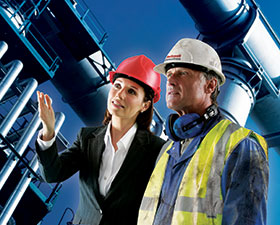 Rockwell Automation and local electro-mechanical equipment solutions provider Actom Electrical Machines have been awarded a hazardous area certification for the oil and gas industry by Explolabs. The Exn certification was awarded subsequent to the testing and assessment of the Actom MS4 452-4 non-sparking Ex nA IIA and IIB T3 motor and Allen-Bradley PowerFlex 7000 medium voltage AC drive combination(s) for compliance to "Electrical apparatus for explosive gas atmospheres – General Requirements" (SANS 60079-0: 2012 Ed 5) and "Equipment protection by type of protection 'n'" (SANS 60079-15: 2010 Ed 4).
As a subset of a larger project, five Allen-Bradley PowerFlex 7000 medium voltage AC variable speed drives by Rockwell Automation and five Actom motors will be used by Engen Petroleum's Greenfields project to control Flowserve's 1320 m³/h centrifugal pumps, facilitating the movement of product from Engen's Island View facilities to Transnet's NMPP Island View West site. Rockwell Automation's PowerFlex 7000 are fitted with an 11 kV to 6,6 kV integral transformer to power Actom's 650 kW, 6600 V, 4 pole motor situated in the hazardous area.
The VSD and motor combination test was conducted to determine the maximum surface temperature of the motor in accordance with SANS 60079-0: 2012 Ed 5 Clause 26.5.1.3 and Annex E, which included the monitoring of the motor winding temperature; ambient temperature; DE & NDE bearing temperatures; and motor supply voltage, current and rpm. The combination test was conducted at the motors maximum duty point for 8 continuous hours.
Explolabs found that the drive and motor combination complied with the requirements set out in the standards and certified the installation for 'Zone 2' ('Gas: Surface') application, i.e. as the 'location' while the 'environment' is listed as 'Group IIA and IIB'. 'Frequency' is listed as 'abnormal' as could occur under normal operation.
"Considering the criticality of this project and the stringent Engen specification meant we needed to supply a reliable solution that conformed to all the requirements of the various stakeholders," says Henry Craukamp, ETO sales manager – Southern Europe and Africa. "The test results prove the compatibility between Rockwell Automation drives and Actom's motors, one of the reasons we entered into our co-operation agreement in 2013." This agreement is to supply Rockwell Automation and Actom customers with appropriately paired variable speed drives and motor products.
The now Exn-certified VSD and motor combination was delivered to site and the installation completed. The Rockwell Automation commissioning team is on stand-by to begin on-site commissioning as soon as Engen completes the remainder of the installation.
"Rockwell Automation is extremely pleased with the outcome as it verifies that our VSDs have no temperature effect on the motor whatsoever. The tests further prove that our VSDs and Actom's motors are compatible in one of the harshest environments. We will continue the certification process with our low voltage PowerFlex 755 series VSDs and Actom's low voltage motors," Craukamp explains. He adds that Engen Petroleum indicated it was extremely satisfied with the result.
For more information contact Henry Craukamp, Rockwell Automation, +27 (0)11 654 9700, hscraukamp@ra.rockwell.com, www.rockwellautomation.co.za
Credit(s)
Further reading:
Transformer for special applications
July 2021, ASSTech Process Electronics + Instrumentation , Electrical Power & Protection
The Jumo IPC 300 was developed for the control of heating loads that previously required an additional transformer for power control.
Read more...
---
ABB launches new MCB range
July 2021, ABB South Africa , Electrical Power & Protection
The circuit breaker industry sees the local launch of a high-quality product as ABB Electrification introduces its new range of 3 kA SR200T miniature circuit breakers.
Read more...
---
Rockwell Automation and Comau partner to simplify robot integration
June 2021, Rockwell Automation , News
Rockwell Automation and Comau have announced that they are joining forces to give businesses worldwide vital tools to maximise manufacturing efficiencies through unified robot control solutions.
Read more...
---
The Pepperl+Fuchs M-LB-5000 surge protection system
June 2021, Pepperl+Fuchs , Electrical Power & Protection
Using the modular M-LB-5000 system with diagnostics eliminates extensive testing and operational interruptions. It is supplemented by the M-LB-2000 system for applications in which a minimum specification is sufficient.
Read more...
---
Beckhoff expands power supply portfolio
June 2021, Beckhoff Automation , Electrical Power & Protection
Buffer and redundancy modules for 24/48 VDC power supply increase system availability.
Read more...
---
Legrand's new P17 Tempra Pro plugs
June 2021, Legrand , Electrical Power & Protection
New to Legrand's range of plugs and sockets is the versatile P17 Tempra Pro range, which has been developed for safe installation in indoor and outdoor environments.
Read more...
---
UPS series with One Cable Technology
April 2021, Beckhoff Automation , Electrical Power & Protection
Beckhoff's new CU81xx UPS series is designed for universal use. Due above all to the flexible connection options extending up to One Cable Technology for uninterruptible power supply (UPS-OCT), the series 
...
Read more...
---
Flameproof switchgear for system protection
April 2021, Becker Mining South Africa , Electrical Power & Protection
Becker Mining South Africa's Energy Distribution division manufactures customised switchgear, designed for the efficient distribution of electrical power.
Read more...
---
Schneider Electric extends UPS range
April 2021, Schneider Electric South Africa , Electrical Power & Protection
Schneider Electric has announced the extension of Easy UPS 3L from 250 kVA to 600 kVA (400 V) with the addition of 250, 300, and 400 kVA UPSes for external batteries.
Read more...
---
Complete Beckhoff system for power supply, protection and energy monitoring
April 2021, Beckhoff Automation , Electrical Power & Protection
Transparent energy data solutions increase machine efficiency and open up optimisation potential.
Read more...
---