printer friendly version
Ethernet-based networks improve machine performance
October 2015
IT in Manufacturing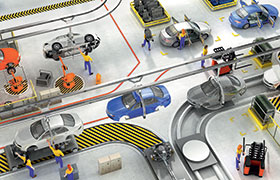 OEMs are increasingly using industrial networks to connect their HMIs, controllers, distributed I/O, instruments and sensors to each other within a machine or a robot. As a consequence, Ethernet is quickly becoming the network of choice for robot and machine builders OEMs and their customers. In addition, automation components suppliers are including Ethernet and IP connectivity on more and more of their devices, creating an ever expanding circle of Ethernet usage.
Why Ethernet?
Even the simplest of today's production lines include a wide range of different machines and robots, most often supplied by a number of OEMs. Adding to the complexity is the fact that most machines and robots contain a number of automation components such as HMIs, controllers, motor drives, instruments and sensors. All of these components need to communicate not only with each other within a machine or robot, but often with other machines and robots to closely coordinate and optimise production. Two-way communication is also required among machines, robots, and customer control and communication systems. Fortunately, many Ethernet-friendly standards and protocols exist to simplify these communications. These include ISA-88/PackML (batch and control), ISA-95 (data integration) and ISA-99 (security).
Using standard Ethernet and common protocols as well as the abovementioned standards also makes it possible for each machine in an assembly line to communicate with the next unit in the line regarding its status and utilisation. If each piece of equipment in one or more assembly operations knows the status of its neighbours, it's possible to make maximum use of each machine to optimise throughput across the facility by synchronising machine inputs and outputs.
Why industrial?
Because any system is only as good as the physical infrastructure on which it's built, it's imperative that the equipment chosen for the application is specifically designed for the environment in which it will be used. Industrial temperature ranges can cover the spectrum from -40 to greater than 70°C. Industrial plants also have many sources of EMI/RFI interference, including large power cables, big motors and other equipment such as robot welders. In addition equipment needs to be protected from humidity and moisture by specifying NEMA 4 or IP67 protection. It must also be able to withstand vibration covering a broad range of frequencies and amplitudes; and assembly lines incorporate a large number of moving parts such as robot arms, conveyors, and pick and place systems.
Just as important as selecting the right industrial grade components are the connections among the components. In the case of Ethernet, these connections are typically Cat 5e or Cat 6 cable. Physical cable integrity and electrical performance must be maintained or deterioration of the signals will lead to failure of the network.
Many machines and robots continually place Ethernet communication cables under duress by movement and the consequent cable flexing. Flex cycles cause stress on cables and connections, often resulting in premature failure. Data integrity can also be compromised because of changes to cables during these flexing operations, with the resulting risk that data communication interruptions will occur.
Fortunately, high flex industrial Ethernet cables are available that can operate reliably in continuous flex environments without signal interruption. These special cables are normally used to implement Ethernet on robots and machines with these types of requirements. As with industrial grade Ethernet components, upfront costs are somewhat higher for high flex as compared to standard cables, but the extra expense is well worth it to guarantee reliability at an acceptable level.
Ethernet is quickly becoming the standard in industrial settings. But because the plant environment isn't the same as the office, both the design and the components must be appropriate for the task at hand. Extra cost spent up front to purchase industrially rated components and employ proper design expertise will be more than repaid over the life of the network in terms of more uptime and greater throughput of the manufacturing process.
Credit(s)
Further reading:
Mitigate industrial network vulnerabilities
July 2021, RJ Connect , IT in Manufacturing
It must not be forgotten that ignoring common system vulnerabilities in today's world could put your entire network at risk.
Read more...
---
Digital transformation in mining
July 2021 , IT in Manufacturing
Rapid advances in technology have disrupted industries and businesses around the world, which are now being forced to accept this new reality rather quickly because the new technologies have tremendous potential to deliver value for those who adopt them.
Read more...
---
Digital twins require accurate and reliable data to be effective
July 2021 , IT in Manufacturing
At the 25th ARC Industry Forum, hosted virtually, many industry experts gave their perspectives on accelerating digital transformation in the post-Covid world.
Read more...
---
Frequency analysis without programming requirements
July 2021, Beckhoff Automation , IT in Manufacturing
Beckhoff expands TwinCAT Analytics with easy-to-configure condition monitoring functions.
Read more...
---
Siemens adds AI to Simcenter
July 2021, Siemens Digital Industries , IT in Manufacturing
Siemens Digital Industries Software has announced the latest release of Simcenter Studio software, a web application dedicated to discovering better system architectures, faster. Simcenter Studio offers 
...
Read more...
---
ABB technology can help make SA steel industry competitive
June 2021, ABB South Africa , IT in Manufacturing
South Africa's steel industry needs to invest in technology like automation and data analytics if it is to improve its productivity to the point where it is globally competitive.
Read more...
---
Siemens expands CFD simulations
June 2021, Siemens Digital Industries , IT in Manufacturing
Siemens' Simcenter portfolio expands capabilities for frontloading computational fluid dynamics (CFD) simulation and increased productivity.
Read more...
---
Digital twin for refinery production
June 2021, Yokogawa South Africa , IT in Manufacturing
Within Repsol's Industrial Business, the development of a refinery digital twin leads the digitalisation program. The digital twin maximises production while optimising energy consumption.
Read more...
---
Building secure networks
June 2021, RJ Connect , IT in Manufacturing
This article explores how to build resilient industrial networks and deploy cybersecurity defences in order to sustain continuous industrial operations.
Read more...
---
Improving the state of OT cybersecurity by sharing experiences
June 2021 , IT in Manufacturing
It is essential that we view improvements in cybersecurity as requiring improvements in multiple areas, including people and skills development, governance and process development and improved technology.
Read more...
---