printer friendly version
Honeywell's Uniformance technology boosts uptime
August 2015
IT in Manufacturing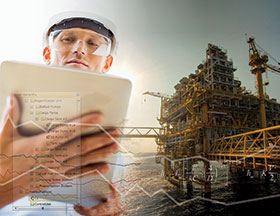 Honeywell Process Solutions has announced the launch of Uniformance Asset Sentinel, which continuously monitors equipment and process health, assisting industrial facilities to predict and prevent asset failures and poor operational performance.
The new offering expands HPS' Uniformance software suites and supports the emergence of the Industrial Internet of Things (IIoT) in the process industry, enabling companies to collect, organise and analyse data for a specific asset or 'thing.' These analytics can transform work processes from reactive to proactive, helping industrial plant operators.
"Uniformance Asset Sentinel is the latest evolution of proven technology that is currently watching over billions of dollars of assets across industries, including oil and gas, power generation, mining, refining, and chemical manufacturing," said Mike Brown, global marketing director for HPS' advanced solutions business. "With more than four decades of experience in process control and automation, Honeywell is uniquely qualified to bring process-based domain knowledge to build solutions that solve problems from basic to the most complex."
Uniformance Asset Sentinel helps companies with industrial assets increase utilisation of those assets by up to 10% by reducing unplanned downtime. It can also cut maintenance costs by up to 15% by better predicting and preventing catastrophic equipment failure and inefficient operations.
The technology works by continuously accessing data from a variety of sources, including process parameters, vibration data and alarms. Using a real-time complex event processing engine, Uniformance Asset Sentinel continuously performs performance, health, efficiency and safety-related calculations and compares those results of the current actual performance to an expected performance model. Predicted or detected deviations from these models are used to generate notifications to facilitate investigation and intervention to minimise the cost and frequency of an event.
Uniformance Asset Sentinel's pre-defined best practice templates for more than 100 equipment types, such as pumps, compressors, exchangers, valves and turbines combined with its seamless interface to its process design simulation software (UniSim Design) helps customers rapidly deploy equipment or process monitoring on any plant asset, eliminating the need for complex model development.
Several major refining and chemical facilities are now implementing Uniformance Asset Sentinel to help them overcome the challenge of accessing data from multiple sources and turning it into actionable information. In addition to the positive impact on safety, this capability can translate into higher operational efficiency, agility and, ultimately, higher margins.
For more information contact Boni Magudulela, Honeywell Southern Africa, +27 (0)11 695 8000, boni.magudulela@honeywell.com, www.honeywellprocess.com
Credit(s)
Further reading:
Siemens' software for digital transformation of automotive design
September 2021, Siemens Digital Industries , IT in Manufacturing
Model-based development process and systems are used in Japan and globally to adapt to the biggest automotive transformation in 100 years.
Read more...
---
Is track and trace through the factory a waste of time?
September 2021, Iritron , IT in Manufacturing
Modern track and trace solutions are purpose-built to introduce as little disruption to the existing production process as possible, while also being flexible enough to cater for plants that range from fully manual to fully automated.
Read more...
---
Modularity for scalability
September 2021, RJ Connect , IT in Manufacturing
Businesses are looking for versatile solutions that are easy to maintain to ensure smooth operations while keeping costs down.
Read more...
---
Saryx launches TMP
September 2021 , IT in Manufacturing
The digital transformation that has swept the world in the past few years has fundamentally altered most people's approach to technology, with an increasing number seeking the ability to manage their 
...
Read more...
---
Secure boundaries enhance industrial cybersecurity
September 2021, RJ Connect , IT in Manufacturing
When enhancing cybersecurity, it is important to understand how industrial systems are exchanging data and how they connect to IT-level systems.
Read more...
---
Siemens drives digital transformation at virtual Smart Mining forum
September 2021, Siemens Digital Industries , IT in Manufacturing
With its motto: 'On the road to the digital future', Siemens hosted its virtual Smart Mining forum from 3-5 August.
Read more...
---
Deep-learning AI made accessible
September 2021, SICK Automation Southern Africa , IT in Manufacturing
SICK Automation has launched a set of deep-learning software and services called dStudio, making artificial intelligence (AI) more accessible to the southern African market. This software works with machine 
...
Read more...
---
How safe are our factories? Part 1: Cybersecurity for operational technology.
August 2021, Wolfpack Information Risk , IT in Manufacturing
If companies are regularly being subjected to cyber hacks overseas, isn't it only a matter of time before someone with enough motivation, skill and resources targets us?
Read more...
---
HSEC Online simplifies health and safety compliance for companies
Technews Industry Guide: Sustainable Manufacturing 2021 , IT in Manufacturing
This automated, cloud-based solution provides a transparent, collaborative workflow platform which eliminates most of the manual complexities of health and safety document management compliance.
Read more...
---
Creating factories of the future
Technews Industry Guide: Sustainable Manufacturing 2021, SEW-Eurodrive , IT in Manufacturing
Raymond Obermeyer, managing director of SEW-Eurodrive South Africa, explains that Industry 4.0 includes all the opportunities for digitally networked production.
Read more...
---