printer friendly version
Purifying raw sugar juice
August 2015
Sensors & Transducers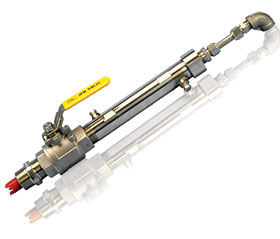 To extract raw sugar juice, the mill first crushes, shreds, or presses the cane or beets. The raw juice that is extracted is highly pure, but contains undesirable organic and inorganic non-sugar constituents, along with colour. At this stage, the mill may add formalin or other antibacterial agents to the recycled press water to inhibit bacterial growth.
The next steps, pre-carbonation and liming, act to purify the raw juice. During purification, insoluble solids, gums, polysaccharides, and dissolved colorants coagulate out for removal by settling and filtration.
Mills purify the juice using lime and carbonic acid. To create lime the mill heats limestone (calcium carbonate) in kilns to produce burnt lime (calcium oxide) and carbon dioxide. The end product is mixed with water, becoming milk of lime (whitish lime particles suspended in water) and the carbon dioxide introduced to the pre-carbonation tank mixes with water to become carbonic acid.
Cane processors practice partial liming while beet processors apply complete liming. The goal of complete liming is to reduce invert sugar (glucose and fructose) as much as possible by adding an excessive amount of lime. Cane processors partially destroy the invert sugars, using less lime. Some refiners use a combined purification process consisting of phosphoric acid and lime by which 30-37% of the syrup colour is removed.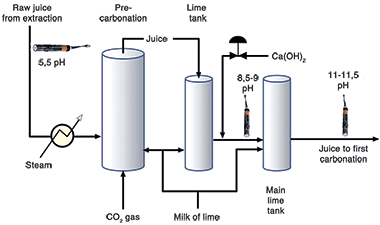 The raw juice from extraction is acidic with a pH of about 5,5 – usually controlled by the addition of sulphur dioxide. Before entering the pre-carbonation tank, the juice is heated to a temperature of 76-82°C. The additions of milk of lime and carbon dioxide in the pre-carbonation step begin to raise the juice pH. The chemical addition has three desirable effects:
• The high pH prevents the sugar from becoming starch or reverting to non-sucrose forms.
• Organic acids are changed into salts for later removal by precipitation.
• Foreign matter is kept in suspension for removal by filtration.
On leaving the initial lime tank, the juice pH has been raised to a value near 9. Continued addition of milk of lime in the main liming tank raises the pH to 11 or more. From this point the juice travels to the first carbonation step to remove excess lime and filter out precipitates.
Challenges in measuring pH
Sugar refining is a high-temperature, caustic process requiring tight pH control in almost every stage. Because the process is so physically demanding, in the past pH measurement was typically made in cooled sample lines (introducing significant lag time) or via grab samples (even longer lag time).
Attempting to control a nonlinear variable such as pH in a continuous, dynamic process using these methods can easily lead to loss of process control. Prior to improvements in both pH glass and reference technology, online measurements were virtually impossible. Excursions of pH regularly occurred, and shutdowns were common.
The ABB Solution: TBX551 and TBX587 pH sensors
Most sugar mills will operate through a growing season (referred to as a 'campaign'). The campaign will last 3-6 months, depending if beet or cane sugar is being refined. If the pH sensor can last through the entire campaign then this is considered to be a success.
The largest obstacle in controlling pH in the sugar mill is finding equipment that will tolerate the harsh conditions found in this environment. Lime addition takes place before any filtration, introducing precipitation and coating issues. The temperature of the process after pre-carbonation is typically greater than 80°C, and finally, many mills do not have the extensive instrumentation staff that other industries have, and so lack education on cleaning and calibration of the pH sensor.
For these applications, ABB's Twist Lock TB(X)551 is ideal for sample line installations. The bayonet style mounting makes sensor removal for cleaning and calibration very easy. If the pH sensor is inserted directly into the process, then ABB recommends a retractable sensor with extraction housing. The housing has flushing ports which can be used to loosen congealed sugar and particulates. The TB(X)587 or TB(X)557 are good examples of retractable sensors that work in these processes. For all liming applications the coat resistant 'J' Glass electrodes should be specified. The Wood Next Step Reference can be used for the applications below 11 pH and PTFE can be specified above 11 pH.
For more information contact ABB South Africa, +27 (0)10 202 5000, instrumentation@za.abb.com, www.abb.com/measurement
Credit(s)
Further reading:
Female talent switches on to engineering careers with ABB
September 2021, ABB South Africa , News
ABB's Sustainability Strategy incorporates driving social progress, equality and diversity to create safe, fair and inclusive working environments and support community building.
Read more...
---
Vision sensors from ifm automate production at Opel welding station
September 2021, ifm - South Africa , Sensors & Transducers
The O3D302 vision sensor from ifm electronic is a 3D camera with integrated image evaluation.
Read more...
---
Digitalisation in oil and gas applications
September 2021, SECO Process Instrumentation , Sensors & Transducers
In the future, digitalisation will offer great new possibilities to process automation in the oil and gas industry.
Read more...
---
All-in-one sensor allows quick deployment
September 2021, Turck Banner , Sensors & Transducers
Turck Banner's photoelectric Q45 family combines sensor, wireless node and battery in a single, compact unit.
Read more...
---
RS adds IIoT-enabled sensors
September 2021, RS Components SA , Sensors & Transducers
Over 2000 added items include the latest IIoT sensors and machine safety systems for smart manufacturing developments.
Read more...
---
Wireless IIoT sensors optimise new areas for smart applications
Technews Industry Guide: Sustainable Manufacturing 2021, Pepperl+Fuchs , Sensors & Transducers
Pepperl+Fuchs' WILSEN.sonic.level battery-operated wireless level sensor has been developed to record the fill level and geoposition of containers and transmit this data securely to the Internet.
Read more...
---
3D environment monitoring sensors
July 2021, SICK Automation Southern Africa , Sensors & Transducers
SICK Automation is leading the agricultural digitisation era (Farming 4.0), with its visual perception solutions for mobile agricultural machines and harvesting robots.
Read more...
---
Clean separation achieved at biomass dewatering plant
July 2021 , Sensors & Transducers
Sewage sludge is prepared for thermal processing by means of a centrifuge monitored by a comprehensive set of sensors from ifm electronic that enable precise optimisation of the plant.
Read more...
---
ABB launches new MCB range
July 2021, ABB South Africa , Electrical Power & Protection
The circuit breaker industry sees the local launch of a high-quality product as ABB Electrification introduces its new range of 3 kA SR200T miniature circuit breakers.
Read more...
---
Pepperl+Fuchs' VariKont inductive sensors with Active Shielding Technology
July 2021, Pepperl+Fuchs , Sensors & Transducers
Active Shielding Technology from Pepperl+Fuchs enables high switching distances regardless of the installation conditions, which simplifies equipment design.
Read more...
---