printer friendly version
Pneumatics on steroids
May 2015
Pneumatics & Hydraulics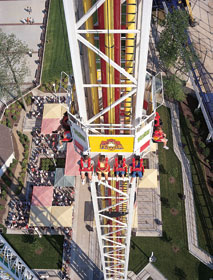 You see four steel towers rising 100 metres into the sky. Two towers are Space Shot rides that rocket you 80 metres up to the top at an incredible speed; or you start at the top, where the other two Turbo Drop rides thrust you downward at 80 km/h – the choice is yours. This is the Power Tower at Cedar Point in Sandusky, Ohio, which operates using compressed air to launch and drop thrillseekers. Motion Control's editor spoke to Monty Jasper, corporate vice president for safety and engineering at Cedar Fair, about the engineering behind the Power Tower.
Designed and built by S&S Power, the Power Tower has a unique propulsion system and is part pneumatic cylinder and part shock absorber. Each of the four corners forms a leg which is an independent ride. A vehicle encapsulates the leg and is moved up and down on wheels. The ride is powered by air in large cylinders with an aircraft-grade steel cable connecting an internal piston and the external rider car.
Jasper explains that the ride operates like a flagpole. "Each cable goes over the top of a sheave, and the vehicle is attached to this cable-and-sheave system. At the other end the cable is attached to the piston rod of a pneumatic cylinder and the piston is moved up and down with compressed air," he says.
There is a ram in the middle of the piston that the cable attaches to. The vehicle is moved up and down by putting air on one side of the ram or the other and forcing the ram to move in that direction, pulling the cable with it and pushing the vehicle in the opposite direction. To propel the vehicle up, air is introduced to the top side of the ram, pushing it down. To launch the vehicle down, air on the bottom side of the ram pushes it in the opposite direction. Compressed air is supplied by four large 150 kW compressors which operate continuously.
The piston and cylinder are both about 25 cm in diameter, so no air can get past the cylinder, and the piston is forced to shoot up through the cylinder. While operating pressure is about 75 kW on the ride, only about 30 kW are required to actually propel the cylinders.
"Everything is redundant. There are four cables on each side of each leg, so the vehicle is supported by four independent cables and any one of these can work alone, so there is a four in one safety factor," he adds.
Not only does the air cylinder's piston act as the thrusting force, it can also act as a brake. "The cylinders that form the piston walls have holes drilled in," Jasper continues. "As the ram moves up to the top, air escapes on the top side of the ram through the holes and is vented to the atmosphere. So you pressurise the bottom side. When the hole is covered up by the ram, the air on the top side of the piston is captured and acts as a brake as the air compresses and begins to act as a resistant force so the cylinder will begin to slow the vehicle and finally bring it to a halt. It then recoils in the opposite direction as if it were a spring so the whole thing moves up and down like a bungee cord."
On the negative side the Power Tower is a bit of an energy hog. It wasn't designed with energy efficiency in mind. However, an interesting thing about the control system is that it weighs the vehicle with the passengers and then calculates how much air it will need. This generally varies from 4 to 6 bar. This saves energy and results in performance consistency.
Previously drop rides were smaller and needed mechanical systems to get them moving. "Pneumatics is the only technology that can shoot vehicles earthward at speeds greater than gravity. It's also clean, reliable and maintenance-free and a quick way to get an exciting launch. It's amazing to see the ride move – it's a drop ride on steroids," Jasper concludes.
For more information visit http://tinyurl.com/km42xjj
Further reading:
Festo at the heart of absolute automation
July 2021, Festo South Africa , Pneumatics & Hydraulics
Festo is renowned as one of the leading pneumatic automation suppliers. Over the years, the company has also set the pace in both Process and Electric Automation. This is backed by its proven record of 
...
Read more...
---
Parker's High Performance Flange system
July 2021, Parker Hannifin - Sales Company South Africa , Pneumatics & Hydraulics
Parker Hannifin has announced that its mechanical flange system for machines and plants with working pressures of up to 420 bar has gained DNV GL approval for marine applications.
Read more...
---
Compressed air purity analyser
July 2021, Artic Driers International , Pneumatics & Hydraulics
Compressed air treatment using filters and dryers is an effective barrier to airline contamination. Until recently, auditing the compressed air quality in a system was difficult, but clients and professional 
...
Read more...
---
BMG's Hydraforce valves and solutions
April 2021, Bearing Man Group t/a BMG , Pneumatics & Hydraulics
BMG, distributors of the Hydraforce range of proportional valves in southern Africa, works closely with Hydraforce engineers and customers in diverse industries to design and manufacture customised hydraulic 
...
Read more...
---
Highly flexible pick and place with digitised pneumatics from Festo
February 2021, Festo South Africa , Pneumatics & Hydraulics
Motion Apps are revolutionising pneumatics by increasing flexibility, energy efficiency and accelerating production processes.
Read more...
---
An easier way to connect
February 2021, Hydrasales , Pneumatics & Hydraulics
Quick-release hydraulic couplings on agricultural equipment have enabled Faster Couplings to provide innovative solutions to meet this sector's needs.
Read more...
---
Protect machines with soft-start valves
February 2021, SMC Corporation South Africa , Pneumatics & Hydraulics
A slow increase in air pressure into a machine at startup helps facilitate a soft start of all downstream components.
Read more...
---
Gimatic expands product range with launch of vacuum product offering
January 2021 , Pneumatics & Hydraulics
New offering gives customers greater flexibility in designing optimal automation systems that aim to increase efficiency & productivity.
Read more...
---
Fibertex offers advanced solutions in filtration for a cleaner environment
November 2020 , Pneumatics & Hydraulics
Fibertex Nonwovens, a leading manufacturer of a comprehensive range of nonwovens and performance-based materials used in diverse industries, has developed advanced filtration solutions that contribute to a cleaner environment.
Read more...
---
Monitoring oil with the power of connectivity
November 2020, Hydrasales , Pneumatics & Hydraulics
The latest innovation in the MP Filtri range of condition monitoring products helps system engineers with the digitalisation of their monitoring processes. It identifies contaminants early in the service 
...
Read more...
---