printer friendly version
Specialist cabling for chemical ­applications
January 2015
Enclosures, Cabling & Connectors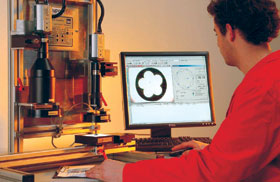 Ongoing investment in research and development enables specialist cable manufacturer, Helukabel, to develop a wide range of advanced cabling products that meet the exacting requirements of the chemical and related industries.
Rather than providing generic cabling solutions, the company works closely with a range of chemical industry partners internationally, that includes the likes of BASF, DOW, Bayer, BP and Shell (among others), in order to test and design new types of cables that can meet the future challenges that the industry faces.
In recent years, innovations such as self-cleaning, temperature and chemical resistant, non-toxic, hi-flexibility and a wide range of other cabling solutions have put the company at the forefront of cable supply worldwide and contributed to the global success of the brand.
Chemical and petrochemical
In South Africa, Helukabel plays a leading role in the provision of specialist cabling technologies to a wide range of industries. These include the chemical and petrochemical industries, which it supplies with off-the-shelf products, as well as bespoke products that it develops, produces (and ensures sufficient stock is maintained) for a number of large chemical firms.
According to Helukabel South Africa managing director, Doug Gunnewegh, the company is one of the leading manufacturers and distributors of electrical cable and accessories in the world. Its inventory consists of approximately 33 000 items that are available ex-stock from its logistics centre in Hemmingen, Germany, or from one of 50 warehouses around the world, including South Africa.
"We have been active in the country since the mid-1990s until 2010 when Helukabel South Africa was established as a branch operating from our head office in Randburg, Gauteng. We subsequently introduced regional offices near Cape Town in the Western Cape and the second, near Durban in KwaZulu-Natal.
"Since then we have made it our ongoing mission to maintain sufficient stock locally to meet the immediate needs of our large customer base. Through our ultra-modern logistics centres worldwide we are also able to get product to a customer within a short time if we don't have stock," says Gunnewegh.
Chemical expertise
He adds that quality of the products remains unquestionable with ISO certificates providing visible proof of the company's quality and environmental efforts. In addition, cabling products carry a wide range of industry specific approvals and certifications to ensure they are not only manufactured in a responsible manner, but that they meet the physical standards imposed by these professional organisations.
Helukabel is a leading supplier of cables resistant to harsh materials. The chemical industry is responsible for converting raw materials (oil, natural gas, air, water, metals, and minerals) into more than 70 000 different products, such as household and industrial cleaners, polymers, fertilisers, and pharmaceuticals, to name a few.
The processes used to manufacture everyday chemicals require cables that are not only flexible, but are resistant to oils, fats, acids, bases and other harsh materials. As a result Helukabel has developed cables that are well suited to work under adverse working conditions to assist producers to maintain a consistent workflow. Plant and process related products that can handle high mechanical stress and repetitive movements of automation and equipment also provides durable operation for the chemical industry and ensures that plants run optimally at all times.
Plant construction
"Before a plant is constructed, it is important to identify, develop and specify the right types of cables that will deliver the required performance and durability for future applications. Incorrect decisions at this point can be costly to rectify and for this reason we recommend that engineering teams work closely with us to supply high quality cable products specifically designed to work within the requirements of the proposed facility," explains Gunnewegh.
"Our cables have extreme flexibility for easier routing and are perfect for the vast network of pipes and trays that are found in new plant developments and expansions. They mostly have multiple approvals, which allow contractors to lower installation times and reduce (or eliminate) the need to purchase numerous cables to meet individual country requirements, (which translates into a reduction in costs) without compromising the quality of the installation process.
"Another advantage of standardising on our cables is that tray cables can be secured with our Helutop line of strain relief glands which will ensure that the high performance, durability and reliability of your facility's operations is maintained."
Customisable solutions
Helukabel worldwide is able to adapt and develop cables to meet various requirements for everyday or extreme conditions. It is advisable to speak to the Helukabel team to source cables with the right requirements for temperature, flexing cycles, torsion or tensile strength, winding capability and chemical resistance.
Various insulation and conductive materials may be used with different jacketing technologies and composite or hybrid designs. Strain relief can be provided with the use of Kevlar or steel wire, as well as round or flat steel armouring, among others.
"Depending on different requirements, we can tailor make cabling systems to almost any specification which we will have thoroughly tested at our own testing laboratories based in Germany and various other centres of excellence around the globe. With a huge off-the-shelf offering and the ability to make almost any other cable imaginable, we are confident that we have the right solutions for all South African companies in the chemical and related industries," concludes Gunnewegh.
For more information contact Doug Gunnewegh, Helukabel South Africa, +27 (0)11 462 8752, sales@helukabel.co.za , www.helukabel.co.za
Credit(s)
Further reading:
Rittal and Eplan join forces to add value for customers
September 2021 , Enclosures, Cabling & Connectors
By joining forces, sister companies Rittal and Eplan deliver solutions to speed up processes and boost productivity.
Read more...
---
Adjustable cable gland is easy to fit
August 2021 , Enclosures, Cabling & Connectors
Pratley, produces a uniquely adjustable cable gland that fits any size armouring.
Read more...
---
Legrand's Atlantic stainless steel cabinets
July 2021, Legrand , Enclosures, Cabling & Connectors
Legrand's Atlantic stainless steel cabinets have been designed for safe use in corrosive conditions and in areas requiring a high level of hygiene.
Read more...
---
Clean air for control systems
June 2021 , Enclosures, Cabling & Connectors
RTS Inertial Spin Filters provide an effective maintenance-free solution to dust problems in MCC rooms, transformer rooms, control rooms and other industrial spaces.
Read more...
---
Cable locator for failsafe cable fault diagnostics
May 2021, Comtest , Enclosures, Cabling & Connectors
What sets the UAT-600 Series apart from other underground locators is its CAT IV 600 V safety rating.
Read more...
---
Pratley develops another cable gland world-first
April 2021 , Enclosures, Cabling & Connectors
Pratley is well-known in the market for producing world-class electrical termination products.
Read more...
---
Legrand's Starfix ferrules, crimping tools and applicators
May 2021 , Enclosures, Cabling & Connectors
Legrand's Starfix ferrules, cable crimping tools and applicators are designed for new installations and renovations in commercial installations, offices and domestic environments.
Read more...
---
Monitoring for control cabinets
September 2020, Turck Banner , Enclosures, Cabling & Connectors
The IM18-CCM is particularly suitable for OEMs wishing to provide basic condition monitoring values in their IT system. It detects critical states of the control cabinet directly in the field.
Read more...
---
Automated marking of terminal strips
August 2020, Phoenix Contact , Enclosures, Cabling & Connectors
The Mark Master terminal strip marking system from the Phoenix Contact ClipX product range uses patented high-speed technology for the fast and efficient processing of marking tasks. In control cabinet 
...
Read more...
---
Rittal's range of compact and small enclosures
August 2020 , Enclosures, Cabling & Connectors
After more than 50 years and 35 million enclosures sold, Rittal has introduced its small and compact enclosures in the form of the AX and KX series. According to managing director of Rittal South Africa, 
...
Read more...
---