printer friendly version
Kobold's gear wheel flowmeter for viscous liquids
December 2014
Flow Measurement & Control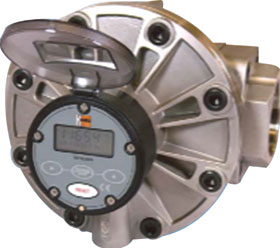 Kobold Instrumentation has introduced its oval wheel flowmeter model DOM, specifically for fuel consumption measurement in diesel engines using the dual flow inputs and the 'A-B' setting. A pair of DOM flowmeters is used with a single electronic model ZOD-Z3 to give a net reading of fuel consumption.
Principle of operation
The meters are positive displacement flowmeters where the passage of liquid causes two oval gears to rotate within the precision measuring chamber and with each rotation a fixed volume of liquid passes through the meter. Magnets embedded within the gears initiate a high resolution pulse train output. The pulse output can be wired directly to process control and monitoring equipment or can be used as an input to instruments supplied with or fitted directly onto the meter. The flowmeter is available as a blind transmitter with pulse output capable of interfacing to most monitoring and control instrumentation, or the meter can be fitted rate totalisers and batch controllers. These instruments also have monitoring and control output options including 4-20 mA, scaled pulse, flowrate alarms and batch control logic.
This technology allows precise flow measurement and dispensing of most clean liquids regardless of their conductivity, with other liquid characteristics having no or minimal effect on meter performance. This metering technology does not require flow profile conditioning or straight piping runs, making the installation compact and low cost.
Positive displacement flowmeters are an inexpensive means to meter high viscosity clean liquids; however, the meter must be sized so that the pressure drop across the primary measuring elements (oval rotor) does not exceed the maximum capability. Areas of application are all viscous, non-abrasive clean liquids like: petroleum, grease, pastes, oil, fuels, water, chemicals, ink, etc. Stainless steel flowmeters are suited to most water based products and chemicals and aluminium meters are suitable for fuels, fuel oils and lubricating liquids.
For more information contact Pieter Deysel, Instrotech, +27 (0)11 462 1920, sales@instrotech.co.za, www.instrotech.co.za
Credit(s)
Further reading:
Accurate flow measurement on a conveyor
August 2021, SICK Automation Southern Africa , Flow Measurement & Control
Heidelberg Cement in Lengfurt, Germany, needed a solution for the accurate metred supply of secondary material on its conveying system.
Read more...
---
Flowmeter with IO-Link
August 2021, GHM Messtechnik SA , Flow Measurement & Control
The calorimetric measuring principle makes this new Honsberg meter practically wear-free and gives users the ability to record media temperature in addition to flow measurement.
Read more...
---
Resistance thermometers for hazardous areas
August 2021, Instrotech , Temperature Measurement
Instrotech now offers Kobold's TWL resistance thermometers with ATEX approvals for ignition protection Exd or Exia.
Read more...
---
Electronic flow switch with display
August 2021, WIKA Instruments , Flow Measurement & Control
The new model FSD-4 electronic flow switch from WIKA offers full flexibility in monitoring and controlling flow based on the velocities of liquid media.
Read more...
---
Changeover in pharma production
August 2021, Instrotech , System Integration & Control Systems Design
Instrotech, through its principal, Siko, increases the efficiency and production quality of machines by offering intelligent positioning systems for machine manufacturers and end users in the pharmaceutical industry.
Read more...
---
Digital pressure gauge with IO-Link
July 2021, Instrotech , Pressure Measurement & Control
Instrotech now offers Kobold's new MAN-SC/LC intelligent digital pressure gauge with IO-Link
Read more...
---
Key factors for picking the optimal flowmeter
July 2021, KROHNE , Flow Measurement & Control
While a variety of factors impact meter performance, the most common culprits are flawed sizing and failing to choose the most appropriate technology.
Read more...
---
Industry first for pump testing laboratory
June 2021, Instrotech , Maintenance, Test & Measurement, Calibration
When a local fire pump test facility needed to eliminate human error from its test procedures, it contacted Instrotech for advice.
Read more...
---
Bypass level indicators
June 2021, Instrotech , Level Measurement & Control
Instrotech now offers Kobold's NBK level indicators for continuous measurement, display and monitoring of liquid levels in above or below-ground tanks.
Read more...
---
Networked beer tanks delight both landlords and breweries
May 2021, Instrotech , Sensors & Transducers
Smart transmitters trigger automatic reorders when tanks levels run low.
Read more...
---