printer friendly version
PC-based Control
October 2014
Industrial Computer Hardware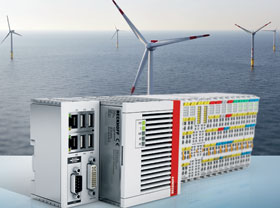 At WindEnergy 2014, Beckhoff presented its integrated control solution for the wind industry. PC-based Control makes it possible to integrate operational management, pitch control, inverter control, condition monitoring and visualisation on a single CPU. Even integration into very fast wind farm controllers is quick and easy. PC and EtherCAT technology, as well as a modular, finely scalable range of standard software and hardware components, represents a globally accessible and proven system solution that enables efficient, economical utilisation of wind energy.
The new CX5100 embedded PC series is ideally suited as a central control platform for wind turbines. The compact and robust DIN rail-mountable embedded PCs with a directly attached I/O system can be equipped with one, two or four processor cores and offer high performance at a lower price point. The CX51xx can handle all control tasks for a wind turbine, including visualisation, safety, and condition monitoring. The Beckhoff automation software TwinCAT 3 supports multi-core technology, making it possible to implement computing-intensive tasks such as condition monitoring on a separate core. The high processing speed of the CX51xx also removes limitations when installing additional software.
EtherCAT terminals integrate condition monitoring in the control system
PC-based Control seamlessly integrates wind turbine condition monitoring in the existing automation system: the high-precision EL3632 EtherCAT terminals for vibration measurement or the EL3356-0010 for analysis of strain gauges can be easily added to the existing I/O system. The sampled raw data are available for higher-level software solutions. The user's CMS software, which is integrated in the control system via an open interface such as OPC, facilitates analysis and initiation of downstream services. The integrated solution does away with the conventional 'black box'. In other words, complex coupling of hardware-based condition monitoring systems with the control system is no longer necessary. Users benefit not only from flexible expandability and significantly lower system costs, but also from improved diagnostics.
Future-proof wind farm networking with EtherCAT
Beckhoff sets new standards in wind farm networking with regard to ultra-fast response to voltage drops or changing requirements. Systems based on EtherCAT provide instantaneous values of current and voltage, recorded at the feed-in point, gathering up to 10 000 samples per second. In the event of a voltage drop, the set value specification for all wind turbines can be updated across the entire wind farm network in less than 1 ms. The measurement readings of all wind turbines and measurements at the feed-in point can be synchronised to a timeframe of less than 1 s, with corresponding control of current, voltage, and frequency, as well as providing optimum grid support.
Simplified system engineering with TwinCAT 3
TwinCAT, the integrated automation software from Beckhoff, offers users freedom of choice with regard to programming languages: In addition to object-oriented extensions to IEC 61131-3, C and C++ are also available for programming real-time applications. Support of MATLAB/Simulink allows common simulation tools used in the wind sector, for example for load calculation, to be conveniently integrated into the control system.
For more information contact Kenneth McPherson, Beckhoff Automation, +27 (0)11 795 2898, k.mcpherson@beckhoff.com, www.beckhoff.co.za
Credit(s)
Further reading:
Tailor-made intralogistics solutions harness scalable control and drive technology
January 2020, Beckhoff Automation , System Integration & Control Systems Design
RO-BER Industrieroboter of Kamen, Germany, develops automation solutions based on area and linear gantry robots for intralogistics. These solutions, including the new Twin-Gantry robot system, are characterised 
...
Read more...
---
Dome protects communication sticks
December 2019, Beckhoff Automation , Industrial Wireless
With the new CU8210-M001 cabinet dome, the USB port of an industrial PC can be fed out of the control cabinet and still be well protected. In this way, reliable and powerful wireless connections to the 
...
Read more...
---
PC-based control decorates plastic lids and containers
December 2019, Beckhoff Automation , System Integration & Control Systems Design
In-mold labelling (IML) is ideally suited to meet today's customer requirements in the plastics industry, especially in the packaging segment.
Read more...
---
New XTS functionality enables novel solutions in machine building
November 2019, Beckhoff Automation , Motion Control & Drives
XTS is a smart transport system of magnetically driven movers that travel along tracks consisting of motor modules and guide rails. A Beckhoff Industrial PC is able to control the movers independently 
...
Read more...
---
Process 4.0 breakfast seminar series
November 2019, Beckhoff Automation, VEGA Controls SA , News
Beckhoff Automation recently partnered with VEGA to present another highly successful series of breakfast seminars at venues across the country, with the theme Process 4.0. Beckhoff managing director, 
...
Read more...
---
PC-based control platform optimises water treatment product dosing
October 2019, Beckhoff Automation , System Integration & Control Systems Design
Clean water is vital in both consumer and commercial areas, including numerous industrial applications, such as mining, petroleum refining and groundwater remediation, in addition to residential applications
Read more...
---
Flexible communication across building and mobility applications
September 2019, Beckhoff Automation , System Integration & Control Systems Design
TwinCAT OPC UA connects research and innovation infrastructure on Empa campus.
Read more...
---
Process 4.0 Breakfast Seminar Series 2019
September 2019, Beckhoff Automation, VEGA Controls SA , News
Beckhoff Automation, in partnership with VEGA, are proud to present the second South African Process 4.0 Seminar for industry. The 2019 seminars are aimed at industry segments such as oil and gas production, 
...
Read more...
---
20 years of PC control technology
August 2019, Beckhoff Automation , News
Looking back and looking forward: an interview with Hans Beckhoff, managing director, Beckhoff Automation.
Read more...
---
Artificial intelligence in packaging
August 2019, Beckhoff Automation , IT in Manufacturing
Beckhoff Automation's Benjamin Bruns explains how the company has incorporated machine ­learning as a natural extension of its control platform.
Read more...
---