printer friendly version
Innovative solutions for servicing and maintenance
August 2014
Maintenance, Test & Measurement, Calibration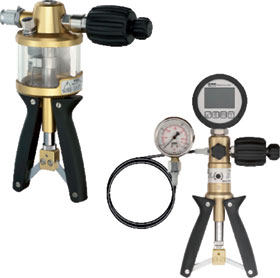 High capital investment in machinery, facilities and mobile hydraulics, means that professional service and maintenance are of great importance as expensive equipment must work without trouble or downtime. To this end, Parker Hannifin's SensoControl Business Department offers maintenance personnel intelligent help to achieve forward-looking servicing and control of the actual measuring equipment.
Early on, Parker recognised the importance of intelligent maintenance and servicing and in the eighties created the SensoControl Business Department where the appropriate tools for the concept were developed. One of the first products was the Parker Serviceman, which has now experienced a technical upgrade via the new Parker Serviceman Plus. The Serviceman Plus is a mobile, robust and easy-to-operate device for a multitude of measurement tasks in mobile and stationary hydraulic applications. Amongst its important features, this product has automatic sensor recognition and a novel memory concept using a nano USB memory stick. This allows pressure, temperature, flow and revolutions sensors to be plugged in and for measuring to start immediately. With this new device the user can choose between analogue and CAN-Bus versions. The latest variant allows high line lengths of up to 50 m with low wiring expense because up to three sensors can be connected to a single bus line.
As an addition, Parker now also offers the SCT temperature sensor which can be connected to the Serviceman Plus. This product was created with the idea of guaranteeing the safety and performance of industrial units, as temperature measurements in hydraulic systems can now be undertaken with this high pressure sensor. These investigations act as fault finders, which can prevent damage to critical components such as pumps or proportional valves that come about through excessively high temperatures. SCT temperature sensors are available in an analogue version and the user can choose here between screw-in and probe types. Whilst the analogue variant makes temperature measurements up to 1000°C possible, temperatures up to 150°C can be captured by the CAN version of the SCT sensor.
Sensors that work reliably are good but do these components also deliver accurate and precise results? The new Parker ServiceJunior Test Kit gives the most emphatic of answers precisely to this question. The kit is used for testing and validating pressure gauges, pressure sensors and switches. It consists of a mobile pressure pump and a reference, the Parker ServiceJunior. Also available is a pneumatic hand pump for pressure ranges of -0,95 to 60 bar, as well as a hydraulic version with a test range of 0 to 700 bar. The extremely accurate Parker ServiceJunior serves as the reference. The reference and the test specimen are brought to the desired test pressure and can be compared with the other. This new set enables the user to gain higher measuring accuracy through validated pressure sensors and displays. Time-consuming testing at the manufacturer is unnecessary because measurement can be quickly and simply undertaken in the field. This kit has been specially developed for applications in assembly, commissioning, manufacture, maintenance, service, quality assurance, inspection equipment monitoring and repair. With these three measurement devices Parker has achieved a balancing act between simple operation and maximum measuring accuracy – all to the advantage of the user.
For more information contact Lisa de Beer, Parker Hannifin Africa, +27 (0)11 961 0700, lisa.debeer@parker.com, www.parker.com/za
Credit(s)
Further reading:
Linux-based condition monitoring platform
Turck Banner Maintenance, Test & Measurement, Calibration
Turck Banner's compact IM18-CCM50 DIN rail control centre for collecting, processing and forwarding condition data to the IIoT can be configured for specific OEM requirements.
Read more...
---
Ultra-high-pressure hose from Parker
Parker Hannifin - Sales Company South Africa Pneumatics & Hydraulics
Parker Hannifin has launched PFX30-05, a DN8 ultra-high-pressure hose that offers improved service life in industrial water-jetting/blasting applications.
Read more...
---
Pyrometer for challenging applications
Instrotech Maintenance, Test & Measurement, Calibration
Instrotech now offers the new Optris CT 4M pyrometer for high-speed applications.
Read more...
---
Putting the new into pneumatics
Parker Hannifin - Sales Company South Africa Pneumatics & Hydraulics
IO-Link enabled products are just one example of how Parker is providing customers with cutting edge technologies for use in globalised manufacturing operations.
Read more...
---
Parker Hannifin announces new two-day online oil and gas event
Parker Hannifin - Sales Company South Africa News
Parker Hannifin has announced that it will hold an online trade show dedicated to the oil and gas industry, on 6 and 7 October.
Read more...
---
IR thermometer withstands 3-metre drop
Comtest Maintenance, Test & Measurement, Calibration
Comtest has on offer the Fluke 64 MAX IR thermometer with internal memory, unattended monitoring, improved accuracy and increased battery life.
Read more...
---
BMG gearboxes for railway maintenance
Bearing Man Group t/a BMG Maintenance, Test & Measurement, Calibration
BMG supplies the local railways sector with custom-designed planetary gearboxes for use in railway maintenance programmes.
Read more...
---
SKF increases paper machine reliability
SKF South Africa Maintenance, Test & Measurement, Calibration
SKF's virtually maintenance-free rope sheave units offer a unique solution to the pulp and paper industry through improved machine reliability.
Read more...
---
How are infrared cameras calibrated?
Instrotech Maintenance, Test & Measurement, Calibration
Infrared thermometers are calibrated with the help of reference radiation sources called black bodies, which can produce different temperatures with high stability.
Read more...
---
Connected test tools
Comtest Maintenance, Test & Measurement, Calibration
Fluke Connect is a set of tools and a smartphone app that let maintenance technicians capture, securely store and share data with their teams from the field.
Read more...
---