printer friendly version
Yokogawa releases Plant Resource Manager R3.12
July 2014
IT in Manufacturing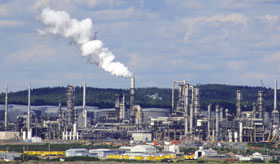 Yokogawa Electric Corporation has announced the release of Plant Resource Manager (PRM) R3.12. PRM is a software package that is capable of managing large amounts of data from plant monitoring and control devices and manufacturing equipment, thereby allowing their status to be monitored and diagnosed online. With PRM R3.12, self-diagnostic information is now displayed in a more intuitive format based on the NAMUR NE107 recommendations, and network functions have been enhanced for upstream oil and gas applications. With this new release of its PRM package, Yokogawa aims to expand its share of the maintenance market.
Development background
Manufacturers in the process industry are constantly working to improve maintenance efficiency by using systems that can manage large amounts of data from manufacturing equipment in order to monitor the status and identify maintenance needs.
When a device management system detects multiple problems in more than one device, maintenance personnel must quickly assess the severity of each problem and prioritise their actions. Equipment failures in plants must be dealt with quickly, so appropriate responses are required when it appears likely that a failure will soon occur. To satisfy these needs, this information is now displayed in an easier to understand format within PRM R3.12, allowing maintenance personnel to judge which actions will receive top priority.
This new version of PRM also offers enhanced network functionality, including improved support of wireless and satellite communications for upstream oil and gas applications.
Enhancements
Intuitive, easy to understand display
This new PRM version uses easy-to-understand NAMUR NE107-compliant symbols for the four primary device diagnostic categories, namely, failure, check function, out of specification, and maintenance required. While previous PRM versions were capable of indicating the severity of a device malfunction based on the self-diagnostic data, R3.12 makes clear at a glance what kind of response is required.
Network functionality for upstream oil and gas applications
The network function has been expanded to incorporate support for narrow-band wireless and satellite communications. Consequently, both PRM and the scada software installed at a central control facility enjoy improved connectivity with the ProSafe-RS safety instrumented systems that perform monitoring and control functions at widely distributed remote sites such as wellheads and pipeline pump stations. The centralised monitoring of device status at such remote locations meets our customers' need for improved maintenance efficiency. With this new functionality, Yokogawa anticipates that it will be able to expand its maintenance business in the oil and gas industries.
Target markets and applications for the software include maintenance of field devices in process industries such as oil and natural gas, petrochemicals, chemicals, power, iron and steel, pulp and paper, water and wastewater treatment.
For more information contact Charles van Haght, Yokogawa SA, +27 (0)11 831 6300, charles.vanhaght@za.yokogawa.com, www.yokogawa.com/za
Credit(s)
Further reading:
Siemens' software for digital transformation of automotive design
September 2021, Siemens Digital Industries , IT in Manufacturing
Model-based development process and systems are used in Japan and globally to adapt to the biggest automotive transformation in 100 years.
Read more...
---
Is track and trace through the factory a waste of time?
September 2021, Iritron , IT in Manufacturing
Modern track and trace solutions are purpose-built to introduce as little disruption to the existing production process as possible, while also being flexible enough to cater for plants that range from fully manual to fully automated.
Read more...
---
Modularity for scalability
September 2021, RJ Connect , IT in Manufacturing
Businesses are looking for versatile solutions that are easy to maintain to ensure smooth operations while keeping costs down.
Read more...
---
Saryx launches TMP
September 2021 , IT in Manufacturing
The digital transformation that has swept the world in the past few years has fundamentally altered most people's approach to technology, with an increasing number seeking the ability to manage their 
...
Read more...
---
Secure boundaries enhance industrial cybersecurity
September 2021, RJ Connect , IT in Manufacturing
When enhancing cybersecurity, it is important to understand how industrial systems are exchanging data and how they connect to IT-level systems.
Read more...
---
Siemens drives digital transformation at virtual Smart Mining forum
September 2021, Siemens Digital Industries , IT in Manufacturing
With its motto: 'On the road to the digital future', Siemens hosted its virtual Smart Mining forum from 3-5 August.
Read more...
---
Deep-learning AI made accessible
September 2021, SICK Automation Southern Africa , IT in Manufacturing
SICK Automation has launched a set of deep-learning software and services called dStudio, making artificial intelligence (AI) more accessible to the southern African market. This software works with machine 
...
Read more...
---
How safe are our factories? Part 1: Cybersecurity for operational technology.
August 2021, Wolfpack Information Risk , IT in Manufacturing
If companies are regularly being subjected to cyber hacks overseas, isn't it only a matter of time before someone with enough motivation, skill and resources targets us?
Read more...
---
HSEC Online simplifies health and safety compliance for companies
Technews Industry Guide: Sustainable Manufacturing 2021 , IT in Manufacturing
This automated, cloud-based solution provides a transparent, collaborative workflow platform which eliminates most of the manual complexities of health and safety document management compliance.
Read more...
---
Creating factories of the future
Technews Industry Guide: Sustainable Manufacturing 2021, SEW-Eurodrive , IT in Manufacturing
Raymond Obermeyer, managing director of SEW-Eurodrive South Africa, explains that Industry 4.0 includes all the opportunities for digitally networked production.
Read more...
---