printer friendly version
Yokogawa releases Plant Resource Manager R3.12
July 2014
IT in Manufacturing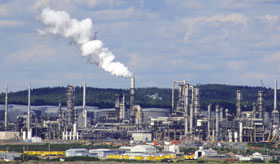 Yokogawa Electric Corporation has announced the release of Plant Resource Manager (PRM) R3.12. PRM is a software package that is capable of managing large amounts of data from plant monitoring and control devices and manufacturing equipment, thereby allowing their status to be monitored and diagnosed online. With PRM R3.12, self-diagnostic information is now displayed in a more intuitive format based on the NAMUR NE107 recommendations, and network functions have been enhanced for upstream oil and gas applications. With this new release of its PRM package, Yokogawa aims to expand its share of the maintenance market.
Development background
Manufacturers in the process industry are constantly working to improve maintenance efficiency by using systems that can manage large amounts of data from manufacturing equipment in order to monitor the status and identify maintenance needs.
When a device management system detects multiple problems in more than one device, maintenance personnel must quickly assess the severity of each problem and prioritise their actions. Equipment failures in plants must be dealt with quickly, so appropriate responses are required when it appears likely that a failure will soon occur. To satisfy these needs, this information is now displayed in an easier to understand format within PRM R3.12, allowing maintenance personnel to judge which actions will receive top priority.
This new version of PRM also offers enhanced network functionality, including improved support of wireless and satellite communications for upstream oil and gas applications.
Enhancements
Intuitive, easy to understand display
This new PRM version uses easy-to-understand NAMUR NE107-compliant symbols for the four primary device diagnostic categories, namely, failure, check function, out of specification, and maintenance required. While previous PRM versions were capable of indicating the severity of a device malfunction based on the self-diagnostic data, R3.12 makes clear at a glance what kind of response is required.
Network functionality for upstream oil and gas applications
The network function has been expanded to incorporate support for narrow-band wireless and satellite communications. Consequently, both PRM and the scada software installed at a central control facility enjoy improved connectivity with the ProSafe-RS safety instrumented systems that perform monitoring and control functions at widely distributed remote sites such as wellheads and pipeline pump stations. The centralised monitoring of device status at such remote locations meets our customers' need for improved maintenance efficiency. With this new functionality, Yokogawa anticipates that it will be able to expand its maintenance business in the oil and gas industries.
Target markets and applications for the software include maintenance of field devices in process industries such as oil and natural gas, petrochemicals, chemicals, power, iron and steel, pulp and paper, water and wastewater treatment.
For more information contact Charles van Haght, Yokogawa SA, +27 (0)11 831 6300, charles.vanhaght@za.yokogawa.com, www.yokogawa.com/za
Credit(s)
Further reading:
The Fourth Industrial Revolution
July 2020 , IT in Manufacturing
Read more...
---
Smart engineering directly in the cloud
June 2020, Beckhoff Automation , IT in Manufacturing
PC-based control is an open, central control platform that integrates a full range of machine functionality and optimally supports the implementation of highly efficient IoT-based automation strategies. 
...
Read more...
---
How investing in a niche market placed Yokogawa aboard the International Space Station
June 2020, Yokogawa South Africa , News
While the world was abuzz with excitement over the revival of U.S. manned spaceflight, another equally promising space endeavour flew under the radar. On 20 May, the H-II Transfer Vehicle (HTV-9), affectionately 
...
Read more...
---
Creating specific SensorApps
June 2020, SICK Automation Southern Africa , IT in Manufacturing
Create individual SensorApps without programming skills and solve new automation tasks easily. Starting at the end of the year, this will all be possible in the SICK AppStudio, part of the SICK AppSpace 
...
Read more...
---
Mobile robots speed production at new smart factory
July 2020, Omron Electronics , IT in Manufacturing
A dozen industrial robots, each in individual workstations or cells, perform different steps in the manufacturing process. However, to attain the high efficiency, safety, and convenience of a modern 
...
Read more...
---
The administration of digital twins
July 2020, SICK Automation Southern Africa , IT in Manufacturing
In order to access the virtual representation of the sensor and its data, SICK Automation uses LiveConnect to deliver a standardised connection from an edge gateway to SICK Asset Hub. This visualises 
...
Read more...
---
How IIoT solutions can help your plant go digital
July 2020, Endress+Hauser South Africa , IT in Manufacturing
Everyone is talking about the new normal, a shift that is forcing companies to adopt a digital strategy, one way or another, in order to remain relevant and competitive in these unprecedented times. Many 
...
Read more...
---
Fast IT rack launched in South Africa
July 2020, Rittal , IT in Manufacturing
Introducing a new generation of IT racks
Conceived as a universal modular system, the VX IT has been designed for all common applications and its versatility makes it suitable for use as a network and 
...
Read more...
---
Engineering 4.0: Automatic dashboard generation
July 2020, Beckhoff Automation , IT in Manufacturing
Many machine builders and systems integrators looking to transform their business models have identified machine and plant process data as being a core fundamental. When it comes to tailoring new data-driven 
...
Read more...
---
Completing the remote maintenance circle
July 2020, Throughput Technologies , IT in Manufacturing
What do the world's machine builders want from a next generation remote maintenance solution? Secomea has been listening to thousands of them and has spotted a pattern. In this collective vision the 
...
Read more...
---