printer friendly version
Schneider Electric says services vital for installed base
July 2014
Electrical Power & Protection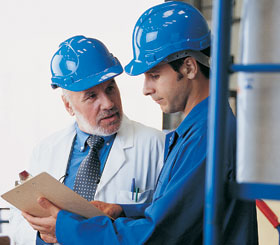 Enlisting the help of an experienced and specialised installed base service provider levels the path for an organisation to achieve its overall business goals. This is the case for an organisation either preparing to install brand new equipment or looking to extend the life of an existing installation or planning to decommission an outdated facility.
Roland Bartle, business development manager for the mining, minerals and metals industry at Schneider Electric South Africa, says that when it comes to electrical distribution infrastructure, the answer is straightforward: "Get professional expertise. Doing business in today's economic environment is challenging enough. For peace of mind, it is advisable to outsource the management of an electrical distribution installation."
He highlights that installed base services should be developed to assist companies increase productivity, reliability and safety; mitigate risk and limit downtime; keep equipment up to date and extend its lifespan; cut costs and increase savings and improve return on investment.
"To achieve the above objectives, Schneider Electric has divided its installed base services into six focus areas, namely: technical training; on-demand maintenance; modernisation; end of life; installation assessment and maintenance, services and contracts," explains Bartle.
Schneider Electric's installation and commissioning services were created specifically to improve the launch phase of medium voltage/low voltage electrical distribution installations.
Having well-trained employees is key to the long-term health of electrical distribution equipment. But training them, and keeping their knowledge current, can be challenging. "Schneider Electric has the experience, the highly skilled educators, and the capability to create training programmes flexible enough to fit your needs. Whether your employees need to acquire new skills or to refresh and deepen existing competencies, we have an option to suit them," says Bartle.
Installing new electrical distribution equipment generally involves a major financial commitment, so it makes sense to get the best use out of an installed base. According to Bartle, ageing, outdated equipment can be modernised, dramatically improving its performance and lifetime, as well as achieving compliance with current regulations.
"With the Ecofit solution from Schneider Electric, you get a cost-effective means of updating your installed base. Whether it requires retrofit or replacement of ageing equipment, we can help you save time and money," says Bartle.
"As electrical distribution equipment approaches the end of its lifetime, you need to plan accordingly. Environmental regulations are increasingly stringent and it's becoming important to dispose of outdated equipment in a way that is both green and transparent. Schneider Electric offers a turnkey solution for processing your old electrical equipment and recovering toxic substances and persistent organic pollutants, such as SF6 gas and polychlorinated biphenyls (PCBs).
"Our installation assessment services combine in-depth analyses of the current state of your equipment with expert advice on how to optimise technical performance, safety, and maintenance. Customers get a site-wide electrical installation assessment, including an evaluation of energy needs and current capabilities, reliability analyses, and a rating of critical levels. A variety of technical studies are also available, including electromagnetic compatibility analyses, system dependability analyses, and power flow calculations. We offer arc flash analysis as well, to help you determine flash protection boundaries and implement low cost arc flash reduction methods."
It has been shown that unexpected downtime can cause significant financial losses. Slow to respond repair personnel often compound the problem and equipment often underperforms after it has been repaired. As such, Schneider Electric's maintenance services contracts were created to prevent such issues.
By focusing on predictive and preventive maintenance that is tailored specifically to a customer site and processes, customers can keep control over their budget and ensure a prompt response in the case of any failure.
"Schneider Electric's installed base services provide total life cycle support for our customers' automation installations, encompassing all of the products and solutions available from Schneider Electric. Building on the strengths of our brands we not only deliver global expertise and support but also peace of mind to customers at a local level," concludes Bartle.
For more information contact Ntombi Mhangwani, Schneider Electric South Africa, +27 (0)11 254 6400, ntombi.mhangwani@schneider-electric.com, www.schneider-electric.com
Credit(s)
Further reading:
Power supplies for building automation
June 2020, Phoenix Contact , Electrical Power & Protection
The new Step Power power supplies from Phoenix Contact are specifically tailored to the needs of modern building automation. With their comprehensive approval package, which includes the standard 
...
Read more...
---
Skid-mounted dry-type transformer
June 2020 , Electrical Power & Protection
In a specialised application on a coal mine, Trafo Power Solutions recently supplied a dry-type transformer mounted on a mobile skid. "The harsh environment of a coal mine required us to specially 
...
Read more...
---
Customised transformers for renewables and beyond
June 2020 , Electrical Power & Protection
A focus on application engineering allows Trafo Power Solutions to supply customised dry-type transformers for a range of sectors including renewable energy. "We begin at the proposal stage by engaging 
...
Read more...
---
Electrical certificate of compliance (COC) for instrumentation: non-hazardous installations
June 2020, Everest Equipment & Control , Electrical Power & Protection
An instrument and control installation's scope of work often never makes a request for a certificate of compliance: it is assumed to be an electrical function and hence many installations are non-compliant. 
...
Read more...
---
Five tips to manage energy use while staying at home
May 2020 , Electrical Power & Protection
Covid-19 continues to impact many aspects of our lives. Many are now required to stay at home in an effort to curb the spread of the pandemic. One of the many implications of staying at home will be the 
...
Read more...
---
Holistic approach to energy security
April 2020 , Electrical Power & Protection
As South Africans settle into the routine and inconvenience of load shedding and planning their activities around shifting electricity supply, it is businesses that are taking the biggest hit through 
...
Read more...
---
Save energy costs with highly-efficient Delta VFDs
April 2020, ElectroMechanica , Electrical Power & Protection
Customers can realise significant savings on their total energy costs by replacing older motor starters with energy-efficient Delta variable frequency drives (VFDs), distributed locally by ElectroMechanica 
...
Read more...
---
Utility made easy
April 2020, Schneider Electric South Africa , Electrical Power & Protection
In recognition of the growing demand for reliable power provision, Schneider Electric strives to assist network operators to deliver electricity safely and efficiently. The company's Advanced Distribution 
...
Read more...
---
Specialised transformers for renewable energy projects
April 2020, Zest WEG Group , Electrical Power & Protection
Zest WEG's local transformer manufacturing facility has supplied 36 specialised photovoltaic (PV) transformers to a solar energy generation plant in the Northern Cape. According to sales team leader, 
...
Read more...
---
Meeting the needs of the mining industry
April 2020, Varispeed (Div of Hudaco Trading) , Electrical Power & Protection
Both above and below ground, Varispeed keeps the interests of its customers top of mind, all the time. The company was recently approached by a platinum mine in South Africa to assist with a robust application. 
...
Read more...
---