printer friendly version
Saving energy with pneumatics in water treatment
July 2014
Pneumatics & Hydraulics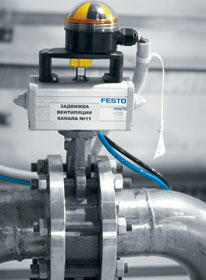 Festo is working with water and wastewater treatment companies across the globe, using pneumatic automation technology to provide an energy-efficient solution for new and old treatment plants. The equipment supplied is from the process valve to scada visualisation of the plant, as a complete solution.
A key target for many water and wastewater treatment plants is that of reducing the electricity consumption. Saint Petersburg resolved to implement a programme to increase the energy efficiency of the drinking water supply for its southern areas and has invested 2,6 billion roubles (around R760 million) over a period of three years. South African municipalities are similarly challenged to upgrade their water infrastructure using energy efficient solutions.
Pneumatic vs electric drives
Until now, electric drives were the first choice for Russia's water treatment plants, for opening and closing the inlets and outlets of sand-bed filters or in pumping stations. In St. Petersburg, the use of only electric drives would have meant an installed load of 75 kW. The plant could not have provided this without extending the electrical infrastructure. A pneumatic system with actuators, including two air compressors, required an installed load of only 10 kW.
As the power grid in South Africa is increasingly under pressure, it makes sense that a similar solution would be of benefit to local water treatment plants. Festo can supply ready to install valve assemblies consisting of butterfly, ball or knifegate valves with actuators and sensor boxes, as well as control cabinets with valve terminals, pressure and flow sensors and service units from Festo's MS series. By sourcing all the pneumatic automation equipment from the same supplier, there are fewer problems during operation and maintenance of the plant.
Integrated control and monitoring solution
As the most modern water treatment plant in Russia, the plant at St. Petersburg was also equipped with a central control system at the process management level which allows comprehensive monitoring of the water treatment process. The control system gathers current data and compares this continuously with defined setpoints. The Festo automation technology is fully integrated into this monitoring process and uses sensor signals to supply up to date information on the operating status of individual plant sections.
Beyond the supply of top quality drinking water, the pneumatic automation technology installed in St. Petersburg's plant, also allowed the water utility company to achieve a quantum leap in energy efficiency. This same technology has been installed at several plants locally, including Meulwater and Preekstoel in the Western Cape, offering the same benefits as those enjoyed by customers around the world.
For more information contact Tracey Swart, Festo, 08600 FESTO, sales.interaction@za.festo.com, www.festo.com
Credit(s)
Further reading:
Experience digitalisation at the Festo Virtual Exhibition
June 2020, Festo South Africa , News
Festo is breaking new ground with its first-ever Virtual Exhibition scheduled to take place from the 15-16 July. Visitors will get to experience digitalisation as never before. This exhibition will be 
...
Read more...
---
Festo TechTalk: Energy efficiency thanks to smart products
July 2020, Festo South Africa , IT in Manufacturing
This year's TechTalk focused on smart products that help companies to produce energy efficiently, educational measures that empower employees for lifelong learning as well as for the digital working world 
...
Read more...
---
Festo online configurator tool simplifies sizing of process valves
April 2020, Festo South Africa , Valves, Actuators & Pump Control
From manually operated to automated process valves, the new configurator tool for process valves from Festo makes selecting the right solution easy and less time-consuming.
Read more...
---
Seamless integrated connectivity for electric automation from Festo
April 2020, Festo South Africa , Fieldbus & Industrial Networking
The cloud is everywhere. We save data on the cloud and access it on our phones and computers from anywhere at our convenience. The same applies to seamless connectivity in industrial automation from your 
...
Read more...
---
RS adds self-adjusting double-acting air cylinders
December 2019, RS Components SA , Pneumatics & Hydraulics
RS Components has expanded its offering from factory automation manufacturer Festo to include new double-acting pneumatic cylinders in the DSBC product range. Aimed at both machine builders and maintenance 
...
Read more...
---
Festo's digitalised product world
January 2020, Festo South Africa , System Integration & Control Systems Design
HoloLens, mobile phones, 3D printing and smart glasses – the gadgets that captured the public imagination in the blockbuster movie 'Back to the Future' over 30 years ago have now become a reality, all thanks to digitalisation.
Read more...
---
Refrigeration compressed air dryers
January 2020, Artic Driers , Pneumatics & Hydraulics
The R Class range of compressed air refrigeration dryers and RSXW chemical adsorption dryers have consistently low dew points, with an attractive entry price and a low cost of ownership once in operation. 
...
Read more...
---
World record for Festo's BionicOpter
December 2019, Festo South Africa , News
The Festo BionicOpter will be included in the 2020 Guinness World Records. The chapter 'Robots' presents the most amazing records from the world of super robots and artificial intelligence. The Festo 
...
Read more...
---
Festo inspires with smart digital solutions at the Automation Expo
September 2019, Festo South Africa , News
Festo hosted the first leg of the Automation Expo in Johannesburg at the Sandton Convention Centre, while the second took place in Port Elizabeth at the Boardwalk Convention Centre. Both ended on a high 
...
Read more...
---
Productivity Master points the way to digitalisation
September 2019, Festo South Africa , System Integration & Control Systems Design
Seamless connectivity of handling and software solutions developed by Festo.
Read more...
---