printer friendly version
Saving energy with pneumatics in water treatment
July 2014
Pneumatics & Hydraulics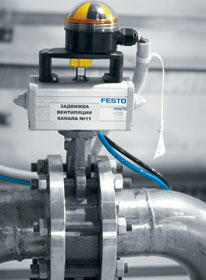 Festo is working with water and wastewater treatment companies across the globe, using pneumatic automation technology to provide an energy-efficient solution for new and old treatment plants. The equipment supplied is from the process valve to scada visualisation of the plant, as a complete solution.
A key target for many water and wastewater treatment plants is that of reducing the electricity consumption. Saint Petersburg resolved to implement a programme to increase the energy efficiency of the drinking water supply for its southern areas and has invested 2,6 billion roubles (around R760 million) over a period of three years. South African municipalities are similarly challenged to upgrade their water infrastructure using energy efficient solutions.
Pneumatic vs electric drives
Until now, electric drives were the first choice for Russia's water treatment plants, for opening and closing the inlets and outlets of sand-bed filters or in pumping stations. In St. Petersburg, the use of only electric drives would have meant an installed load of 75 kW. The plant could not have provided this without extending the electrical infrastructure. A pneumatic system with actuators, including two air compressors, required an installed load of only 10 kW.
As the power grid in South Africa is increasingly under pressure, it makes sense that a similar solution would be of benefit to local water treatment plants. Festo can supply ready to install valve assemblies consisting of butterfly, ball or knifegate valves with actuators and sensor boxes, as well as control cabinets with valve terminals, pressure and flow sensors and service units from Festo's MS series. By sourcing all the pneumatic automation equipment from the same supplier, there are fewer problems during operation and maintenance of the plant.
Integrated control and monitoring solution
As the most modern water treatment plant in Russia, the plant at St. Petersburg was also equipped with a central control system at the process management level which allows comprehensive monitoring of the water treatment process. The control system gathers current data and compares this continuously with defined setpoints. The Festo automation technology is fully integrated into this monitoring process and uses sensor signals to supply up to date information on the operating status of individual plant sections.
Beyond the supply of top quality drinking water, the pneumatic automation technology installed in St. Petersburg's plant, also allowed the water utility company to achieve a quantum leap in energy efficiency. This same technology has been installed at several plants locally, including Meulwater and Preekstoel in the Western Cape, offering the same benefits as those enjoyed by customers around the world.
For more information contact Tracey Swart, Festo, 08600 FESTO, sales.interaction@za.festo.com, www.festo.com
Credit(s)
Further reading:
Festo's life science webinar on gas handling opens up new horizons
September 2021, Festo South Africa , News
How piezo technology more efficiently regulates flow rate and pressure.
Read more...
---
Festo at the heart of absolute automation
July 2021, Festo South Africa , Pneumatics & Hydraulics
Festo is renowned as one of the leading pneumatic automation suppliers. Over the years, the company has also set the pace in both Process and Electric Automation. This is backed by its proven record of 
...
Read more...
---
Parker's High Performance Flange system
July 2021, Parker Hannifin - Sales Company South Africa , Pneumatics & Hydraulics
Parker Hannifin has announced that its mechanical flange system for machines and plants with working pressures of up to 420 bar has gained DNV GL approval for marine applications.
Read more...
---
Compressed air purity analyser
July 2021, Artic Driers International , Pneumatics & Hydraulics
Compressed air treatment using filters and dryers is an effective barrier to airline contamination. Until recently, auditing the compressed air quality in a system was difficult, but clients and professional 
...
Read more...
---
Use compressed air efficiently
Technews Industry Guide: Sustainable Manufacturing 2021, Artic Driers , Pneumatics & Hydraulics
To attain sustainability, one of the areas that needs great attention is compressed air efficiency within the plant.
Read more...
---
BMG's Hydraforce valves and solutions
April 2021, Bearing Man Group t/a BMG , Pneumatics & Hydraulics
BMG, distributors of the Hydraforce range of proportional valves in southern Africa, works closely with Hydraforce engineers and customers in diverse industries to design and manufacture customised hydraulic 
...
Read more...
---
Tailored technology meets responsive design with the new Festo website
April 2021, Festo South Africa , Editor's Choice
Festo South Africa recently launched its new website to demonstrate the company's continuing commitment to simplifying its customer's lives through innovative service delivery.
Read more...
---
Highly flexible pick and place with digitised pneumatics from Festo
February 2021, Festo South Africa , Pneumatics & Hydraulics
Motion Apps are revolutionising pneumatics by increasing flexibility, energy efficiency and accelerating production processes.
Read more...
---
An easier way to connect
February 2021, Hydrasales , Pneumatics & Hydraulics
Quick-release hydraulic couplings on agricultural equipment have enabled Faster Couplings to provide innovative solutions to meet this sector's needs.
Read more...
---
Protect machines with soft-start valves
February 2021, SMC Corporation South Africa , Pneumatics & Hydraulics
A slow increase in air pressure into a machine at startup helps facilitate a soft start of all downstream components.
Read more...
---