printer friendly version
Cyber security for water treatment plants
July 2014
IT in Manufacturing
Protection and safety are primary objectives of any water treatment facility as compromises to critical water treatment plant infrastructure assets from cyber attacks can have a significant detrimental impact. Invensys has the knowledge, expertise and resources to help protect water and wastewater facilities by identifying and addressing critical gaps.
Wonderware's Critical Infrastructure and Security Practice (CISP) offer a solution that provides a cyber-secure network infrastructure, securing critical systems with two key areas of focus:
* A lifecycle approach as opposed to a point solution within the control automation area.
* Optimisation through network management and secure data acquisition.
Water treatment cyber security solutions are designed specifically to protect industrial control systems (ICS) since increasing connectivity, proliferating access points, escalating system complexity and widening use of common operating systems and platforms have all contributed to heightened security risks. In addition, many of the ICS currently operating across the water and wastewater industry are being used in ways that were never intended. Many ICS were designed decades ago with little or no consideration of cyber security.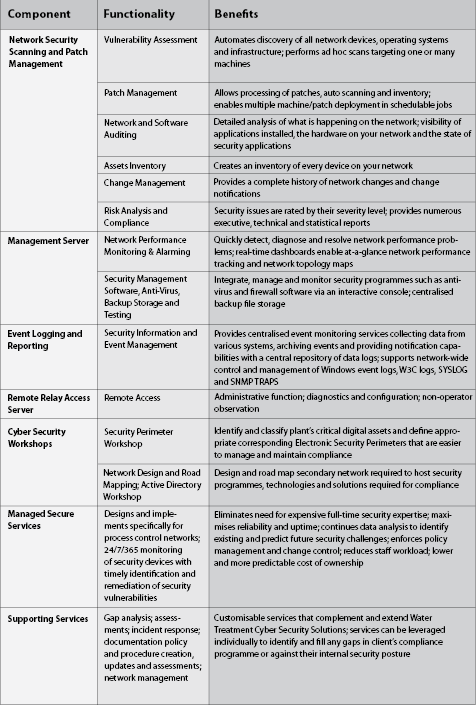 Water treatment cyber security solutions
Today's reliance on ICS makes the industry potentially vulnerable to targeted cyber-attacks as well as accidental cyber events. Security is no longer simply about blocking hackers or updating anti-virus software. Today, a security breach can directly impact water and wastewater operations, potentially affecting the safety, reliability and affordability of the water supply and associated services – key corporate concerns tied directly to public health and the environment.
For more information contact Jaco Markwat, Wonderware Southern Africa, +27 (0)11 607 8100, jaco.markwat@wonderware.co.za, www.wonderware.co.za
Further reading:
Siemens' software for digital transformation of automotive design
September 2021, Siemens Digital Industries , IT in Manufacturing
Model-based development process and systems are used in Japan and globally to adapt to the biggest automotive transformation in 100 years.
Read more...
---
Is track and trace through the factory a waste of time?
September 2021, Iritron , IT in Manufacturing
Modern track and trace solutions are purpose-built to introduce as little disruption to the existing production process as possible, while also being flexible enough to cater for plants that range from fully manual to fully automated.
Read more...
---
Modularity for scalability
September 2021, RJ Connect , IT in Manufacturing
Businesses are looking for versatile solutions that are easy to maintain to ensure smooth operations while keeping costs down.
Read more...
---
Saryx launches TMP
September 2021 , IT in Manufacturing
The digital transformation that has swept the world in the past few years has fundamentally altered most people's approach to technology, with an increasing number seeking the ability to manage their 
...
Read more...
---
Secure boundaries enhance industrial cybersecurity
September 2021, RJ Connect , IT in Manufacturing
When enhancing cybersecurity, it is important to understand how industrial systems are exchanging data and how they connect to IT-level systems.
Read more...
---
Siemens drives digital transformation at virtual Smart Mining forum
September 2021, Siemens Digital Industries , IT in Manufacturing
With its motto: 'On the road to the digital future', Siemens hosted its virtual Smart Mining forum from 3-5 August.
Read more...
---
Deep-learning AI made accessible
September 2021, SICK Automation Southern Africa , IT in Manufacturing
SICK Automation has launched a set of deep-learning software and services called dStudio, making artificial intelligence (AI) more accessible to the southern African market. This software works with machine 
...
Read more...
---
How safe are our factories? Part 1: Cybersecurity for operational technology.
August 2021, Wolfpack Information Risk , IT in Manufacturing
If companies are regularly being subjected to cyber hacks overseas, isn't it only a matter of time before someone with enough motivation, skill and resources targets us?
Read more...
---
HSEC Online simplifies health and safety compliance for companies
Technews Industry Guide: Sustainable Manufacturing 2021 , IT in Manufacturing
This automated, cloud-based solution provides a transparent, collaborative workflow platform which eliminates most of the manual complexities of health and safety document management compliance.
Read more...
---
Creating factories of the future
Technews Industry Guide: Sustainable Manufacturing 2021, SEW-Eurodrive , IT in Manufacturing
Raymond Obermeyer, managing director of SEW-Eurodrive South Africa, explains that Industry 4.0 includes all the opportunities for digitally networked production.
Read more...
---