printer friendly version
Separating minerals by flotation processes
June 2014
Sensors & Transducers
The flotation process can separate a desired mineral such as copper, nickel, molybdenum or zinc from ore. Flotation can separate the desired mineral from waste materials or from another mineral.
The process starts with crushed ore received by a ball mill and reduced in particle size to the consistency of sand. Next, the ground ore from the mill travels as high-solid slurry to a cyclone. The cyclone separates the fine and heavier particles, which return to the ball mill for further grinding. The cyclone overflow continues on to a series of flotation cells that separate the desired mineral from other materials.
Air injected into the flotation cells, along with foaming agents, creates a bubbly froth. An added chemical called a collector acts on the lighter mineral, causing it to attach to bubbles and rise to or near the surface. The float material then overflows or is skimmed off, while the bottom material goes on to another separation process or to waste. The ability of a mineral to float depends on certain conditions. One important flotation variable is pH, which affects:
1. The form of many ionic species present.
2. The charge state of the mineral surfaces.
3. The form of many collectors.
Copper processing example

ABB pH sensor with hydraulic cleaner.
A high pH is important in the processing of copper ore to maximise this mineral's flotation properties. Most copper ore slurries tend to be acidic. Plants typically add lime to the slurry in the mill or flotation circuit, increasing its alkalinity. A typical copper operation contains many flotation cells, often with a pH sensor in each cell. The number of sensors and their locations vary from plant to plant, being largely dependent on solution chemistry. Sensor life and maintenance quickly becomes important economic factors.
The pH sensor in any mineral processing slurry should be mounted to provide sufficient velocity past the sensor to minimise lime scale and material build-up. However, the location must trade off flow velocity with the possibility of abrasion to the sensor glass and body. Additionally, the pH sensor should be located at a point that is representative of cell solution.
Some plants monitor pH further upstream of flotation in the mill circuit. A typical mill circuit installation point would be in the cyclone overflow. Plants more generally mount the pH sensor in the flotation basin or the overflow line. Mounting in the overflow has the advantage of not totally submersing the back of the sensor, provided overflow depth remains constant. Care should be taken that the sensor is mounted deep enough to contact liquid rather than the top froth, which has a high percentage of air. Most sensors have a submersible design with a rigid mounting.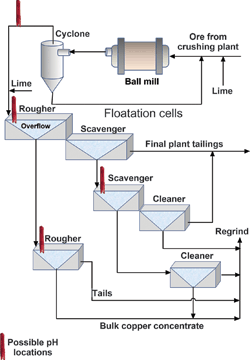 Typical mineral flotation process.
The ABB solution: TB556 for pH measurement
The fluid in a flotation circuit or flotation feed will always have a high percentage of solids. The pH sensor must be rugged to stand up to the inevitable abrasion by slurry particles and build-up of scaling resulting from lime additions. In the case of scaling or particle accumulation, hydraulic cleaners have been used successfully. The periodic jet of fluid prevents a build-up of pulp or scale.
To resist abrasion of the pH electrode and plugging of the reference junction, flotation plants commonly select the ABB TB556 for this application. This sensor has an integral, patented Next Step Solid State reference. The sensor's large annular liquid reference junction provides added surface area that's less susceptible to plugging. The solid state reference design minimises reference contamination, resulting in a more stable and accurate measurement. And a flush flat-glass pH electrode surface reduces the adherence of particles, abrasion, and breakage.
For more information contact Jacolize Goosen, ABB South Africa, +27 (0)10 202 5000, jacolize.goosen@za.abb.com, www.abb.com/za
Credit(s)
Further reading:
Multi-colour touch sensors with ­IO-Link
June 2019, ifm - South Africa , Sensors & Transducers
The new multi-colour touch sensors from ifm bring flexible adaptation to any application. Where many different sensors were required before, one individually adjustable sensor is sufficient today. The 
...
Read more...
---
Static and rotational torque sensors
June 2019, ASSTech Process Electronics + Instrumentation , Sensors & Transducers
With the new compact 8661 series of torque sensors, Burster has extended its portfolio to include static and rotating torques over the range from 0,05 to 200 Nm. In addition to the highly accurate measurements, 
...
Read more...
---
Handheld control valve tester
June 2019, Comtest , Sensors & Transducers
In the past, control valve testing meant using complicated testers that required extensive training, the removal of the valve, and often one-to-two hours of test time on the bench. Comtest is therefore 
...
Read more...
---
Magnetic sensors for C-groove cylinders from SMC
June 2019, Turck Banner , Sensors & Transducers
Turck's portfolio of magnetic field sensors is being expanded: The BIM-UNC product series was specially optimised for perfect mounting in the C-groove pneumatic cylinder of SMC. The sensors can be inserted 
...
Read more...
---
Photoelectric sensor for demanding applications
June 2019, Rockwell Automation , Sensors & Transducers
The new Allen-Bradley 42AF RightSight M30 photoelectric sensor from Rockwell Automation is the latest addition to the company's smart sensing portfolio. Built with improved environmental resistance and 
...
Read more...
---
Vision sensors
Africa Automation Fair 2019 Preview , Sensors & Transducers
The VG series vision sensors utilise images captured by integrated industrial camera lenses to determine a target object's presence, colour, size, shape, orientation, patterns and more. On show at Stand 
...
Read more...
---
Radiometric density system
Africa Automation Fair 2019 Preview, Mecosa , Sensors & Transducers
On show at Stand D08 is the new DuoSeries LB 475 radiometric density system from Berthold, which is designed for the cementing and hydraulic fracturing industries. The density transmitter is a state-of-the-art 
...
Read more...
---
IO-Link infrastructure components
Africa Automation Fair 2019 Preview, Pepperl+Fuchs , Sensors & Transducers
Pepperl+Fuchs has on show a range of IO-Link infrastructure components. As a globally established communication standard that is system- and fieldbus-independent, IO-Link offers many advantages. The universal 
...
Read more...
---
High performance sensors
Africa Automation Fair 2019 Preview , Sensors & Transducers
The LE46C sensors from Leuze electronic are reliable and cost-effective, with high performance reserves and large ranges. On exhibit at Stand J13, these sensors are ideal for use in conveyor and storage 
...
Read more...
---
Leak detection in coal-fired power stations
Africa Automation Fair 2019 Preview, Instrotech , Sensors & Transducers
Instrotech's advanced acoustic leak detection system, Inspecta FFT, can detect boiler tube leaks in coal-fired utilities and in oxygen plants and gasifiers. The technology and equipment is in use in power 
...
Read more...
---