printer friendly version
Schmalz solutions set to revolutionise the metal industry
June 2014
Pneumatics & Hydraulics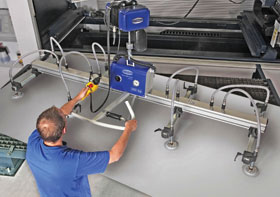 The nature of metal production is changing as factories receive orders of different types, shapes and sizes to satisfy the ever-growing market. Consequently, moving metal no longer only means lifting large flat sheets, but now extendeds to various different forms such as coiled and paper-thin constructions. Schmalz, specialists in vacuum technology, has introduced a new range of ergonomic handling solutions in order to keep up with the changes in metal production. They are ideal for different types of lifting applications unique to the metal industry.
Lifting large metal sheets and abnormally sized coils differs substantially and as a result Schmalz has developed unique suction pads to accommodate each application. The system is equipped with a quick acting, non-return valve that ensures the metal will not be dropped even in the event of a power failure. For handling of very thin steel and aluminium sheets Schmalz has also designed specially reinforced suction pads that enable lifting of thin material without any marking or deformation.
Schmalz understands that not all metals are flat and as a result has also created specialised type FM suction pads, available with Jumbo Lifters that ensure the secure handling of metal with apertures, holes and special contours. This flexible suction pad is able to mount and lift the bent metal from sloped surfaces.
Specialised solutions for handling of metal sections and coils
In order to achieve damage-free gripping and movement of metal coils and metal ­sections made from foils, steel, tinplate, ­aluminium, Schmalz has developed solutions that enable the gripping of abnormal loads made of non-magnetic steel and non-ferrous metals.
The compact VacuMaster Light is ideal for handling various metal work pieces of varying shapes up to 100 kg. With the flexible and fast adjustment of the suction pads, the VacuMaster Light is suitable for use in applications such as assembly, packaging, loading of machines.
The VacuMaster Coil is designed to lift coiled sheets of metal up to 1000 kg from a pallet in the horizontal position, placing them vertically on a spindle. The transparent suction plate ensures operator accuracy as well as safe operation thanks to electronic warning device.
Jumbo Vacuum tube lifter is designed for the frequent and rapid handling of metal up to 110 kg and is equipped with customer-specific vacuum-grippers, as well as reinforced with specialised suction pads for easy and safe handling of metal sheets.
Specialised solutions for handling of large sheet metal
VacuMaster Eco lifter ensures the horizontal handling of smooth sheet metal of up to 500 kg. This lifter is self-powered and can therefore be used in remote locations where electrical power is not available. The unit also offers energy saving as there is no electrical motor and comes standard with a parking stand for loading onto laser-cutting machines.
VacuMaster Basic lifter handles sheets up to 750 kg and can swivel the sheet 90 degrees, making it ideal for loading and unloading sheet metal storage rack systems. The basic version is a very adaptable system which can be used for a large range of sheet applications.
The Jumbo vacuum tube lifters are the alternative lifter to the VacuMaster Unit Line in cases where very short cycle times are required. With lifting speeds of up to 70 metres per minute, it is designed to move small and medium-sized sheet metal of up to 140 kg at rapid rates.
Extending lifting capability
Schmalz's metal handling solutions include adaptable vacuum generators with a long service lifetime that achieve fatigue free lifting for the operator. The vacuum blower achieves quiet operation safely and repeatedly, yet the vacuum generator is still able to lift heavy metals, up to 300 kg. The electrical vacuum pump is used in conjunction with a chain hoist and is equipped with hard-wearing carbon vanes that enable it to lift up to 10 tons.
Both the flat metal and coiled lifting solutions are designed to be operated with Schmalz's low inertia aluminium overhead or column mounted crane systems and chain hoists that achieve operator safety as well as precise and effortless positioning of metals.
Operator safety is further achieved with a variable-length operator handle that is equipped to all metal handling solutions so that the operator remains at a safe distance from the sharp-edged metal.
Schmalz's complete vacuum handling systems are set to revolutionise operations in the metal industry by enabling efficient airtight lifting of both flat and shaped metal that will not bend or be marked in the process.
For more information contact Jaco de Beer, Tectra Automation, +27 (0)11 971 9400, jaco.debeer@tectra.co.za, www.tectra.co.za
Credit(s)
Further reading:
Robotics meets artificial intelligence
June 2019, Festo , Pneumatics & Hydraulics
Whether its grabbing, holding or turning, touching, typing or pressing – in everyday life, we use our hands as a matter of course for the most diverse tasks. In that regard, the human hand, with its unique 
...
Read more...
---
Servo motor equipped with SIL3 encoder
June 2019, Tectra Automation , Motion Control & Drives
The new MS2N synchronous servo motor is Tectra Automations' latest product offering to the electric drives and controls industry. The range combines high dynamics, compact dimensions and excellent energy 
...
Read more...
---
Parker Hannifin introduces couplings for quick and easy installation
May 2019, Parker Hannifin Sales Company South , Pneumatics & Hydraulics
Parker Hannifin now offers quick connection couplings for its NSA series, notable for features including their low weight. NSA couplings are available in nickel-plated brass or stainless steel, while 
...
Read more...
---
VUVS-LT Poppet Valve
Technews Industry Guide: Maintenance, Reliability & Asset Optimisation 2019, Festo , Pneumatics & Hydraulics
Frequently used in different locations and exposed places, the VUVS-LT Poppet Valve can take a lot – all without losing its good looks. Simple on the outside, sturdy on the inside, it is the ideal combination 
...
Read more...
---
Optimum hydraulic performance through cost effective filtration solutions
Technews Industry Guide: Maintenance, Reliability & Asset Optimisation 2019, Hydrasales , Pneumatics & Hydraulics
Maintenance personnel have to facilitate optimum hydraulic system performance through their programmes, hence the incorporation of oil cleanliness checks, or oil contamination monitoring should not be 
...
Read more...
---
The advantages of rolled vs. cut threads for fluid system instrumentation fittings
March 2019, Fluid Systems Africa , Pneumatics & Hydraulics
A new level in leak tightness from Fluid Systems Africa.
Read more...
---
Ready for smart manufacturing
March 2019, Metal Work Pneumatic South Africa , Pneumatics & Hydraulics
Metal Work's new EB80 is an electro-pneumatic system consisting of a solenoid valve assembly with fieldbus or multi-pin control, and modules to manage analog or digital input/output signals. It can accommodate 
...
Read more...
---
Bosch Rexroth introduces latest transfer system
February 2019, Tectra Automation , Motion Control & Drives
By optimising existing components and integrating new modules into its TS 5 conveyor system for heavy loads, Bosch Rexroth has enhanced its already impressive flexibility to meet the requirements of an 
...
Read more...
---
Ham-Let moves into the future with smart valves
December 2018, Fluid Systems Africa , Pneumatics & Hydraulics
The Ham-Let Group has manufactured high-quality instrumentation valves, fittings and auxiliary products for fluid systems in a variety of markets since 1950, and has now launched its first smart valve 
...
Read more...
---
Intelligent valve sensor for pneumatic applications
December 2018, ifm - South Africa , Pneumatics & Hydraulics
The intelligent valve sensor for pneumatic quarter-turn actuators from ifm electronic features 360° position monitoring to allow precise and continuous scrutiny of the valve condition. Problems such as 
...
Read more...
---