printer friendly version
Banner enhances DF-G1 fibre amplifier
May 2014
Data Acquisition & Telemetry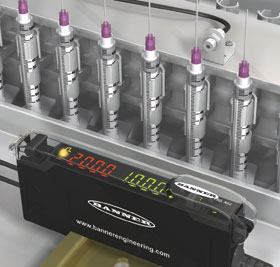 Banner Engineering has announced that it has added IO-Link communication to its industry-recognised DF-G1 fibre amplifier. With IO-Link, the amplifier can achieve point to point communication, allowing for complete configuration and monitoring capabilities.
The DF-G1 features an intuitive interface, dual display, digital readouts and easy set-up and configuration. An updated mechanical design with an improved fibre clamp allows for ease of use and stable sensing performance. Enhanced with IO-Link communications, the DF-G1 increases sensing capabilities for diverse applications, including plastic and glass assemblies, electronics assembly machines, pill and caplet counting and high-speed detection for registration mark or product-leading edge detection.
Offering complete user control, the DF-G1 provides full manipulation of all operating parameters, including switch point threshold, Light Operate or Dark Operate, various output timing functions, electronic gain level and sensor response speed. Operators can also implement one of six Expert Teach and Set methods to ensure optimal gain and threshold selection for each application, particularly in low contrast environments, such as small part or clear object detection.
Featuring thermally stable electronics, the DF-G1 minimises warm-up drift and enables multiple amplifiers to be mounted side by side, with no reduction in the ambient temperature limit. Inherent thermal stability also provides cost saving advantages by reducing machine start-up time and eliminating production delays due to ambient temperature changes. For additional flexibility, a crosstalk avoidance algorithm allows two fibre optic assemblies to be mounted in close proximity, sensing different features of the same target.
The DF-G1 is powered by a high-performance 32-bit microprocessor with a 12-bit analogue to digital converter and provides response speeds of 200 µs for fast applications.
For more information contact Rodney Topham, RET Automation Controls, +27 (0)11 453 2468, rodneyt@retauto.co.za, www.retautomation.com
Credit(s)
Further reading:
Reliable laser measurement sensor
June 2021, Turck Banner , Sensors & Transducers
Turck Banner's Q4X600 features reliable sensing over a wide range of distances.
Read more...
---
Pallet power in the chemical industry
June 2021, Turck Banner , Industrial Wireless
Contactless detection of incoming and outgoing goods provides those involved in logistics with considerably greater transparency of stock levels.
Read more...
---
Air humidity/temperature sensor with IO-Link
June 2021, Turck Banner , Sensors & Transducers
The combination of the two measured variables in a single device makes the CMTH-M12 ideal for use in condition monitoring systems.
Read more...
---
Robust safety light curtains
April 2021, Turck Banner , IS & Ex
Ez-Screen LS light curtains are intuitive, easy-to-use safety devices designed by Turck Banner for machine safeguarding.
Read more...
---
Compact radar sensor
April 2021, Turck Banner , Sensors & Transducers
Turck Banner's T30R offers more robust detection capabilities and longer range than ultrasonic solutions in a similar package size.
Read more...
---
Pick-to-Light Solutions Kit
April 2021, Turck Banner , Sensors & Transducers
Turck Banner's Pick-to-Light Solutions Kit is an integrated solution that consists of an enclosure, a DXM controller, an HMI, plus direct connections for PTL110 devices and power.
Read more...
---
Wireless controller for smarter factories
March 2021, Turck Banner , PLCs, DCSs & Controllers
Turck Banner's DXM wireless controllers are designed to facilitate Ethernet connectivity as well as enabling IIoT applications.
Read more...
---
Precise leading-edge detection
March 2021, Turck Banner , Sensors & Transducers
The Q76E retroreflective sensor from Turck Banner has a unique design that enables consistent detection of a broad range of targets that typically challenge other sensors.
Read more...
---
Illuminated E-stops with diagnostics
March 2021, Turck Banner , IS & Ex
In-Series Diagnostics runs through up to 32 devices on a single 4-pin cable to the control panel, with only two wires running to the controller and two others for power.
Read more...
---
Modbus to IO-Link converters
May 2021, Turck Banner , Fieldbus & Industrial Networking
Are you using IO-Link to enable OEE analytics yet still have remote pockets where critical equipment should be continuously monitored during operations?
Read more...
---