printer friendly version
Keeping an eye on the health of hose assemblies
May 2014
Pneumatics & Hydraulics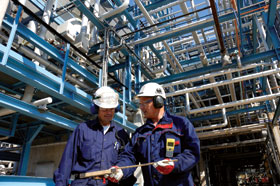 Oil and gas operations are under constant pressure to improve; the industry expects components and solutions that not only last, but perform in the harshest of environments. Unexpected hydraulic hose failure is a significant challenge with serious consequences that can be costly. This article examines the issues involved and proposes a solution.
Common causes associated with failure
Internal fatigue due to impact cycles and external abrasion are the two most common causes of hydraulic hose failure. In fact, combined, they account for over 80% of field failures. In the past, many operations in the sector have chosen to minimise the risk of hose failure by replacing hoses on a fixed schedule. This standard practice can increase cost and produce waste. When hydraulic hose assemblies are replaced before they reach end of life, hose assembly costs and labour are driven up and unnecessary maintenance is performed to avoid downtime.
With this in mind, some hose manufacturers have developed various predictive formulas that consider time, pressure, temperature, number of flex cycles and other factors, to produce an approximation of expected hose life. Eaton's in-house laboratory testing shows most hoses replaced on a time-based schedule had actually reached less than half of their safe useful life.
LifeSense hose condition monitoring system
Eaton initiated a research project in partnership with Purdue University to address the issue of hydraulic hose failure. The project sought to identify measurable, structural phenomena associated with hose deterioration over time, and develop the required technology to monitor them accurately.
The joint research determined that hydraulic hose failure is the final step in a consistent process that can be measured and therefore monitored to provide a reliable indication of an approaching end-of-life condition. The result is LifeSense, an intelligent hydraulic hose condition monitoring system that detects failure related events within a hose and provides advance notification the product is approaching the end of its useful life.
The LifeSense system is based on the fact that certain properties of a hose change as it approaches failure. Periodically comparing samples these properties to a baseline was found to give a highly reliable indicator of imminent hose failure. Each hose fitting is equipped with a sensor that continuously monitors hose conditions via electrical signals submitted to a hose diagnostic unit for data interpretation.
The hose diagnostic unit (HDU) runs on a 12 or 24 VDC and can monitor up to 11 hose assemblies. A range of standard wire cable lengths are available to accommodate different applications, running from 3 to 300 m. As the hose assembly approaches end-of-life, LifeSense detects events occurring within the assembly and notifies the user. This notification is provided with enough time to replace the hose during planned maintenance prior to failure, thus reducing downtime.
LifeSense is also available in a wireless option with a gateway that can monitor up to 100 hoses. The sensors, which have a greater than six-year battery life, continually monitor the hose and the gateway transmits operating performance data to a secure server once per shift (every seven hours); should an issue arise, the gateway transmits data immediately. Eaton's LifeSense web portal offers advanced system monitoring providing maintenance teams access to specific data such as hose installation date, connection status, trend reports, and diagnostics management.
Tests have shown that assemblies can now remain in service for far longer, sometimes up to 50% more service life can be expected. Real-time monitoring of the hose makes the workplace safer and more profitable, as concerns about idled equipment, environmental clean-up and personal are reduced.
For more information contact Kate Siwek, +44 785 111 5909, ksiwek@technical-group.com, www.eaton.com
Further reading:
BMG's Hydraforce valves and solutions
April 2021, Bearing Man Group t/a BMG , Pneumatics & Hydraulics
BMG, distributors of the Hydraforce range of proportional valves in southern Africa, works closely with Hydraforce engineers and customers in diverse industries to design and manufacture customised hydraulic 
...
Read more...
---
Highly flexible pick and place with digitised pneumatics from Festo
February 2021, Festo South Africa , Pneumatics & Hydraulics
Motion Apps are revolutionising pneumatics by increasing flexibility, energy efficiency and accelerating production processes.
Read more...
---
An easier way to connect
February 2021, Hydrasales , Pneumatics & Hydraulics
Quick-release hydraulic couplings on agricultural equipment have enabled Faster Couplings to provide innovative solutions to meet this sector's needs.
Read more...
---
Protect machines with soft-start valves
February 2021, SMC Corporation South Africa , Pneumatics & Hydraulics
A slow increase in air pressure into a machine at startup helps facilitate a soft start of all downstream components.
Read more...
---
Gimatic expands product range with launch of vacuum product offering
January 2021 , Pneumatics & Hydraulics
New offering gives customers greater flexibility in designing optimal automation systems that aim to increase efficiency & productivity.
Read more...
---
Fibertex offers advanced solutions in filtration for a cleaner environment
November 2020 , Pneumatics & Hydraulics
Fibertex Nonwovens, a leading manufacturer of a comprehensive range of nonwovens and performance-based materials used in diverse industries, has developed advanced filtration solutions that contribute to a cleaner environment.
Read more...
---
Monitoring oil with the power of connectivity
November 2020, Hydrasales , Pneumatics & Hydraulics
The latest innovation in the MP Filtri range of condition monitoring products helps system engineers with the digitalisation of their monitoring processes. It identifies contaminants early in the service 
...
Read more...
---
Parker launches the icount LaserCM30
November 2020, Parker Hannifin - Sales Company South Africa , Pneumatics & Hydraulics
Next generation particle contamination monitor with test procedure in less than 90 seconds.
Read more...
---
SMC's energy efficient vacuum solutions
October 2020, SMC Corporation South Africa , Pneumatics & Hydraulics
SMC has placed great emphasis on the design of its vacuum range and helps its customers select the best vacuum system for their application.
Read more...
---
Rethinking pneumatic technology for the factories of the future
September 2020, Parker Hannifin - Sales Company South Africa , Pneumatics & Hydraulics
Does a technology such as pneumatics have a central role to play in the flexible, smart production lines of the factories of the future?
Read more...
---