printer friendly version
Keeping an eye on the health of hose assemblies
May 2014
Pneumatics & Hydraulics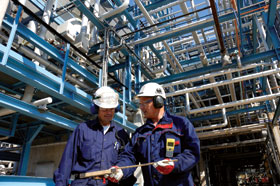 Oil and gas operations are under constant pressure to improve; the industry expects components and solutions that not only last, but perform in the harshest of environments. Unexpected hydraulic hose failure is a significant challenge with serious consequences that can be costly. This article examines the issues involved and proposes a solution.
Common causes associated with failure
Internal fatigue due to impact cycles and external abrasion are the two most common causes of hydraulic hose failure. In fact, combined, they account for over 80% of field failures. In the past, many operations in the sector have chosen to minimise the risk of hose failure by replacing hoses on a fixed schedule. This standard practice can increase cost and produce waste. When hydraulic hose assemblies are replaced before they reach end of life, hose assembly costs and labour are driven up and unnecessary maintenance is performed to avoid downtime.
With this in mind, some hose manufacturers have developed various predictive formulas that consider time, pressure, temperature, number of flex cycles and other factors, to produce an approximation of expected hose life. Eaton's in-house laboratory testing shows most hoses replaced on a time-based schedule had actually reached less than half of their safe useful life.
LifeSense hose condition monitoring system
Eaton initiated a research project in partnership with Purdue University to address the issue of hydraulic hose failure. The project sought to identify measurable, structural phenomena associated with hose deterioration over time, and develop the required technology to monitor them accurately.
The joint research determined that hydraulic hose failure is the final step in a consistent process that can be measured and therefore monitored to provide a reliable indication of an approaching end-of-life condition. The result is LifeSense, an intelligent hydraulic hose condition monitoring system that detects failure related events within a hose and provides advance notification the product is approaching the end of its useful life.
The LifeSense system is based on the fact that certain properties of a hose change as it approaches failure. Periodically comparing samples these properties to a baseline was found to give a highly reliable indicator of imminent hose failure. Each hose fitting is equipped with a sensor that continuously monitors hose conditions via electrical signals submitted to a hose diagnostic unit for data interpretation.
The hose diagnostic unit (HDU) runs on a 12 or 24 VDC and can monitor up to 11 hose assemblies. A range of standard wire cable lengths are available to accommodate different applications, running from 3 to 300 m. As the hose assembly approaches end-of-life, LifeSense detects events occurring within the assembly and notifies the user. This notification is provided with enough time to replace the hose during planned maintenance prior to failure, thus reducing downtime.
LifeSense is also available in a wireless option with a gateway that can monitor up to 100 hoses. The sensors, which have a greater than six-year battery life, continually monitor the hose and the gateway transmits operating performance data to a secure server once per shift (every seven hours); should an issue arise, the gateway transmits data immediately. Eaton's LifeSense web portal offers advanced system monitoring providing maintenance teams access to specific data such as hose installation date, connection status, trend reports, and diagnostics management.
Tests have shown that assemblies can now remain in service for far longer, sometimes up to 50% more service life can be expected. Real-time monitoring of the hose makes the workplace safer and more profitable, as concerns about idled equipment, environmental clean-up and personal are reduced.
For more information contact Kate Siwek, +44 785 111 5909, ksiwek@technical-group.com, www.eaton.com
Further reading:
Robotics meets artificial intelligence
June 2019, Festo , Pneumatics & Hydraulics
Whether its grabbing, holding or turning, touching, typing or pressing – in everyday life, we use our hands as a matter of course for the most diverse tasks. In that regard, the human hand, with its unique 
...
Read more...
---
Parker Hannifin introduces couplings for quick and easy installation
May 2019, Parker Hannifin Sales Company South , Pneumatics & Hydraulics
Parker Hannifin now offers quick connection couplings for its NSA series, notable for features including their low weight. NSA couplings are available in nickel-plated brass or stainless steel, while 
...
Read more...
---
VUVS-LT Poppet Valve
Technews Industry Guide: Maintenance, Reliability & Asset Optimisation 2019, Festo , Pneumatics & Hydraulics
Frequently used in different locations and exposed places, the VUVS-LT Poppet Valve can take a lot – all without losing its good looks. Simple on the outside, sturdy on the inside, it is the ideal combination 
...
Read more...
---
Optimum hydraulic performance through cost effective filtration solutions
Technews Industry Guide: Maintenance, Reliability & Asset Optimisation 2019, Hydrasales , Pneumatics & Hydraulics
Maintenance personnel have to facilitate optimum hydraulic system performance through their programmes, hence the incorporation of oil cleanliness checks, or oil contamination monitoring should not be 
...
Read more...
---
The advantages of rolled vs. cut threads for fluid system instrumentation fittings
March 2019, Fluid Systems Africa , Pneumatics & Hydraulics
A new level in leak tightness from Fluid Systems Africa.
Read more...
---
Ready for smart manufacturing
March 2019, Metal Work Pneumatic South Africa , Pneumatics & Hydraulics
Metal Work's new EB80 is an electro-pneumatic system consisting of a solenoid valve assembly with fieldbus or multi-pin control, and modules to manage analog or digital input/output signals. It can accommodate 
...
Read more...
---
Ham-Let moves into the future with smart valves
December 2018, Fluid Systems Africa , Pneumatics & Hydraulics
The Ham-Let Group has manufactured high-quality instrumentation valves, fittings and auxiliary products for fluid systems in a variety of markets since 1950, and has now launched its first smart valve 
...
Read more...
---
Intelligent valve sensor for pneumatic applications
December 2018, ifm - South Africa , Pneumatics & Hydraulics
The intelligent valve sensor for pneumatic quarter-turn actuators from ifm electronic features 360° position monitoring to allow precise and continuous scrutiny of the valve condition. Problems such as 
...
Read more...
---
BMG fluid technology services
November 2018, Bearing Man Group t/a BMG , Pneumatics & Hydraulics
BMG's fluid technology services include solutions for hydraulics and pneumatics, lubrication, fuel and industrial filtration systems, hydraulic hose and fittings, as well as instrumentation, pumps and 
...
Read more...
---
Vacuum generator operates without compressed air
October 2018, Tectra Automation , Pneumatics & Hydraulics
The electrical vacuum generator ECBP from J. Schmalz is ideal for handling airtight and slightly porous workpieces. It features an integrated speed control, which regulates the power of the pump to suit 
...
Read more...
---