printer friendly version
Rotating unions for every eventuality
May 2014
Pneumatics & Hydraulics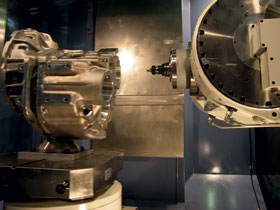 Machine tool speeds have continually increased in the last decades, while manufacturers demand ever finer tools with internal cooling and which penetrate deeper into the workpiece. This has become necessary because many end products have undergone miniaturisation in order to save on materials and energy. There are now drills of 0,7 to 3,0 mm in diameter with internal cooling that plunge up to 10 times their diameter into the workpiece – values that were considered impossible only a few years ago. Workpieces undergoing such machining include dual clutch transmissions, where pneumatic or hydraulic switches require fine drill holes and extremely precise manufacture for smooth acceleration.
Meanwhile the pressurised cutting fluid, in addition to cooling and lubricating at the cutting edge, must stabilise the fine drill bit and remove chips. A single chip can break a fine tool, resulting in emergency machine stops, tool changes and even spindle repair.
The rotating union at the interface between the fast rotating spindle and the cutting fluid supply line is a critical part of the equipment. Deublin rotating unions are well equipped for this task. The result of continual close collaboration with tool and machine tool manufacturers, they come in a full range that fits the many different tasks and requirements of machine tools.
Seals are the heart of the rotating union
Seals must contain very high pressures while rotating at very high speeds. Deublin draws on five different seal technologies in order to provide the best solution for every machine tool application. They are based on the balanced seal principle where the two seals between rotor and stator slide together with a balanced force, and pressure of the medium plays almost no part in their function.
Closed Seal technology is the choice where cutting fluid is required to cool, lubricate and stabilise the tool while removing chips. Seals rest close against one another, with or without coolant pressure, with a thin film of media between the seal surfaces. Rotating unions with closed seals are generally less affected by heavily polluted coolant.
Pop-Off technology is the choice if machining processes involving cutting fluid are employed alongside those without cutting fluid. The rings in this type of seal rest close against each other while under pressure. While they are not under pressure, the seals separate from each other, creating a micro-gap. This eliminates friction and wear of the seal when used without cutting fluid. These rotating unions can be dry run without limitation, even at high speeds.
As an alternative to closed seals, controlled leakage seals feature a constant, well-defined micro-gap between the sealing surfaces, even when they are placed under pressure. Rotating unions with controlled leakage are ideal for high speed applications with dry compressed air.
AutoSense self-regulating technology combines the best properties of the Pop-Off and controlled leakage series. Like Pop-Off seals, AutoSense seals close as soon as cutting fluid pressure is applied and separate again when there is no pressure, thereby allowing unlimited dry runs. Similarly, to controlled leakage, AutoSense seals form a micro-gap between the sealing surfaces when compressed air is applied. AutoSense rotating unions can therefore convey water-based cutting fluid, MQL and compressed air by detecting the type of media and automatically assuming the appropriate sealing position.
All media technology gives the machine builder full control over the opening and closing of the seal surfaces. By adjusting the pressure applied to the various connections of the rotating union, the seal surfaces can be opened or closed as needed, for example to carry compressed air, cutting fluid, cutting oil or oil mist. This offers a comprehensive solution for all media.
With or without bearings
Bearing-supported unions connect the rotor to the housing with one or more bearings. Bearingless unions use the bearings of the spindle. Each has their relative advantages and disadvantages.
Rotating unions featuring their own bearings are easy to install and change as the user has a standard interface. However, they require a larger installation space, particularly in the axial direction. Any excess cutting fluid is discharged through their own housing and the bleed port.
With bearingless rotating unions costs are reduced while the maximum permissible revolution speed is increased. The only limitation on maximum speed is the spindle bearing. Also the small rotor of the rotating union cannot be a source of vibration since it is directly joined to the spindle. Bearingless rotating unions can be very small, which is ideal for applications with multi-axis machining in very compact spindles and very close-sitting multiple drill heads.
Only Deublin can offer the machine tool builder this flexibility in seal and bearing technology and degree of automation.
For more information contact Mike Vernes, PECS, +27 (0)31 303 3701, mike@pecspower.co.za, www.pecspower.co.za
Credit(s)
Further reading:
Robotics meets artificial intelligence
June 2019, Festo , Pneumatics & Hydraulics
Whether its grabbing, holding or turning, touching, typing or pressing – in everyday life, we use our hands as a matter of course for the most diverse tasks. In that regard, the human hand, with its unique 
...
Read more...
---
Parker Hannifin introduces couplings for quick and easy installation
May 2019, Parker Hannifin Sales Company South , Pneumatics & Hydraulics
Parker Hannifin now offers quick connection couplings for its NSA series, notable for features including their low weight. NSA couplings are available in nickel-plated brass or stainless steel, while 
...
Read more...
---
VUVS-LT Poppet Valve
Technews Industry Guide: Maintenance, Reliability & Asset Optimisation 2019, Festo , Pneumatics & Hydraulics
Frequently used in different locations and exposed places, the VUVS-LT Poppet Valve can take a lot – all without losing its good looks. Simple on the outside, sturdy on the inside, it is the ideal combination 
...
Read more...
---
Optimum hydraulic performance through cost effective filtration solutions
Technews Industry Guide: Maintenance, Reliability & Asset Optimisation 2019, Hydrasales , Pneumatics & Hydraulics
Maintenance personnel have to facilitate optimum hydraulic system performance through their programmes, hence the incorporation of oil cleanliness checks, or oil contamination monitoring should not be 
...
Read more...
---
The advantages of rolled vs. cut threads for fluid system instrumentation fittings
March 2019, Fluid Systems Africa , Pneumatics & Hydraulics
A new level in leak tightness from Fluid Systems Africa.
Read more...
---
Ready for smart manufacturing
March 2019, Metal Work Pneumatic South Africa , Pneumatics & Hydraulics
Metal Work's new EB80 is an electro-pneumatic system consisting of a solenoid valve assembly with fieldbus or multi-pin control, and modules to manage analog or digital input/output signals. It can accommodate 
...
Read more...
---
Ham-Let moves into the future with smart valves
December 2018, Fluid Systems Africa , Pneumatics & Hydraulics
The Ham-Let Group has manufactured high-quality instrumentation valves, fittings and auxiliary products for fluid systems in a variety of markets since 1950, and has now launched its first smart valve 
...
Read more...
---
Intelligent valve sensor for pneumatic applications
December 2018, ifm - South Africa , Pneumatics & Hydraulics
The intelligent valve sensor for pneumatic quarter-turn actuators from ifm electronic features 360° position monitoring to allow precise and continuous scrutiny of the valve condition. Problems such as 
...
Read more...
---
BMG fluid technology services
November 2018, Bearing Man Group t/a BMG , Pneumatics & Hydraulics
BMG's fluid technology services include solutions for hydraulics and pneumatics, lubrication, fuel and industrial filtration systems, hydraulic hose and fittings, as well as instrumentation, pumps and 
...
Read more...
---
Vacuum generator operates without compressed air
October 2018, Tectra Automation , Pneumatics & Hydraulics
The electrical vacuum generator ECBP from J. Schmalz is ideal for handling airtight and slightly porous workpieces. It features an integrated speed control, which regulates the power of the pump to suit 
...
Read more...
---