printer friendly version
Remote control and monitoring of a logic module via SMS
May 2014
PLCs, DCSs & Controllers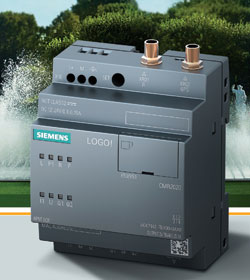 Thanks to the Logo! CMR2020 communications module from Siemens, users can control the Logo! 8 logic module or receive status data and alarms via text messages to their cellphones. Once a SIM card has been inserted, the communications module can be accessed as a node on the mobile network. Users can configure different commands for remote access and then trigger them by text message via the communications module. In the other direction, Logo! CMR2020 transmits diagnostics data and alarms as message texts to cellphones previously defined as receivers.
Logo! CMR2020 has a GPS antenna connection that helps, for example, to track the current position of container freight worldwide or to monitor truck shipments. Logo! CMR2020 also enables time-of-day synchronisation of the connected logic module, based on time information provided by the mobile phone provider or NTP server, or the GPS time signals. Logo! CMR2020 and Logo! 8 can be deployed, for example, in building control systems, such as for blinds, garage doors, lighting or garden watering systems. The Siemens components are also suitable for simple control tasks in industry, such as pump control or level monitoring.
The Logo! CMR2020 can be quickly and easily connected to the basic module via an industrial Ethernet interface. As well as programming commands, the user saves a list of cellphone numbers that are authorised to control and receive process value and diagnostics data, as well as alarms. The message texts for control are password protected. Using the two inputs and two outputs, Logo! CMR2020 can also be used for simple control tasks as a standalone unit.
For more information contact Keshin Govender, Siemens Southern Africa, +27 (0)11 652 2412, keshin.govender@siemens.com, www.siemens.co.za
Credit(s)
Further reading:
Siemens and Iraqi government sign roadmap agreement
June 2019, Siemens Digital Industries , News
In a move that takes the roadmap for rebuilding Iraq's power sector a step further, Siemens and the Ministry of Electricity of the Republic of Iraq have signed an implementation agreement. This builds 
...
Read more...
---
Siemens launches Atlas of Digitalisation
June 2019, Siemens Digital Industries , News
Siemens has launched a new web-based application that reveals the readiness and potential of six major cities to embrace digitalisation and develop new ways of living, working and interacting. The Atlas 
...
Read more...
---
Siemens extends the Simine ­portfolio
June 2019, Siemens Digital Industries , PLCs, DCSs & Controllers
Siemens has extended the Simine portfolio for high-pressure grinding mills (HPGR) to include a new controller. Plug-and-play functionality makes the load share controller available for immediate use. 
...
Read more...
---
Faster results with a digital twin
June 2019, Siemens Digital Industries , IT in Manufacturing
The high-tech company Grenzebach's portfolio includes the simulation of material flow in complex plants in the glass industry, which it achieves using Siemens simulation solutions. Together, the two companies 
...
Read more...
---
Schneider Electric announces a new era of control
June 2019, Schneider Electric South Africa , PLCs, DCSs & Controllers
Schneider Electric's new high-end Modicon M580 Ethernet programmable automation controller (ePAC) features redundant processors, native Ethernet, and cybersecurity embedded into its core. It combines 
...
Read more...
---
Selecting the right PLC
June 2019, AC/DC Dynamics , PLCs, DCSs & Controllers
Automation projects, big or small, start with a specification. Here are five factors to consider when choosing a PLC vendor.      
Broad range of devices
The selected brand must have a complete product 
...
Read more...
---
Cathay Industrial Biotech benefits from Siemens technology
May 2019, Siemens Digital Industries , IT in Manufacturing
Cathay Industrial Biotech (Cathay) is China's leader in the field of bio-manufacturing. Its areas of expertise include producing polyamide from biomass, which takes place in a totally digital plant using 
...
Read more...
---
A product family for the factory of the future
Africa Automation Fair 2019 Preview, Siemens Digital Industries , IT in Manufacturing
Siemens is showcasing its SIMATIC portfolio of automation products that together prepare factories for digitalisation, totally integrated automation solutions and Industry 4.0. Proven for 60 years, SIMATIC 
...
Read more...
---
Industrial automation equipment
Africa Automation Fair 2019 Preview , PLCs, DCSs & Controllers
Anytech is an industrial automation equipment supplier that has been providing high tech solutions to a wide variety of customers in various industries throughout southern Africa since 1999. High tech 
...
Read more...
---
Multi-function PLC, HMI and I/O in a single 7" unit
Africa Automation Fair 2019 Preview, Vision Automation , PLCs, DCSs & Controllers
This multi-function UniStream PLC with an integrated, high-quality HMI touchscreen is available in a range of built-in I/O configurations. Showcased at Stand C04, the highly compact hardware profile with 
...
Read more...
---