printer friendly version
Festo's automation supports smart factories
May 2014
Motion Control & Drives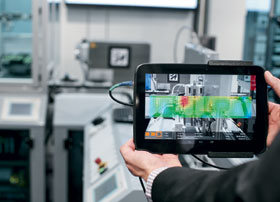 The concept of Integrated Industry is starting to grow and was the main theme of the 2014 Hanover Fair; and automation technology is playing a critical role in supporting the fully networked and integrated smart factory of the future." In this vein it is exciting to showcase Festo's automation platform, CPX," says Festo business development manager, Russell Schwulst. "This demonstrates that Festo continues to remain at the forefront of innovation."
He points out that Integrated Automation based on CPX incorporates some trailblazing ideas. This electrical terminal for valve terminals already offers more than just a means of linking the field and master control levels. Its individual modules make it possible to integrate the control of pneumatic cylinders via the modular valve terminals MPS and VTSA, together with motion controllers for electric drives. Furthermore the CPX concept has diagnostic capabilities, can provide condition monitoring functions and also includes safety functions. Festo's CPX makes it possible to access diagnostic information, locate faults quickly and replace modules.
The Festo CPX platform is equipped for the future – it can already integrate all commonly-used bus systems and industrial Ethernet protocols. An example is the Sercos III fieldbus node (CPX-FB39) that will be available in the near future. Sercos III is perceived as a system which is not dominated by a single supplier. What is more, it is able to handle motion control and I/O functions via the same bus. CPX flexibility is further demonstrated by the fact that the new fieldbus node CPX-FB40 expands the CPX fieldbus portfolio by adding the industrial Ethernet protocol, Powerlink, offering a direct valve terminal interface for Powerlink systems.
"The CPX concept from Festo has been shown to be an automation platform which is independent of any particular fieldbus system," continues Schwulst.
With the counter and measuring model CPX-2ZE2DA, also available with the high protection class IP65, the CPX automation platform ensures greater transparency of data from a machine or plant. Its extensive functions include pulse counters for one-off, periodic and infinite counter; facilities for speed, frequency and period duration measurement and positioning (incremental and absolute encoders). The control of simple 24 VDC motors is integrated economically and conveniently into a single module.
When used with a rotary indexing table with various pick and place stations, the counter and measuring module are able to detect positions, position the gripper arm, measure the speed of a feed unit or measure the angle during the positioning of a work piece. Incremental signal generators produce pulses which can be counted in order to measure speed, length or position; in absolute generators, each position corresponds to a defined code pattern, which means that the actual position can be detected even after a power failure – as soon as power is restored.
What all of this demonstrates is that instead of innumerable bus systems, in the future there will only be one world-wide standardised Internet protocol running on a real-time-capable WLAN or Ethernet. This trend towards simplicity is based on the same philosophy as the new adaptive and intelligent installation platforms.
"With its modularity, our CPX automation platform is already making life simpler and will continue to do so for users in the future. Soon, there will be no need for discussions about machine setting times in the factory of the future," concludes Schwulst.
For more information contact Tracey Swart, Festo, 08600 FESTO, sales.interaction@za.festo.com, www.festo.com
Credit(s)
Further reading:
BMG's integrated geared motors for efficiency
June 2021, Bearing Man Group t/a BMG , Motion Control & Drives
An integrated geared unit that combines the recently launched Nord IE5+ synchronous motor and a single-stage helical gear unit offers optimum system efficiency.
Read more...
---
New motors extend the Sinamics S210 system
June 2021, Siemens Digital Industries , Motion Control & Drives
Siemens has added new servo motors to its proven Sinamics S210 single-cable servo drive system, thereby expanding its range of applications.
Read more...
---
Why Cobots? From myths to a simpler reality
May 2021, SMC Corporation South Africa , Motion Control & Drives
While robotics led the way for the rapid growth of automation, cobots are the democratisation of robotics technology. They eliminate the cost and complex programming that robots usually require while providing much greater flexibility.
Read more...
---
Adroit connection to solar powered VSDs
May 2021, Adroit Technologies , Motion Control & Drives
Adroit Connect is a simple and cost-effective solution that allows users to remotely monitor their Mitsubishi solar VSDs, change parameters from anywhere and save unnecessary trips to site.
Read more...
---
Tailored technology meets responsive design with the new Festo website
April 2021, Festo South Africa , Editor's Choice
Festo South Africa recently launched its new website to demonstrate the company's continuing commitment to simplifying its customer's lives through innovative service delivery.
Read more...
---
New Fenner couplings ensure effective torque transfer
March 2021, Bearing Man Group t/a BMG , Motion Control & Drives
BMG's new reinforced Fenner Triflex couplings, with forged steel flanges, provide an integrated solution for the safe and efficient transfer of torque, even in extreme conditions.
Read more...
---
Enhance machine safety with locking cylinders
March 2021, SMC Corporation South Africa , Motion Control & Drives
Stopping the flow of compressed air using an air circuit combined with a mechanical locking cylinder gives the most enhanced level of safety.
Read more...
---
30 years of linear motion technology
March 2021 , Motion Control & Drives
This year, factory automation specialist Bosch Rexroth celebrates 30 years of linear motion technology and innovation.
Read more...
---
Motion control with Sinumerik One Dynamics
March 2021, Siemens Digital Industries , Motion Control & Drives
Siemens has launched three powerful technology packages exclusively for the CNC Sinumerik One.
Read more...
---
Drive chains for clean environments
March 2021, Bearing Man Group t/a BMG , Motion Control & Drives
BMG's Power Transmission division offers maintenance-free solutions for increased productivity, minimal machine downtime and reduced maintenance costs in the food and beverage sector.
Read more...
---