printer friendly version
Collision warning systems for mining applications
May 2014
Sensors & Transducers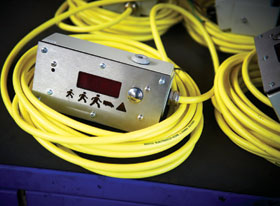 Booyco Electronics' Collision Warning System has provided the African mining industry with a cost effective and efficient way of increasing employee safety. The system effectively reduces downtime by eliminating collisions between vehicles, as well as collisions between vehicles and pedestrians.
Pending legislation from the Department of Mineral Resources on the compulsory implementation of some form of collision warning system technology, coupled with pre-existing OHS legislation compliance requirements from the Department of Labour, will increase the safety onus for mine management.
"The biggest contributors to on-site mine accidents are noise and vehicle blind spots," says Anton Lourens, managing director of Booyco Electronics. "Our primary objective has always been to supply dependable collision warning systems that address the specific needs of the industry. As the operator of one of the largest footprints of such technology we have been able to take specific feedback from our customers and, together with our strategic alliance partners, further develop our systems."
A critical element in the design of the Booyco Electronics CWS is its ability to transmit signals through rock in the underground mining environment. The system contains a sensing device that is able to detect the presence of an object (vehicle or person) in real time and relay an audible and/or visual warning alarm to the equipment operator.
As it develops closer partnerships with customers, it has been able to leverage sensor technologies for varying applications including video cameras and radio frequency identification (RFID) systems. Very-low frequency (VLF) RFID has proven a successful technology for CWS.
"The Booyco Electronics CWS works equally well on electrically driven or diesel powered vehicles, which is important as many operators have a mixed fleet," points out Lourens.
He explains that VLF and ultra-high frequency (UHF) is the optimum combination in a solution in terms of enhanced accuracy and reliability. VLF is ideal for warning pedestrians who work or move near machinery and UHF signalling is used to warn equipment operators of the presence of other vehicles. Both frequencies are incorporated in Booyco Electronics' CWS technology.
"VLF is now accepted by the mining industry as the only reliable technology for collision warning underground. This is due to its ability to penetrate rock, so even when a pedestrian is around the corner or on the other side of a rock wall, they will receive ample warning that a vehicle is approaching. Similarly, the equipment operator will be alerted to the presence of pedestrians so that they may proceed with due caution," says Lourens.
VLF technology provides an extremely stable and predictable system that can be set to function within predetermined zones with a high degree of accuracy. As a bonus, it is not adversely affected by surrounding equipment, so interference is not an issue.
"Ultimately mines require a warning system that provides them with the dual benefits of enhanced uptime and compliant safety practice. Our collision warning systems provide a single source for reliable and accurate warning, locating and monitoring systems capable of operating in uniquely African conditions," concludes Lourens.
For more information contact Anton Lourens, Booyco Electronics, 086 126 6926, anton@booyco-electronics.co.za, www.booyco-electronics.co.za
Credit(s)
Further reading:
Multi-colour touch sensors with ­IO-Link
June 2019, ifm - South Africa , Sensors & Transducers
The new multi-colour touch sensors from ifm bring flexible adaptation to any application. Where many different sensors were required before, one individually adjustable sensor is sufficient today. The 
...
Read more...
---
Static and rotational torque sensors
June 2019, ASSTech Process Electronics + Instrumentation , Sensors & Transducers
With the new compact 8661 series of torque sensors, Burster has extended its portfolio to include static and rotating torques over the range from 0,05 to 200 Nm. In addition to the highly accurate measurements, 
...
Read more...
---
Handheld control valve tester
June 2019, Comtest , Sensors & Transducers
In the past, control valve testing meant using complicated testers that required extensive training, the removal of the valve, and often one-to-two hours of test time on the bench. Comtest is therefore 
...
Read more...
---
Magnetic sensors for C-groove cylinders from SMC
June 2019, Turck Banner , Sensors & Transducers
Turck's portfolio of magnetic field sensors is being expanded: The BIM-UNC product series was specially optimised for perfect mounting in the C-groove pneumatic cylinder of SMC. The sensors can be inserted 
...
Read more...
---
Photoelectric sensor for demanding applications
June 2019, Rockwell Automation , Sensors & Transducers
The new Allen-Bradley 42AF RightSight M30 photoelectric sensor from Rockwell Automation is the latest addition to the company's smart sensing portfolio. Built with improved environmental resistance and 
...
Read more...
---
Vision sensors
Africa Automation Fair 2019 Preview , Sensors & Transducers
The VG series vision sensors utilise images captured by integrated industrial camera lenses to determine a target object's presence, colour, size, shape, orientation, patterns and more. On show at Stand 
...
Read more...
---
Radiometric density system
Africa Automation Fair 2019 Preview, Mecosa , Sensors & Transducers
On show at Stand D08 is the new DuoSeries LB 475 radiometric density system from Berthold, which is designed for the cementing and hydraulic fracturing industries. The density transmitter is a state-of-the-art 
...
Read more...
---
IO-Link infrastructure components
Africa Automation Fair 2019 Preview, Pepperl+Fuchs , Sensors & Transducers
Pepperl+Fuchs has on show a range of IO-Link infrastructure components. As a globally established communication standard that is system- and fieldbus-independent, IO-Link offers many advantages. The universal 
...
Read more...
---
High performance sensors
Africa Automation Fair 2019 Preview , Sensors & Transducers
The LE46C sensors from Leuze electronic are reliable and cost-effective, with high performance reserves and large ranges. On exhibit at Stand J13, these sensors are ideal for use in conveyor and storage 
...
Read more...
---
Leak detection in coal-fired power stations
Africa Automation Fair 2019 Preview, Instrotech , Sensors & Transducers
Instrotech's advanced acoustic leak detection system, Inspecta FFT, can detect boiler tube leaks in coal-fired utilities and in oxygen plants and gasifiers. The technology and equipment is in use in power 
...
Read more...
---