printer friendly version
Collision warning systems for mining applications
May 2014
Sensors & Transducers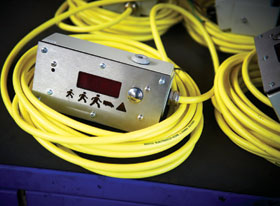 Booyco Electronics' Collision Warning System has provided the African mining industry with a cost effective and efficient way of increasing employee safety. The system effectively reduces downtime by eliminating collisions between vehicles, as well as collisions between vehicles and pedestrians.
Pending legislation from the Department of Mineral Resources on the compulsory implementation of some form of collision warning system technology, coupled with pre-existing OHS legislation compliance requirements from the Department of Labour, will increase the safety onus for mine management.
"The biggest contributors to on-site mine accidents are noise and vehicle blind spots," says Anton Lourens, managing director of Booyco Electronics. "Our primary objective has always been to supply dependable collision warning systems that address the specific needs of the industry. As the operator of one of the largest footprints of such technology we have been able to take specific feedback from our customers and, together with our strategic alliance partners, further develop our systems."
A critical element in the design of the Booyco Electronics CWS is its ability to transmit signals through rock in the underground mining environment. The system contains a sensing device that is able to detect the presence of an object (vehicle or person) in real time and relay an audible and/or visual warning alarm to the equipment operator.
As it develops closer partnerships with customers, it has been able to leverage sensor technologies for varying applications including video cameras and radio frequency identification (RFID) systems. Very-low frequency (VLF) RFID has proven a successful technology for CWS.
"The Booyco Electronics CWS works equally well on electrically driven or diesel powered vehicles, which is important as many operators have a mixed fleet," points out Lourens.
He explains that VLF and ultra-high frequency (UHF) is the optimum combination in a solution in terms of enhanced accuracy and reliability. VLF is ideal for warning pedestrians who work or move near machinery and UHF signalling is used to warn equipment operators of the presence of other vehicles. Both frequencies are incorporated in Booyco Electronics' CWS technology.
"VLF is now accepted by the mining industry as the only reliable technology for collision warning underground. This is due to its ability to penetrate rock, so even when a pedestrian is around the corner or on the other side of a rock wall, they will receive ample warning that a vehicle is approaching. Similarly, the equipment operator will be alerted to the presence of pedestrians so that they may proceed with due caution," says Lourens.
VLF technology provides an extremely stable and predictable system that can be set to function within predetermined zones with a high degree of accuracy. As a bonus, it is not adversely affected by surrounding equipment, so interference is not an issue.
"Ultimately mines require a warning system that provides them with the dual benefits of enhanced uptime and compliant safety practice. Our collision warning systems provide a single source for reliable and accurate warning, locating and monitoring systems capable of operating in uniquely African conditions," concludes Lourens.
For more information contact Anton Lourens, Booyco Electronics, 086 126 6926, anton@booyco-electronics.co.za, www.booyco-electronics.co.za
Further reading:
Reliable laser measurement sensor
June 2021, Turck Banner , Sensors & Transducers
Turck Banner's Q4X600 features reliable sensing over a wide range of distances.
Read more...
---
Air humidity/temperature sensor with IO-Link
June 2021, Turck Banner , Sensors & Transducers
The combination of the two measured variables in a single device makes the CMTH-M12 ideal for use in condition monitoring systems.
Read more...
---
Sensors from ifm electronic monitor industrial cooking processes
June 2021 , Sensors & Transducers
The pasta cooker from Staedler Automation is accurately controlled using sensors from ifm electronic to ensure product quality remains at a high level.
Read more...
---
Memosens 2.0: simple, safe and connected for future-proof applications
June 2021, Endress+Hauser South Africa , Sensors & Transducers
Memosens 2.0 represents the next, future-proof step in the evolution of Endress+Hauser's Memosens technology, while maintaining all of the familiar and well-established advantages.
Read more...
---
Networked beer tanks delight both landlords and breweries
May 2021, Instrotech , Sensors & Transducers
Smart transmitters trigger automatic reorders when tanks levels run low.
Read more...
---
Zutari introduces handheld 3D scanning technology
May 2021 , Sensors & Transducers
The scanner is an example of an innovative technology known as simultaneous localisation and mapping.
Read more...
---
PMD Profiler ensures error-free construction of car bodies
April 2021, ifm - South Africa , Sensors & Transducers
A particular challenge emerged in the production of Ford Kuga. The actual work step involves welding a small, completely flat reinforcing sheet onto a larger assembly.
Read more...
---
Compact radar sensor
April 2021, Turck Banner , Sensors & Transducers
Turck Banner's T30R offers more robust detection capabilities and longer range than ultrasonic solutions in a similar package size.
Read more...
---
3D vision for service robots
April 2021, Pepperl+Fuchs , Sensors & Transducers
With its high precision, reliability, and compact size, the R2300 multi-layer scanner tackles mobile service robot applications in an efficient manner.
Read more...
---
Pick-to-Light Solutions Kit
April 2021, Turck Banner , Sensors & Transducers
Turck Banner's Pick-to-Light Solutions Kit is an integrated solution that consists of an enclosure, a DXM controller, an HMI, plus direct connections for PTL110 devices and power.
Read more...
---