printer friendly version
Nigeria and Namibia set to partner in oil refinery
May 2014
News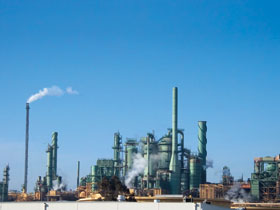 Nigeria's President Goodluck Jonathan recently visited Namibia to discuss and sign off on 11 memoranda of understanding in a bid to strengthen and diversify bilateral cooperation between the two nations. Nigeria is Africa's biggest oil producer and with Namibia yet to be classified as an oil and gas frontier the signing of an MoU to build a refinery in Walvis Bay comes at a critical time for both nations.
In an interview with Dr. Emmanuel Enu, executive director of exploration at First E&P (Nigeria), the major challenge sited for the future of Nigeria's oil and gas industry was that it is suffering from inadequate funding of projects.
Measures are being taken to deal with this, currently there is a re-organisation taking place within the NNPC's (National Oil Company) top management positions as internal instability is to blame for slow paced on-going projects and decision making on future project applications.
Comparing the current struggles of Africa's largest oil producer to that of Namibia, yet to produce a drop of oil, shows why the two countries are interested in strengthening ties in the energy sector. For some time now there has been activity surrounding Namibia's oil and gas prospects (estimated at 11 billion barrels of oil and proven 1,3tcf of gas). The company HRT & Petrobras has also stated that Namibia has similar geological formations to Brazil which mean that like Brazil there could be highly prospective pre-salt basins.
In a recent interview for Namibia's Observer newspaper, Nigeria's high commissioner to Namibia, Dr. Biodun Nathaniel Olorunfemi, made clear the mutual benefits of the refinery. The project is expected to provide a host of different economic benefits to both Nigeria and Namibia. Firstly, the refinery will create jobs in Namibia and as a result will also give birth to a fully functioning downstream industry and all its tributaries. The refinery will allow Namibia to start producing oil products without having to import them and Nigeria will share profits from the investment.
Dr. Enu is scheduled to give a detailed presentation at the Africa Oil & Gas Summit 2014 to be held in Johannesburg alongside the largest oil and gas exhibition in Africa. The event will take place from 9-10 October at the Sandton Convention Centre and will cover investment opportunities, financial perspectives and the latest exploration activity from across the African continent.
For more information contact Eoghan McDonaugh, Oliver Kinross, e.mcdonaugh@oliverkinross.com
Further reading:
From the editor's desk: Edge, cloud or both?
June 2019, Technews Publishing (SA Instrumentation & Control) , News
In the illusory world of digital transformation, the question of where the applications will best be hosted often triggers a lively discussion. In particular, the cloud vs. edge debate has left many wondering 
...
Read more...
---
Wireless IoT devices in oil and gas reached 1,3 million in 2018
June 2019 , News
According to a new research report from Berg Insight, the number of devices featuring cellular or satellite connectivity deployed in oil and gas applications amounted to 1,3 million at the end of 2018. 
...
Read more...
---
Siemens and Iraqi government sign roadmap agreement
June 2019, Siemens Digital Industries , News
In a move that takes the roadmap for rebuilding Iraq's power sector a step further, Siemens and the Ministry of Electricity of the Republic of Iraq have signed an implementation agreement. This builds 
...
Read more...
---
Emerson acquires KNet software
June 2019, Emerson Automation Solutions , News
Emerson has announced the acquisition of KnowledgeNet (KNet) software from Tunisia-based Integration Objects. KNet's unique analytics application software accelerates digital transformation initiatives 
...
Read more...
---
BI set to add ContiTech belts to its range
June 2019 , News
Bearings International (BI) is set to add to its basket of premium brands following a visit by the ContiTech Power Transmission Group to discuss a local distribution agreement for its belt ranges. These 
...
Read more...
---
Endress+Hauser expands patent portfolio
June 2019, Endress+Hauser , News
The number of patents submitted by the Endress+Hauser Group continues to rise. As reported during the annual Innovators' Meeting held this year in France, the Group submitted 287 initial patents in 2018, 
...
Read more...
---
Hyflo Southern Africa incorporated into BMG's Fluid Technology division
June 2019, Bearing Man Group t/a BMG , News
The Engineering Solutions Group (ESG) of Invicta Holdings has incorporated Hyflo Southern Africa into BMG's Fluid Technology Division. This development is a positive move for both companies and for the 
...
Read more...
---
Festo to go digital at Automation Expo
June 2019, Festo , News
The world is currently undergoing radical digital transformation, which is viewed as an implementation of digital technologies in all sectors, including the automation industry. As a company that continuously 
...
Read more...
---
MESA aligns with Africa Automation Fair to promote next level industry automation
June 2019, Reed Exhibitions , News
MESA Africa has aligned with Africa Automation Fair for the first time this year, to help drive the next level of industry automation in South Africa. Vice chairman, Gerhard Greeff, explains that MESA's 
...
Read more...
---
Future Production Technologies Conference
June 2019 , News
"The Fourth Industrial Revolution will herald the transformation of entire systems of production, management and governance," says Bob Williamson, chair of the Future Production Technologies Conference 
...
Read more...
---