printer friendly version
Eaton's EMS electronic motor starter
April 2014
Electrical Power & Protection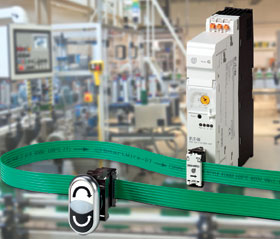 Eaton has introduced its multi-functional EMS electronic motor starter, for motors with ratings from 0,06 to 3 kW, with integrated control via the innovative SmartWire-DT communication and connection technology. This makes the connection of the motor starter to the automation environment easier, faster, less prone to errors and therefore more cost effective. The EMS offers the user all the important functions of a reversing contactor circuit in a single device – and this with a mounting width of only 30 mm: DOL motor start, reversing motor start and motor protection to IEC 60947-4-1 as well as the safety-related stopping of the drive to category 3 (EN 13849-1).
Thanks to the SmartWire-DT connection the wiring is kept to a minimum. Both the control cables that normally connect the motor starter via the I/O level to the PLC, and the supply cables to the devices are no longer necessary and are replaced by Eaton's green cable. Even the I/O level itself is unnecessary as the motor starters can communicate with the Eaton PLCs directly via SmartWire-DT. Users are thus able to optimise the number of components in the system as well as the installation requirements. At the same time they benefit from the fact that the simple connection of slaves to the SmartWire-DT system prevents the possibility of wiring errors right from the start.
As the electronic motor starter itself already comes with a large number of functions (emergency stop contactor, motor protection, clockwise and anticlockwise contactor) as well as the internal load and interlock circuits in a very compact design, valuable space in the switch cabinet as well as time and effort for the installation and commissioning can be saved.
The EMS is equipped with hybrid switching technology for controlling the motor. This is based on the microprocessor controlled combination of wear-free semiconductor technology and a robust relay contact, thus enabling low-wear switching. The lifespan of the devices is therefore 10 times longer than purely mechanical components, and with 30 million switch operations the devices offer a considerably longer contact life than conventional switching devices.
All variants of the electronic motor starter come with electronic wide-range overload protection with integrated phase failure detection to IEC 60947. This enables the switching device to cover the 0,18 to 6,5 A (AC-53a) and 9 A (AC-51) current ranges with only two devices, thus simplifying device selection and spare parts management. Overload protection is implemented in the two different tripping classes, Class10 and Class10A. The electronic motor starter offers protection up to and including a motor current of 4 A with the slower Class10 tripping characteristic, which allows the motor to be switched on frequently without any tripping from the motor protection. For motor currents higher than 4 A, the motor is protected with the Class10A characteristic. The user can set the motor current directly on the device. In combination with fuse elements, the electronic motor starter has a short-circuit capacity of up to 50 kA with type 1 coordination. This ensures suitability for universal use in industrial and machine building applications. It is designed mainly for use in materials handling and logistics systems as well as in packaging, production machines and machine tools.
For more information contact Marlene Coetzee, Eaton Electric South Africa, +27 (0)11 824 7400, marlenecoetzee@eaton.com, www.eaton.com
Further reading:
UPS with integrated power supply and USB interface
June 2019, Phoenix Contact , Electrical Power & Protection
Supplying critical DC loads safely, increased system availability, confined spaces, and tough ambient conditions present system designers and operators with a variety of challenges.
Read more...
---
Power analysis and energy saving evolved
June 2019, HellermannTyton , Electrical Power & Protection
Advanced power and energy consumption analysis is now available using a smartphone or tablet. The TPQA820 is a true RMS, self-powered 3-phase power quality analyser used to analyse and record the most 
...
Read more...
---
Zest helps farmers find good 'ground'
June 2019, Zest WEG Group , Electrical Power & Protection
According to Zest WEG Group, there are misconceptions around what constitutes 'earth' and 'neutral' connections, and not understanding the differences can create serious problems when connections are 
...
Read more...
---
BMG enhances efficiency of solar tracking system
June 2019, Bearing Man Group t/a BMG , Electrical Power & Protection
BMG has extended the supply of Varvel gearboxes for small and medium power applications to include customised worm gearboxes for installation in photovoltaic solar tracking systems. "As part of BMG's 
...
Read more...
---
RS Components introduces new Power over Ethernet injectors
June 2019, RS Components SA , Electrical Power & Protection
RS Components has announced availability of a new selection of Power over Ethernet (PoE) single-port mid-span power injectors manufactured by Phihong, a leader in advanced power solutions and a specialist 
...
Read more...
---
Residual circuit breaker with overcurrent protection
Africa Automation Fair 2019 Preview , Electrical Power & Protection
Entek Electric's RCBO models KBL-6 and KBL-10 are used to protect electrical circuits with a high level of reliability in industrial machines or residential buildings. Both models are widely in demand 
...
Read more...
---
New automated drive analyser
Africa Automation Fair 2019 Preview, Comtest , Electrical Power & Protection
Fluke's new MDA-500 Series is designed to easily test and troubleshoot typical problems on three-phase and single-phase inverter type motor drive systems. These are on exhibit at Stands F22-F23. The on-screen 
...
Read more...
---
Miniature circuit breaker
Africa Automation Fair 2019 Preview , Electrical Power & Protection
On show at Stand J04, Entek Electric's MCB models KB-6 and KB-10 are used to protect electrical circuits with a high level of reliability in industrial machines or residential buildings. Both models are 
...
Read more...
---
DIN rail main AC-DC supply
Africa Automation Fair 2019 Preview, Accutronics , Electrical Power & Protection
The DRF960-24-1 DIN rail main AC-DC supply from TDK-Lambda is on show at Stand D06. The output is adjustable from 24–28 V using either the front panel potentiometer or an external source to compensate 
...
Read more...
---
Contactless energy transfer system for an automotive assembly line extension
April 2019, SEW-Eurodrive , Electrical Power & Protection
The Movitrans contactless energy transfer system from SEW-Eurodrive, in conjunction with its Movipro SDC decentralised drive, position and application controller, has played a critical role in an assembly 
...
Read more...
---