printer friendly version
Endress+Hauser's LPG solution
April 2014
Analytical Instrumentation & Environmental Monitoring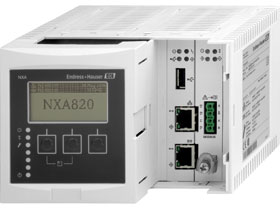 In general usage, LPG (liquefied petroleum gas) refers to propane, butane and their mixtures, which remain liquid at room temperature under relatively low pressure. It occurs as a by-product in crude oil refining and as an associated gas in the exploitation of crude oil and natural gas.
Liquefied gas, in contrast to crude oil, is not transported via pipelines but in large sea-going vessels, small barges, railway tank wagons and road tank vehicles to dealers and also directly to the liquefied gas tanks of the final consumers. The low pressure of propane and butane make this flexible transport of liquefied gas possible.
Application challenges
At normal temperatures and pressures LPG evaporates, it is therefore stored in pressurised steel tanks that are only filled between 80 and 85% of their capacity to allow for thermal expansion. The volume ratio of vaporised gas to liquefied gas varies depending on composition, pressure and temperature, but typically ranges around 250:1. LPG can be stored under high pressures in mounded bullets or in cryogenic tanks at negative temperatures. Thanks to the wide range of high-quality tank gauging as well as safety instrumentation, the expertise in project management, system integration, third-party supply, service and training, Endress+Hauser is able to act as one-stop solution provider to increase productivity and lower costs of complete tank farms and terminals.
The solution
Endress+Hauser has implemented a complete inventory management solution for mounded bullet tanks combining both measuring accuracy and the highest safety standards. Customer value includes:
* The right instrumentation for any application.
* High accuracy and system reliability.
* Transparency in the processes leading to accurate product and sales planning.
* Optimised capacity utilisation of tanks and improved material availability.
* Lower inventory and operating costs by data integration into systems.
* Monitor critical inventory information remotely.
* Lowered environmental risk through preventing overfills using safety class instruments (up to SIL3 – Liquiphant FailSafe).
The Endress+Hauser Tank and Terminal Management solutions can be fully integrated into business networks for the highest degree of transparency in processes, which leads to higher customer satisfaction and an increase of revenue and profit.
For more information contact Hannes Ackermann, Endress+Hauser, +27 (0)11 262 8000, info@za.endress.com, www.za.endress.com
Credit(s)
Further reading:
Endress+Hauser's IIoT technology masters the mining challenge
June 2019, Endress+Hauser , IT in Manufacturing
Endress+Hauser aims to improve the processes of its customers with regards to efficiency, quality, safety and sustainability.
Read more...
---
Endress+Hauser expands patent portfolio
June 2019, Endress+Hauser , News
The number of patents submitted by the Endress+Hauser Group continues to rise. As reported during the annual Innovators' Meeting held this year in France, the Group submitted 287 initial patents in 2018, 
...
Read more...
---
An alliance for the IIoT
June 2019, Endress+Hauser , News
At Hannover Messe 2019, seven leading suppliers from mechanical engineering, industrial automation and software announced the founding of the Open Industry 4.0 Alliance. With this cooperation, the companies 
...
Read more...
---
Temperature transmitter family for all industries
June 2019, Endress+Hauser , Temperature Measurement
Endress+Hauser has introduced its first temperature transmitter with Bluetooth (BT) connectivity. This feature is unique because it does not require a BT modem to be able to communicate with the device 
...
Read more...
---
The Heartbeat of plant processes
May 2019, Endress+Hauser , Maintenance, Test & Measurement, Calibration
Self-diagnostics and predictive maintenance.
Read more...
---
Optimised fuel blending
May 2019, Yokogawa South Africa , Analytical Instrumentation & Environmental Monitoring
This risk has led the refiners to give more than the norms specify, resulting in a giveaway on quality and profit. The use of near infrared (NIR) technology has helped refiners get real-time data to ensure 
...
Read more...
---
Inline analytical technology for liquor process control
May 2019, Morton Controls , Analytical Instrumentation & Environmental Monitoring
One of the most important processes in the pulp and paper industry is the alkaline sulphate process, where lignin is separated from the fibrous material. Recycling of the chemicals used is vital for environmental 
...
Read more...
---
Gas monitors
Africa Automation Fair 2019 Preview , Analytical Instrumentation & Environmental Monitoring
RTS Africa Technologies is exhibiting LaserGas gas monitors from Neo Monitors.    These are ideal for accurate measurement of specific components in gas mixtures such as flue gases. The NEO LaserGas monitor 
...
Read more...
---
Spectrum analysers for RF signals
Africa Automation Fair 2019 Preview, Accutronics , Analytical Instrumentation & Environmental Monitoring
Accutronics is exhibiting the SignalShark real-time spectrum analysers for the detection, analysis, classification and localisation of RF Signals. These are on show at Stand D06. Features include a frequency 
...
Read more...
---
In-situ gas analyser
Africa Automation Fair 2019 Preview, Microsep , Analytical Instrumentation & Environmental Monitoring
Mettler Toledo Ingold's GPro 500 TDL system is ideal for tough and challenging gas measurement applications and is designed for in-situ petrochemical processes and safety applications. TDL gas analysers 
...
Read more...
---