printer friendly version
Flow measurement made easy
April 2014
Flow Measurement & Control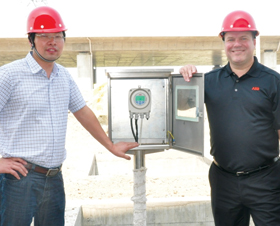 The Nantong Water Treatment Company serves the city of Nantong with its population of about 7 million. The company's Langshan plant pulls water from the Yangtze at a rate of about 600 000 tons per day for treatment. When built in the year 2000, the plant boasted the most advanced and automated water treatment in China.
WaterMaster meters for Nantong plant
ABB products and systems participated heavily towards the plant's sophisticated reputation. The plant contains an ABB distributed control system (DCS) and 15 ABB electromagnetic flowmeters that measure water flows and chemical dosing throughout the plant.
ABB is now participating in a new project called Chong Plant currently nearing completion. The project will help four nearby cities keep up with the increasing water requirements caused by burgeoning population growth, which will be the recipients of treated water from a giant pumping station nine kilometres from the river intake. An Engineering, Procurement, and Construction (EPC) company called Pacific Water, based in Nantong, is managing the control system and instrumentation of the pumping station and its associated wide-ranging piping network.
According to Mr Shaojian, the general manager of the Chonghai Water plant project, it has a capacity of 800 000 tons of water per day and will add 40 new employees to the company's current 600. "The station's 12 large pumps will supply 5 million more people residing over an area of 460 square kilometres," he says.
The new plant chose 28 ABB WaterMaster electromagnetic flowmeters for custody transfer of treated water to the four cities. "One of the main factors in picking ABB WaterMaster magmeters is that the primary sensors are inherently submersible and may simply be buried in the ground," says Shaojain. "These large meters are installed in 2-metre pipes and they eliminate the necessity of being installed in large, underground concrete enclosures."
He says that meter installation merely involves excavating to the underground pipe, fitting the primary sensor, cabling the transmitter and then backfilling the hole. "Buried meters result in significant installation savings," says Shaojian. Once a meter is installed, the company fills the hole with water to make sure its performance is unaffected.
Additionally, the meters are highly accurate, an important attribute for custody transfer operations. An automatic calibration process within the transmitter occurs every 45 seconds without interrupting the flow measurement. Digital Signal Processing (DSP) contributes to the superior accuracy for real-time measurements and maximum reliability. Using DSP, the transmitter separates the real signal from the interference from vibration and hydraulic noise associated with pumping stations.
With the increasing demands and costs for water, the company is also considering the purchase of ABB Aquaprobes, insertion magmeters, to monitor leak detection in the treatment plant. Another possibility is the installation of up to 400 ABB AquaMaster magmeters for direct billing of industrial water users.
The pumping station also includes ABB motors and drives to power the pumps while maximising energy efficiency.
For more information contact Jacolize Goosen, ABB South Africa, +27 (0)10 202 5000, jacolize.goosen@za.abb.com, www.abb.com/za
Credit(s)
Further reading:
Accurate bulk flow measurement in the cement industry
June 2019, SICK Automation Southern Africa , Flow Measurement & Control
The rapid development of sensor technology provides cement producers with a toolbox of solutions to optimise performance and strengthen market presence. Non-contact volume flow measurement of conveyed 
...
Read more...
---
Flow sensor for liquid media
June 2019, Festo , Flow Measurement & Control
The new flow sensor SFAW from Festo is ideal for monitoring cooling circuits, for example in welding guns in the automotive industry as well as in front-end applications in the semiconductor and electronics 
...
Read more...
---
Electromagnetic flowmeters
Africa Automation Fair 2019 Preview, Dupleix Liquid Meters (DLM) , Flow Measurement & Control
Badger Meter's electromagnetic flowmeters are ideally suited for flow measurement of all liquids with a minimum conductivity of 5 μS cm. The flow measurement is independent of density, temperature and 
...
Read more...
---
Flowmeters for clean liquids and gases
Africa Automation Fair 2019 Preview, WIKA Instruments , Flow Measurement & Control
Venturi tubes such as WIKA's model FLC-VT are reliable, easy to use and low maintenance.    They are particularly suitable for the measurement of clean liquids and gases. The main advantages of a Venturi 
...
Read more...
---
Industrial gas flowmeters
Africa Automation Fair 2019 Preview, Mecosa , Flow Measurement & Control
The IN-FLOW mass flowmeters and controllers by Bronkhorst High-Tech are of rugged design according to IP65. Showcased at Stand D08, the instruments are available for flow ranges from 0,05 to 1 mln/min 
...
Read more...
---
New flowmeter for biogas
May 2019, KROHNE , Flow Measurement & Control
The new Optisonic 7300 Biogas ultrasonic flowmeter from Krohne has been specially designed to measure dry and wet biogas with variable composition. The meter provides additional functions, like calculation 
...
Read more...
---
Drone-based gas leak detection
May 2019, ABB South Africa , IS & Ex
Leaks in gas distribution and transmission pipelines present serious safety risks and result in lost revenue and profits to producers. The ABB Ability mobile gas leak detection system is a digital solution, 
...
Read more...
---
Revolutionary new flowmeter
Africa Automation Fair 2019 Preview, Bürkert South Africa , Flow Measurement & Control
Bürkert is known for producing high quality process control equipment for the hygienic processing sector. The company has developed FLOWave, an innovative solution for liquid flow measurement, which has 
...
Read more...
---
Control costs with ABB drives
Africa Automation Fair 2019 Preview, ABB South Africa , Motion Control & Drives
ABB is showcasing the ACS580 and ACS480 drives, which offer ready-made solutions for a wide range of applications. Along with energy savings, these drives contain enough functionality to replace various 
...
Read more...
---
ABB and BP celebrate global MEC frame agreement
April 2019, ABB South Africa , News
BP has appointed ABB as one of its global main electrical contractors (MEC) for the provision of engineering, procurement and construction of electrical equipment for BP Upstream Major Capital Projects. 
...
Read more...
---