printer friendly version
ABB's ultrasonic level measurement technology
April 2014
Level Measurement & Control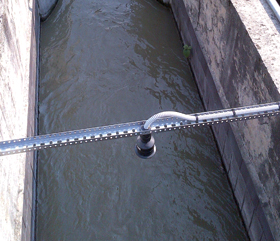 On many ageing municipal and industrial water treatment plants open channels are found that once used to work, providing useful information measurements of influent and effluent flow. Many of these have since failed, with the designers no longer there after retirement, promotion or changing employers. Getting such an open channel back to work may look like a daunting task, but with the right instrument and support it does not have to be. Adding this measurement back into a plant can be incredibly valuable giving a clear indication of current and totalised flows over time.
What is an open channel?
Open channels are an effective way to distribute water. Using a manmade structure with an open surface, water can flow freely relying only on the force of gravity. There are no pumps used and no pressure applied. Over many years, studies have been done to establish the relationship between level and the flow through an open channel and the characteristics are now well understood.
Today it has become common for a level meter to measure the flow through such channels using only the level and a preconfigured relationship. This conversion is performed by a linearisation function on an ultrasonic level instrument such as the LST400. LST400 is preconfigured with the most common weirs and flumes and has the capability to program custom channels.
Implementing open channel on an ultrasonic level device
The most important step is to determine the channel type. Some common channels include V-notch weirs, rectangular weirs and Parshall flumes. These are configured by selecting a channel shape from a list of available types in the instrument menu. A custom option is also available to allow for some less common flow curves to be configured.
The next step is to measure the dimensions of the channel. Key measurements needed include the distance from the sensor to the bottom of the channel and the span of the channel. Channel width and depth will also be used in the calculation.
Calculating the maximum flow is done using a set of standard formulae published in literature. The ABB service team is experienced in this setup and can help calculate the needed parameters to finish the setup. With the help of the ABB service team, users can get the measurement back online in no time.
Cost effective solution
The challenge is to find a cost effective way to measure the flow through these channels that is easy to use and reliable. Due to the nature of the level measurement, ultrasonic technology currently offers the best price to performance ratio available on the market.
ABB LST400 and KMicro 4-Wire both come standard with open channel flow functionality enabled. These instruments are preconfigured with the flow curves of the most common open channels. They have temperature compensation as a standard feature ensuring fluctuations in temperature do not affect the accuracy. The narrow beam angle of only 7° for LST400 and 5° for KMicro, allows users to get into small channels.
A totaliser adds the flow at each instant to give total flow through the channel. This value can be recorded and reset periodically. The totaliser can toggle a relay every time a certain value is reached allowing users to count on an external controller and keep a clear record of the total flow through the channel. There is also the possibility to use another relay to trigger an alarm when the channel reaches a preset high value such as 80% full. LST400 has five relays, while KMicro 4 W has a single relay.
Conclusion
Open channels have been used to move water for many years. A good measurement can help to improve plant efficiency and therefore also billing. When these instruments fail, they can be brought back into service with the help of the right partner.
For more information contact Jacolize Goosen, ABB South Africa, +27 (0)10 202 5000, jacolize.goosen@za.abb.com, www.abb.com/za
Credit(s)
Further reading:
Continuous level measurement
Africa Automation Fair 2019 Preview, Morton Controls , Level Measurement & Control
The Nivobob series from Morton Controls is used for continuous level measurement within bulk storage silos and for interface measurement of sludge beds. The system is immune to dust, dielectricity, conductivity, 
...
Read more...
---
Drone-based gas leak detection
May 2019, ABB South Africa , IS & Ex
Leaks in gas distribution and transmission pipelines present serious safety risks and result in lost revenue and profits to producers. The ABB Ability mobile gas leak detection system is a digital solution, 
...
Read more...
---
A range of level sensors
Africa Automation Fair 2019 Preview, GHM Messtechnik SA , Level Measurement & Control
GHM Messtechnik has available the Val.co range of affordable and effective level sensors that have application across all sectors of industry, especially tank building. The range includes small float 
...
Read more...
---
Control costs with ABB drives
Africa Automation Fair 2019 Preview, ABB South Africa , Motion Control & Drives
ABB is showcasing the ACS580 and ACS480 drives, which offer ready-made solutions for a wide range of applications. Along with energy savings, these drives contain enough functionality to replace various 
...
Read more...
---
ABB and BP celebrate global MEC frame agreement
April 2019, ABB South Africa , News
BP has appointed ABB as one of its global main electrical contractors (MEC) for the provision of engineering, procurement and construction of electrical equipment for BP Upstream Major Capital Projects. 
...
Read more...
---
Keller's water level monitoring systems
April 2019, Instrotech , Level Measurement & Control
The Grib Mine, located in Russia's Mezensky District in the Arkhangelsk Oblast, is one of the largest diamond deposits in the world. During winter, temperatures can drop to -25° and sometimes -37°. The 
...
Read more...
---
80 GHz for liquids
April 2019, VEGA Controls SA , Level Measurement & Control
Vegapuls 64 radar level measurement improves efficiency for bitumen supplier.
Read more...
---
Level monitoring and visualisation
March 2019, Morton Controls , Level Measurement & Control
UWT's Nivotec series is designed to make data movement and communication between monitoring and control systems easy and flexible. The Nivotec 2000 and 3500 series are specifically adaptable to customer 
...
Read more...
---
Monitoring the level of molten polyethylene
March 2019, VEGA Controls SA , Level Measurement & Control
More than ever before, the number of car parts made from plastics and plastic composites is on the increase. According to the American Chemistry Council, plastics account for approximately 50% of the 
...
Read more...
---
ABB to power Europe's largest electric car battery factory
February 2019, ABB South Africa , News
LG Chem has selected ABB to provide a substation for Europe's largest electric car battery factory in Poland. Key equipment supplies include transformers, surge arrestors and gas insulated switchgear 
...
Read more...
---