printer friendly version
Integrated PC-based control platform
May 2013
Industrial Computer Hardware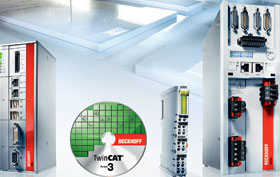 Based on powerful, state-of-the-art Industrial PCs and EtherCAT as a universal fieldbus system, an all-in-one solution from the controller to the drive technology is available to the user in the Beckhoff automation platform. In addition, its openness and consistency permit the integration of, for example, parts tracking, operating and CAD/CAM interfaces, production data acquisition and local databases. All requirements of the furniture industry are met, with production lots down to a size of 1, and in addition, PC-based control offers sufficient potential for the future development of new machine functions.
TwinCAT 3: efficient engineering and maximum performance
The TwinCAT automation software integrates a uniform engineering tool for the software mapping of all control functions from safe drive technology to complex CNC functions.
TwinCAT combines all control and motion functions as well as the complete engineering tool chain on one software platform. The object-oriented extensions of IEC 61131-3 enable the perfect modularisation of the programming code, the software encapsulation of machine functions and, in conjunction with that, improved structuring, simpler maintenance, re-usability and expandability of the software. With support for multi-core and 64-bit operating systems, TwinCAT taps into new performance reserves for the integration of additional machine functions such as condition monitoring into the central controller.
TwinSAFE: using synergies from safety and drive technology
In TwinSAFE Beckhoff offers a universal safety solution from the controller, the I/O to the drive technology. All safety functions can be programmed or configured on the uniform TwinCAT engineering platform. The range of application of TwinSAFE is enlarged with the new all-in-one EK1960 safety controller. The TwinSAFE Controller integrates a complete safety controller including I/O level in a compact design. Safe data transfer is ensured by the TwinSAFE protocol in compliance with SIL 3 of IEC 61508 or the performance level of ISO 13849-1.
Multi-touch panel: simplifying machine operation
In the new multi-touch panel series Beckhoff offers a modern and user-friendly operating concept allowing intuitive machine operation á la iPhone; the elegant, contemporary device design visually upgrades the machine. Display sizes from 7 to 24 inches are available in the classic 4:3 as well as widescreen formats. Pushbutton extensions for electromechanical operating elements and customer-specific designs supplement the broadly diversified range.
One cable technology: strengthening competitive advantages
The AM8000 servomotor series with one cable technology (OCT) combines power and feedback system in a single standard cable, resulting in reduced hardware and commissioning costs. OCT is also supported by the new EL7201-0010 servo terminal. The servo terminal further extends the modular compact drive system. In addition to solutions for stepper and DC motors, the servo terminal is also designed for highly dynamic positioning tasks thanks to integrated, fast control technology. Extremely high performance is ensured by full EtherCAT integration.
For more information contact Kenneth McPherson, Beckhoff Automation, +27 (0)11 795 2898, k.mcpherson@beckhoff.com , www.beckhoff.co.za
Credit(s)
Further reading:
PC-based control monitors road tunnel with flexible scalability
September 2020, Beckhoff Automation , System Integration & Control Systems Design
With more than 200 Industrial PCs in operation, the Kaisermühlen Tunnel in Vienna shows that scalable PC-based control technology from Beckhoff is an optimum automation platform in this environment.
Read more...
---
Modular towel production lines
September 2020, Beckhoff Automation , Motion Control & Drives
Rapid development and configuration of manufacturing systems for terrycloth towels with PC-based control.
Read more...
---
Open Beckhoff technology sets adoption record
September 2020, Beckhoff Automation , News
Now, with 3000 officially registered device manufacturers, EtherCAT has the broadest base of adoption in the industrial Ethernet market.
Read more...
---
EtherCAT I/O for conveyor control
September 2020, Beckhoff Automation , System Integration & Control Systems Design
Integrated compact motor controller reduces cabling effort and increases diagnostic capabilities for roller conveyor systems.
Read more...
---
New Allen-Bradley compact box PCs
September 2020, Rockwell Automation , Industrial Computer Hardware
The new box PCs and thin clients are the first of the Allen-Bradley VersaView 6300 family of industrial computers and leverage designs and technology from the acquisition of ASEM earlier this year.
Read more...
---
PC and EtherCAT-based control technology in next-generation telescope
August 2020, Beckhoff Automation , Motion Control & Drives
Key factors were the advantages of EtherCAT for site-wide real-time communication connecting all telescope functions. Various embedded PCs and AM8000 servomotors were also tested and specified, among 
...
Read more...
---
Smart engineering directly in the cloud
June 2020, Beckhoff Automation , IT in Manufacturing
PC-based control is an open, central control platform that integrates a full range of machine functionality and optimally supports the implementation of highly efficient IoT-based automation strategies. 
...
Read more...
---
Engineering 4.0: Automatic dashboard generation
July 2020, Beckhoff Automation , IT in Manufacturing
Many machine builders and systems integrators looking to transform their business models have identified machine and plant process data as being a core fundamental. When it comes to tailoring new data-driven 
...
Read more...
---
Edge device provides fanless control
June 2020, Beckhoff Automation , Industrial Computer Hardware
With its new C7015 ultra-compact industrial PC, Beckhoff has combined its extensive expertise with PC-based machine control and IP 65/67 components. The result is an industrial PC (IPC) designed with 
...
Read more...
---
PC-based control technology for process automation
May 2020, Beckhoff Automation , System Integration & Control Systems Design
Progress is not based on the innovative creation of buzzwords. Unfortunately, the development of enabling technologies in recent decades did not help to raise process automation to an advanced level. 
...
Read more...
---