printer friendly version
Zest Weg Group implements motor training workshop
October 2012
Training & Education
The Zest Weg Group recently implemented a motor training workshop to up-skill its own team and to assist its growing customer base. "We face severe skills shortages in South Africa and it is clear to us that we can contribute to uplift these skills and assist our customers to understand, operate and maintain complex equipment," says project manager Edson Cristofolini.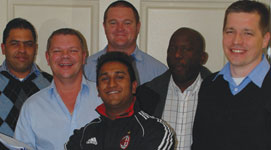 Zest Weg Group staff outside in-house training centre.
"Keeping abreast of the latest developments in technology is important to ensure that information and the associated critical skills are transferred to end users and to the industry at large. Our training entity is far more than just a product training scenario, programmes are set up to ensure training is applied in a manner that is appropriate for a full understanding of the product, and also to ensure our customers reap the benefits of optimum performance of our products.
"For us, training is a key element of our business and our training activities are centralised through a dedicated in-house facility, able to accommodate 32 people at a time, which is active five days a week under the management of a dedicated training officer."
For more information contact Jamie Wilson, Zest Weg Group, +27 (0)11 723 6000, jamiew@zest.co.za, www.zest.co.za
Credit(s)
Further reading:
New product releases from SMC Corporation International Training
September 2020, SMC Corporation South Africa , Training & Education
To ensure a smooth transition and integration for learners from education institutes into industry, SMC International Training equipment is designed based on the latest automation technology used in industry.
Read more...
---
Adapting education to the fourth industrial revolution
September 2019 , Training & Education
In order to establish a firm value proposition for Industry 4.0, it has to start at the FET (Further Education and Training) level, in schools and TVET (Technical, Vocational Education and Training) colleges, at the HET (Higher Education and Training) level, in universities, and all training providers.
Read more...
---
Automation education and training in South Africa – Part 3: Funding model
August 2019, SAIMC , Training & Education, SAIMC
In the final article of this series, we present a possible funding model to achieve the ideas outlined in the previous two parts.
Read more...
---
Swellendam's Technology Winter School
June 2019 , Training & Education
On an otherwise ordinary working day during 2015, Wynand Kotzé and Johan Reyneke discussed the 'challenges' young people face when making a career choice. They both had children about to finish school 
...
Read more...
---
Customised training solutions
Africa Automation Fair 2019 Preview, Rascals Automation Training and Solutions , Training & Education
Rascals Automation Training & Solutions offers customised solutions for technology in the industrial and domestic markets. Services include customised training solutions based on a full employee skills 
...
Read more...
---
Automation education and training vital for South Africa's development - Part 1: Our ability to provide the skills of Industry 4.0 is wanting.
March 2019, SAIMC , Training & Education
In the automation industry, the education and training provided at universities and colleges have, for various reasons, drifted away from industry ­requirements. The SAIMC plans to close this gap, whatever 
...
Read more...
---
Reimagining skills development
October 2018, Rockwell Automation , Training & Education
Consider the wider potential application for skilling people beyond the immediate environments of organisations.
Read more...
---
Online education is coming of age
October 2018 , Training & Education
Hands-on engineering via remote and virtual laboratories and simulation software.
Read more...
---
An examination of the current qualification options available to student engineers in South Africa
August 2018 , Training & Education
The discussion in this article focuses on the third milestone in a learner's career, i.e. from education into industry.
Read more...
---
Free-to-attend seminars to share latest industry insights
August 2018 , News, Training & Education
Taking place from 10-14 September at the Expo Centre in Nasrec, Johannesburg, visitors to this year's Electra Mining Africa will not only have the potential of engaging with 900+ exhibitors across the 
...
Read more...
---