printer friendly version
Festo's life science webinar on gas handling opens up new horizons
September 2021
News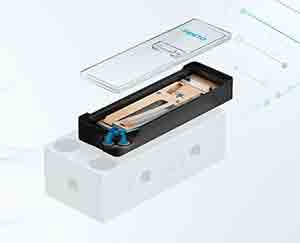 Precise, energy-saving, silent and fast – for the first time, piezo technology makes gas handling in medical technology and laboratory automation truly efficient. What are the differences compared with proportional solenoid valves? How can specialists in medical technology and laboratory automation easily integrate piezo components into their systems and devices? Festo, the automation specialists, will provide clear answers to these and many more questions in the life science webinar. The webinar will take place on Wednesday, 6 October 2021 from 15:30 to 16:30 pm CET at the following link: https://www.festo.com/gashandling-webinar.
During this webinar, engineers and designers in medical technology, laboratory automation, as well as in the production of consumables, to name a few, will receive a quick overview of the advantages of piezo technology for controlling gases. The participants will learn the principles and advantages of piezo technology and how regulating flow rate and pressure with piezo valves works.
Applications and advantages
Piezo valves use hardly any energy, do not generate heat, are small, light and silent and have a long lifespan. They are approved for air, oxygen and inert gases. Thanks to these properties, they are ideal for mobile, near-patient use in oxygen therapeutic devices or to simulate deceptively real movements in learning robots. But they are also used for dosing shielding gas, for example, filling infusion bags or fast surface-mounted laser welding.
During the last fifteen minutes of the webinar, the participants will have the opportunity to ask questions and exchange information with Thomas Kunert, LifeTech Product Manager at Festo. Kunert brings to the table over 30 years of experience in medical technology and 15 years in product management with a focus on piezo technology.
For more information on this webinar, contact marketing.za@festo.com or call 011 971 5585.
Credit(s)
Further reading:
New chief marketing and communications officer joins Zutari
News
Leading consulting engineering and infrastructure advisory firm, Zutari, has appointed Zipporah Maubane as chief marketing and communications officer for Africa and the Middle East (AME).    The company 
...
Read more...
---
Women thrive at the coalface of BI's sales and customer service
Bearings International News
"Do not compare yourself to others. Work hard, as no job is beneath you. Soak up the knowledge available to you. Do not be discouraged or demotivated."
Read more...
---
More women to be capped at MUT's Women's Month graduation
News
All told, 990 women will graduate from the Faculty of Management Sciences, 308 from the Faculty of Natural Sciences, and 310 from the Faculty of Engineering.
Read more...
---
Hitachi Energy is championing its Diversity 360 approach
News
In recognition of Women's Month, the company highlighted the achievements of exceptional local female talent by profiling three leading women who form part of the company's South African operations.
Read more...
---
LTM garners prestigious global 'green energy' award
News
The company was awarded for the AEE Innovator of 2022 the Enhanced Smart Utility Management System (eSUMS), which helps clients reduce their utility costs and boost their climate change mitigation contribution.
Read more...
---
Attaining a sustainable legacy
Technews Publishing (SA Instrumentation & Control) Editor's Choice News
Through this quagmire of crises and uncertainties, the wheels of industry must continue to turn if we are to sustain our modern way of life, and those wheels are, either directly or indirectly, powered by electricity.
Read more...
---
From the editor's desk: Today's seed, tomorrow's shade
Technews Publishing (SA Instrumentation & Control) News
Today's captains of industry did not create the environmental problems we face, but they inherited this poisoned chalice and so it falls upon them to rinse it clean.
Read more...
---
From Industry 4.0 to Industry Green.0
Rockwell Automation Editor's Choice News
As sustainability becomes a business imperative for manufacturing organisations, they must incorporate sustainability goals into every step of the business lifecycle – because purpose and profit must go hand in hand.
Read more...
---
Strong order intake, record revenues for Atlas Copco
News
The demand for Atlas Copco's products and services remained high for the second quarter of 2022, and order volumes increased markedly in all business areas compared to the previous year.
Read more...
---
Zest WEG poised for African growth
Zest WEG Group Africa News
Zest WEG's drive on local manufacture and local sourcing is consistent with WEG's global approach of maximising local content and procurement wherever possible.
Read more...
---