printer friendly version
Multi-application radar level transmitters
September 2021
Level Measurement & Control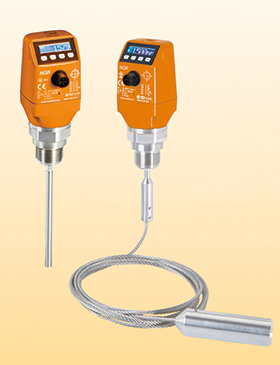 Instrotech now offers Kobold's NGR, a robust, maintenance-free level sensor that uses TDR (time domain reflectometry) technology for the precise level measurement and monitoring of oil and water-based liquids, grinding and hydraulic oils as well as mixtures with cleaning and degreasing products. The NGR can also work in deposit-forming and foaming liquids.
The guided radar uses time-of-flight technology to measure electromagnetic pulses. The time difference between the sent and reflected pulses is used to calculate the level, both as a continuous value (analog output) and a free position switching point (switching output).
The flexible probe can be changed or cut, allowing the sensor to be integrated quickly into any application. The NGR sensor's intuitive setup uses four buttons and a display to ensure quick and easy adaptation to the application.
The NGR operates on a modular sensor concept, adaptable for every application and suitable for almost every liquid. The measuring principle is independent of the medium's density, temperature, pressure, humidity and conductivity. Other features include:
• Temperature range: -20°C to 100°C.
• Pressure range: -1 to 10 bar.
• Output: 4-20 mA/0, 10 bar switching output PNP or NPN.
• Probe length: maximum 2000 mm for monoprobe and coaxial tube, maximum 4000 mm for wire rope www.bit.ly/3ze1OKO
Credit(s)
Further reading:
Pressure sensors for perfect coffee
Instrotech Pressure Measurement & Control
Rex-Royal has sourced pressure transducers from Keller's 21C series for its S300 model range of bean-to-cup coffee machines.
Read more...
---
Pulse totaliser counter
Instrotech Flow Measurement & Control
The electronic unit shows flow rate, resettable daily and total counter (mass units can also be set), and all customised program settings remain saved, even after a battery exchange.
Read more...
---
Continuous non-contact level measurement with radar technology
KROHNE Level Measurement & Control
Online teaser: A narrow beam angle of 4° for tank internals and long nozzles is combined with accuracy down to ±2 mm, even in processes with fast-changing levels and low dielectrics.
Read more...
---
Ultrasonic sensors enable automatic stacking turf harvester
Instrotech Sensors & Transducers
The AutoStack, and now the AutoStack II, use an automated Ultra Steer system to guide the harvester with precision while the operator watches over all aspects of the harvesting process.
Read more...
---
Plumb bob sensor for tanks and settling basins
Morton Controls Level Measurement & Control
Its precise sensitivity can be adjusted to slurries and solids in liquids, and can also be configured for use in corrosive media with increased resistance.
Read more...
---
Level measurement – now with Bluetooth
WIKA Instruments Level Measurement & Control
The instrument's description, TAG number, and 0% and 100% marks can be configured via an app on a smartphone or tablet.
Read more...
---
Magnetic-inductive flow meter for phosphate precipitation
Instrotech Flow Measurement & Control
With a 4-20 mA signal or optional pulse output, the MIK allows for immediate response to the latest process conditions.
Read more...
---
Radar sensor keeps its cool
VEGA Controls SA Level Measurement & Control
The VEGAPULS C 21 delivers exact measuring results without effect from the medium, or the process and ambient conditions
Read more...
---
Compact infrared camera for the metal industry
Instrotech Temperature Measurement
The camera's wide temperature measurement range of 450-1800°C satisfies practically all demands in the fields of metal production and processing.
Read more...
---
Wire-actuated encoder for crane arms and lifting platforms
Instrotech Sensors & Transducers
Siko has solved the challenges presented by such applications with the SG 30 and its very compact, yet robust, design.
Read more...
---