printer friendly version
High-speed pyrometer from Optris
September 2021
Temperature Measurement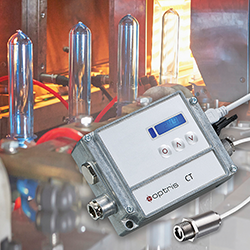 With very fast processes, the requirements of the pyrometers used for temperature measurement are especially onerous. Typical examples are plastics processing machinery, such as that used for blow-moulding PET bottles, which work on very short cycle times. Another application is the monitoring of rail vehicles, where the temperature of the wheelset bearings is measured as the train wheels pass the pyrometer, for early detection of components that are starting to run hot.
Instrotech now offers the new high-speed CT 4M pyrometer for these types of challenging tasks. With a detection time of just 90 µs, it is the fastest pyrometer within the Optris range.
Optimum for metal surfaces and low temperatures
The CT 4M measures within the spectral range of 2.2 µm to 6.0 µm, making it ideal for low-temperature measurements on metals, metal oxides, ceramics, or materials with an unknown or changing emissivity. Here, low temperature means the measurement range which spans 0°C to 500°C.
The sensor head of the new pyrometer is compact. With a diameter of 14 mm and a length of 28 mm, it can easily be installed even where space is at a premium, for example, directly within a machine. The remote electronics unit is connected to the sensor head via a cable that can be up to 15 m long. Important parameters can be entered directly via the unit's three keys and an illuminated display.
The integrated interface allows the CT 4M to be connected directly to a PC, where all settings can be fine-tuned in the CompactPlus Connect software. Date capture and recording are also possible using the software. Other serial interfaces, or an Ethernet interface, are also available as options. Instead of a PC, the pyrometer can also be connected to an Android mobile device that has the free IRmobile app installed. This allows the settings of the pyrometer to be conveniently adjusted on site during commissioning or maintenance work. To connect the CT 4M to the process, two scalable analog outputs and three I/O pins (programmable inputs/outputs) are available.
Credit(s)
Further reading:
Pulse totaliser counter
Instrotech Flow Measurement & Control
The electronic unit shows flow rate, resettable daily and total counter (mass units can also be set), and all customised program settings remain saved, even after a battery exchange.
Read more...
---
Ultrasonic sensors enable automatic stacking turf harvester
Instrotech Sensors & Transducers
The AutoStack, and now the AutoStack II, use an automated Ultra Steer system to guide the harvester with precision while the operator watches over all aspects of the harvesting process.
Read more...
---
Air humidity/temperature sensor with IO-Link
Turck Banner Temperature Measurement
Turck Banner is offering cost-effective condition monitoring in the field and in IIoT applications with its first combined air humidity/temperature sensor; it is very easy to integrate thanks to the IO-Link interface.
Read more...
---
Temperature transmitters with hybrid digital/analog output
Morton Controls Temperature Measurement
Thanks to its flexible communication with plug-and-play simplicity, time and costs are saved during installation and commissioning.
Read more...
---
Magnetic-inductive flow meter for phosphate precipitation
Instrotech Flow Measurement & Control
With a 4-20 mA signal or optional pulse output, the MIK allows for immediate response to the latest process conditions.
Read more...
---
Temperature monitoring simplified
Omniflex Remote Monitoring Specialists Temperature Measurement
Up to 32 mLC8s are supported by the touchscreen HMI, so a system with 2560 temperature points can conceivably be constructed.
Read more...
---
Compact infrared camera for the metal industry
Instrotech Temperature Measurement
The camera's wide temperature measurement range of 450-1800°C satisfies practically all demands in the fields of metal production and processing.
Read more...
---
Imaging system for slowly rotating kiln shells
R&C Instrumentation Temperature Measurement
The Raytek CS400 system is able to synchronise thermal imaging at speeds as low as 2 revolutions per hour.
Read more...
---
Wire-actuated encoder for crane arms and lifting platforms
Instrotech Sensors & Transducers
Siko has solved the challenges presented by such applications with the SG 30 and its very compact, yet robust, design.
Read more...
---
Flow meters and switches for very slow flows
Instrotech Flow Measurement & Control
Kobold's KSV meters are shock resistant, small, lightweight and simple to install for measuring liquid or air flow with full-scale accuracy within +/-6%.
Read more...
---