printer friendly version
Pressure switches with metal bellows
September 2021
Pressure Measurement & Control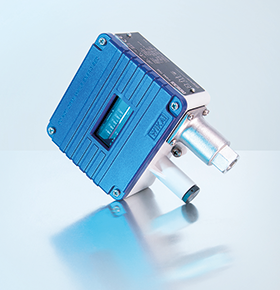 What advantages do pressure switches with metal bellows offer and what is the basis for these? The advantages are based on the seamless design of the measuring system. This solution enables permanently stable repeatability and at the same time, eliminates the risk of leakage.
Bellows measuring systems are based on a mature manufacturing technology. The production of metal bellows, for example, from stainless steel or a copper alloy, takes place in several steps. Circular discs are first cut from a flat piece of metal and these are then shaped into cup-shaped objects. They are softened through an annealing process in a furnace at more than 600°C and then drawn into long, thin-walled and seamless tubes.
Constant elasticity
The tubes are corrugated by using forming tools at high pressure and then trimmed to the designed size. In the next stage, the spring-like metal cylinders are pressed together in accordance with the specified dimensions (length and outer and inner diameter). This creates the constant elasticity needed for the stable repeatability of movement. In the final step, the bellows are degreased and given a protective coating against corrosion.
Seal-free functionality and permanent accuracy
In a pressure switch, the metal bellows is brazed or welded to the process connection. Its other end is in contact with the transmission mechanism. This means that the instrument has a fully seamless measuring system without the need for any rubber sealing materials and the risk of leakage is eliminated. This feature makes pressure switches with metal bellows suitable for a wide range of applications. Process reliability is also guaranteed with liquid media.
A metal bellows changes its length in line with the pressure. When a defined switch point is reached, it triggers the switching function via a transmission mechanism. If the pressure drops or rises again, the bellows returns to its original shape and the switch contact returns to its original position.
The expansion movement of a metal bellows has a high linearity. The switch differential, which is precisely adjusted via a specific calibrated spring system, remains correspondingly constant. This ensures the accuracy of pressure control and switching, even over a long period of time.
Credit(s)
Further reading:
Correct choice of diaphragm seal for a pressure gauge or transmitter
September 2021, SA Gauge , Pressure Measurement & Control
This isolation is achieved by using a pressure-sensitive diaphragm made from a material resistant to the process medium and enclosed in a system fitted to the base of the instrument. The space between 
...
Read more...
---
Miniature pressure sensor
August 2021, ASSTech Process Electronics + Instrumentation , Pressure Measurement & Control
Measuring just 14 mm in diameter, the new weFluxmicro pressure sensor from Wenglor meets the challenges presented by confined mounting spaces.
Read more...
---
Electronic flow switch with display
August 2021, WIKA Instruments , Flow Measurement & Control
The new model FSD-4 electronic flow switch from WIKA offers full flexibility in monitoring and controlling flow based on the velocities of liquid media.
Read more...
---
Clean and colourful
September 2021, VEGA Controls SA , Pressure Measurement & Control
VEGA has completed its measurement technology portfolio for hygiene-sensitive processes with two new compact instrument series comprising pressure sensors and level switches.
Read more...
---
Vibration-resistant thermowells
July 2021, WIKA Instruments , Temperature Measurement
Debottlenecking is desirable as minor percentage increases in output capacity can result in significant profit returns.
Read more...
---
Robust pressure transmitters with IO-Link
July 2021, Turck Banner , Pressure Measurement & Control
Pressure transmitters from Turck Banner's PT1000/2000 series are now also available with an IO-Link interface and two programmable switching outputs.
Read more...
---
Ultrasonic sensor for PL d applications
July 2021, Pepperl+Fuchs , Pressure Measurement & Control
Pepperl+Fuchs has expanded its factory automation portfolio and acquired the USi safety ultrasonic sensor from Mayser, a renowned supplier of products and system solutions, many of which are relevant to safety engineering.
Read more...
---
Digital pressure gauge with IO-Link
July 2021, Instrotech , Pressure Measurement & Control
Instrotech now offers Kobold's new MAN-SC/LC intelligent digital pressure gauge with IO-Link
Read more...
---
High-performance precision manometers
May 2021, GHM Messtechnik SA , Pressure Measurement & Control
Greisinger recently launched its new handheld and fine handheld manometers, namely the G 1107 (fine) and G 1113 series, both of which offer fast performance and high accuracy.
Read more...
---
Diaphragm seal systems with Tri-Clamp
April 2021, WIKA Instruments , Pressure Measurement & Control
In sanitary applications, diaphragm seal systems ensure a safe and precise monitoring of the process pressure. WIKA therefore also offers welded units of diaphragm seal and measuring instrument with Tri-Clamp 
...
Read more...
---