printer friendly version
Mitigate industrial network vulnerabilities
July 2021
IT in Manufacturing
Since industrial networks are primarily built and expanded to address growing business demands, it may be easy for administrators to overlook common system vulnerabilities. For example, when adding a device to a newly built or expanded network, do you know which industrial Ethernet switches have unlocked ports? Or, do you simply connect new devices without a second thought?
It must not be forgotten that ignoring common system vulnerabilities in today's world could put your entire network at risk.
Stage 1 vulnerabilities: exploration and infiltration
Recall the last time you logged onto your network. How complex was your password? Although weak passwords may be easier for busy administrators to remember, they are also easier for malicious actors to crack through a brute force attack. By scanning your network, hackers can identify open ports and infiltrate your network just like a burglar entering through an unlocked gate.
How to mitigate
One of the simplest ways to enhance your network security is to ensure that users create a sufficiently complex password to reduce the likelihood of an attacker guessing your credentials by brute force. For additional security, you should also consider a login failure lockout mechanism that limits the number of unsuccessful login attempts, which may indicate a brute-force attack. To protect your network from port scanning, you can create a whitelist of ports that are accessible through your firewall and also disable WAN pinging.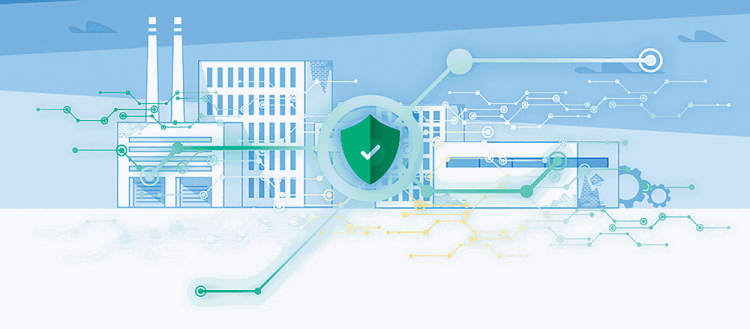 Stage 2 vulnerabilities: utilisation and network control
During the second stage of a cyberattack, the malicious actor has already infiltrated the network and is using resources on the network for their own purposes. Even though they are not actively wreaking havoc on the network, they are secretly gathering information and laying the groundwork for a more harmful attack.
How to mitigate
To limit the attacker's ability to move throughout your network and commandeer your devices, we recommend network segmentation and traffic control. For example, you should partition your network into smaller segments and control the communications that pass through these segments. In addition, deploying whitelist control to prevent command injection can also limit the severity of the security breach.
Stage 3 vulnerabilities: services and data disruption
Stealing or destroying critical business data from networks will be costly and harmful to any organisation. However, these malicious actions are far from the worst-case scenario of a successful cyberattack. During the last stage of a cyberattack, the hacker is no longer studying networks but actively causing damage.
During stage 3 of a cyberattack, the hacker could make a machine or network resources unavailable to authorised users by temporarily or indefinitely disrupting services on a host. This is typically called a Denial of Service (DoS) attack, which involves flooding a targeted machine in an attempt to overload it with pings. Furthermore, a hacker could unleash malware, including ransomware to deny you access to your network resources until a ransom is paid.
How to mitigate
Although damage has already been done by the time the cyberattack reaches stage 3, you can still mitigate the overall harm to your network by ensuring sufficient DoS or DDoS (distributed DoS attacks that involve multiple systems) protection and deploying industrial IPS (intrusion protection system) for ransomware and other malware. You should also maintain reliable system backups and blacklist unauthorised protocols to minimise data loss.
Credit(s)
Further reading:
Siemens' software for digital transformation of automotive design
September 2021, Siemens Digital Industries , IT in Manufacturing
Model-based development process and systems are used in Japan and globally to adapt to the biggest automotive transformation in 100 years.
Read more...
---
Is track and trace through the factory a waste of time?
September 2021, Iritron , IT in Manufacturing
Modern track and trace solutions are purpose-built to introduce as little disruption to the existing production process as possible, while also being flexible enough to cater for plants that range from fully manual to fully automated.
Read more...
---
Modularity for scalability
September 2021, RJ Connect , IT in Manufacturing
Businesses are looking for versatile solutions that are easy to maintain to ensure smooth operations while keeping costs down.
Read more...
---
Saryx launches TMP
September 2021 , IT in Manufacturing
The digital transformation that has swept the world in the past few years has fundamentally altered most people's approach to technology, with an increasing number seeking the ability to manage their 
...
Read more...
---
Secure boundaries enhance industrial cybersecurity
September 2021, RJ Connect , IT in Manufacturing
When enhancing cybersecurity, it is important to understand how industrial systems are exchanging data and how they connect to IT-level systems.
Read more...
---
Siemens drives digital transformation at virtual Smart Mining forum
September 2021, Siemens Digital Industries , IT in Manufacturing
With its motto: 'On the road to the digital future', Siemens hosted its virtual Smart Mining forum from 3-5 August.
Read more...
---
Deep-learning AI made accessible
September 2021, SICK Automation Southern Africa , IT in Manufacturing
SICK Automation has launched a set of deep-learning software and services called dStudio, making artificial intelligence (AI) more accessible to the southern African market. This software works with machine 
...
Read more...
---
Monitoring oil and gas pipelines
August 2021, RJ Connect , Maintenance, Test & Measurement, Calibration
Moxa's MDS-G4020 series offers a modular platform that can be fitted with fibre interfaces to connect pipeline subsystems to a control centre over long distances.
Read more...
---
How safe are our factories? Part 1: Cybersecurity for operational technology.
August 2021, Wolfpack Information Risk , IT in Manufacturing
If companies are regularly being subjected to cyber hacks overseas, isn't it only a matter of time before someone with enough motivation, skill and resources targets us?
Read more...
---
HSEC Online simplifies health and safety compliance for companies
Technews Industry Guide: Sustainable Manufacturing 2021 , IT in Manufacturing
This automated, cloud-based solution provides a transparent, collaborative workflow platform which eliminates most of the manual complexities of health and safety document management compliance.
Read more...
---