printer friendly version
Siemens makes industrial 5G router available
July 2021
Industrial Wireless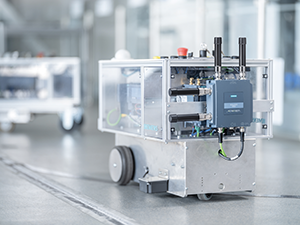 The Scalance MUM856-1 – the first industrial 5G router from Siemens – is available now. The device connects local industrial applications to public 5G, 4G (LTE) and 3G mobile wireless networks. The router can be used to monitor and service plants, machines, control elements and other industrial devices via a public 5G network. In addition, the device can be integrated into private 5G networks. The Scalance MUM856-1 therefore supports future-oriented applications such as mobile robots in manufacturing, autonomous vehicles in logistics, or augmented reality applications for service technicians. Thanks to a robust IP65 housing, the router can also be used outside the control cabinet, for example, under harsh conditions in production or in outdoor facilities in the water industry.
To ensure the powerful connection of Ethernet-based subnetworks and automation devices, the router supports Release 15 of the 5G standard. The device offers high bandwidths of up to 1000 Mbps for the downlink and up to 500 Mbps for the uplink – providing high data rates for applications such as the remote implementation of firmware updates. Thanks to IPv6 support, the devices can also be implemented in modern communication networks. Various security functions are included in order to monitor data traffic and protect against unauthorised access: for example, an integrated firewall as well as authentication of communication devices and encryption of data transmission via VPN. If there is no available 5G network, the device switches automatically to 4G or 3G networks. The first release version of the router has an EU radio licence; other versions with different licences are in preparation. With the Sinema Remote Connect management platform for VPN connections, users can access remote plants or machines easily and securely, even if they are integrated in other networks. The software also offers easy management and configuration of the devices.
Successful use of prototypes for private 5G networks
Besides connectivity to public networks, Scalance MUM856-1 also supports integration into private local 5G campus networks. Siemens is testing this use case in its own Automotive Showroom and Test Centre in a prototype of a standalone 5G test network, which is based on Siemens components. The 5G infrastructure used here comprises a 5G core, a distributed unit and several radio units. Siemens has also built another prototype of a private 5G infrastructure in its plant in Amberg, and the Karlsruhe plant will be equipped soon. In these systems, Siemens is relying exclusively on its own independently developed products and solutions. In addition, it is currently implementing private network technology for a 5G campus network with a focus on industrial use in one of the Deutsche Messe exhibition halls in Hanover. The network can be used by exhibitors during trade shows and, outside of trade show times, can be used by companies for tests and field trials.
Background information
In industry, in addition to the need for local wireless connectivity, there is increasing demand for remote access to machines and plants. In these cases, communication is usually over long distances. Public mobile networks can be used to access devices that are located at a considerable distance, for example, in other countries.
In addition, service technicians can connect to the machines they need to service via the mobile network while on the go. Public 5G networks are therefore an important element of remote access and remote servicing solutions. They can be used, for example, to provide users with high bandwidths in urban areas with small radio cells and high frequencies. In rural areas, radio cells have to cover a large area, which is why lower frequencies are used. Particularly at the edges of radio cells, there are often significant losses in terms of both the bandwidth and stability of the communication connection. And it is exactly in these remote areas where stable bandwidth transmission is required for remote servicing or video transmission, for example, for water stations. With innovative 5G communications technologies, considerably more bandwidth with greater reliability is available at the edges of radio cells and the average data rate for users within a radio cell increases.
For more information contact Jennifer Naidoo, Siemens Digital Industries, jennifer.naidoo@siemens.com, www.siemens.co.za
Credit(s)
Further reading:
Siemens' software for digital transformation of automotive design
September 2021, Siemens Digital Industries , IT in Manufacturing
Model-based development process and systems are used in Japan and globally to adapt to the biggest automotive transformation in 100 years.
Read more...
---
Tag-specific requirements in RFID systems for track and trace
September 2021, Turck Banner , Editor's Choice, Industrial Wireless
The BL ident complete RFID system from Turck Banner offers solutions in the HF or UHF range with interfaces for use in a plant or switch cabinet.
Read more...
---
Siemens gateway for the process industry
September 2021, Siemens Digital Industries , Fieldbus & Industrial Networking
Siemens has introduced the Sitrans CloudConnect 240: a new gateway for the process industry. It provides a second data channel, that is used to transmit data from any HART-based field devices to the IT world.
Read more...
---
Siemens drives digital transformation at virtual Smart Mining forum
September 2021, Siemens Digital Industries , IT in Manufacturing
With its motto: 'On the road to the digital future', Siemens hosted its virtual Smart Mining forum from 3-5 August.
Read more...
---
Are you ready for the 2G/3G sunset?
August 2021, Throughput Technologies , Industrial Wireless
With widespread adoption of 4G technology and the growing availability of 5G, older technologies (2G and 3G) are now slowly being phased out.
Read more...
---
DXM series wireless controllers
August 2021, Turck Banner , Industrial Wireless
The robust, IP67-rated housing of Turck Banner's DXM1200E easily installs in most environments without the need for an additional enclosure.
Read more...
---
Wi-Fi in South African underground coal mines
August 2021, Extech Safety Systems , Industrial Wireless
In the author's opinion, Wi-Fi and all it offers can dramatically improve safety in all industries, including underground coal mines.
Read more...
---
Wireless kit for remote monitoring
August 2021, Turck Banner , Industrial Wireless
Since Turck Banners standalone DEK wireless kit includes everything needed for a remote preventive maintenance monitoring solution, complexity is removed, and installation is quick and easy.
Read more...
---
Siemens to focus on sustainability
Technews Industry Guide: Sustainable Manufacturing 2021, Siemens Digital Industries , News
As part of its recent virtual capital market day, entitled 'Accelerating High Value Growth', Siemens presented its new growth strategy that includes a comprehensive sustainability agenda.
Read more...
---
NearFi couplers for contactless power and data transmission
July 2021, Phoenix Contact , Industrial Wireless
By launching NearFi, Phoenix Contact has introduced a new, innovative technology for contactless power and data transmission in the near-field range.
Read more...
---