printer friendly version
Clean air for control systems
June 2021
Enclosures, Cabling & Connectors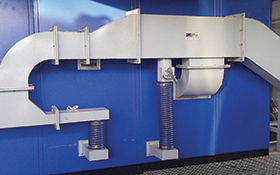 RTS Inertial Spin Filters provide an effective maintenance-free solution to dust problems in MCC rooms, transformer rooms, control rooms and other industrial spaces. The filtration principle is based on highly efficient cyclone technology and the standard dust extraction is 98% of particles 15 µm and larger (by particle count). At 5 μm the modules will remove 80% of dust by particle count. (Note: 10 μm is 1/6th the diameter of an average human hair.) For applications requiring even finer dust extraction, compressor intakes for instance, secondary filtration can be added. In this situation simple secondary pocket filters are cost-effective and due to the fact that they are only capturing very fine particles, they require very little attention.
Cooling of VSDs remains a challenge in most climates and environments, but even more so in hot climates such as we find in Africa. The conventional solution is to ventilate the 'E' Houses, or other spaces in which VSDs are installed, using air conditioning systems. There are several disadvantages to this solution. The initial procurement and installation of AC systems is expensive and also, being energy intensive, they are expensive to operate. It is also important to eliminate any dust that may be in the air stream and in AC systems this is dealt with by incorporating conventional filter panels. At best these have relatively low dirt-holding capacities and can load up in quite short periods of time with the result that the VSDs are starved of cooling air.
Spin Filter technology
RTS Africa Engineering has, over the past 30 years, been developing and refining the application of the RTS Self Cleaning Inertial Spin Filter technology, which offers a reliable and economical solution to providing clean air to all dust and temperature sensitive spaces in industry. This technology has proven to be effective in a wide variety of difficult and challenging applications and is now even being exported. The RTS Inertial Spin Filter is 100% South African-made and RTS Engineering brings years of real site experience to providing solutions specifically adapted to user requirements.
There are very few applications where ambient temperatures are too high for process control equipment and instrumentation to operate reliably. The problem arises when equipment is installed in a relatively small space where it not only generates heat but the enclosure also bakes in the sun. A reliable flow of clean air at ambient temperatures is the solution to this problem. The heart of the system is the Spin Module which is made from high density polypropylene that can tolerate temperatures to over 100°C and is highly resistant to wear.
Sizing of units for space filtration is based on the principle that the room/space should be pressurised to prevent ingress of outside air carrying dust. (Pressurisation of about 50-100 Pa is normal.) This ensures that all air flow is outwards – thus preventing dust entering through gaps in cladding, under doors etc. Sizing of the units is based on an analysis of the equipment installed and the structure of the room space. For well-sealed rooms with little heat generation, as few as 10 air changes per hour can be sufficient. However, if there is heat generating equipment installed in the space, then a higher number of air changes is recommended. The RTS engineering department can advise on the best solution for a particular dust problem.
RTS Africa Inertial Spin Filters can be used effectively for coal dust without secondary filters in many space cleaning applications. However, coal dust is black and even very fine particles, (sub 5 µm) are readily visible on surfaces within the space. While this level of dust mass will not usually present a problem, it is recommended that secondary filtration be installed when using Spin Filters on a coal plant. RTS also offers self-cleaning reverse pulse filter systems as secondaries for applications such as these. In these applications RTS Africa Inertial Spin Filters function as primary filters. The secondary filters are specified to remove fine powder and pollen and to scrub the fine visible particulate from the air stream. While most ambient airborne dust consists of particles that are above 10 µm in size there are applications other than coal dust where dust particles can be smaller, often generated by ball mills, crushers, etc. In these applications, secondary filtration may also be indicated.
RTS Inertial Spin Filter Units are compact and easy to install and RTS Africa Engineering offers full service support from conceptual design through installation to on-going support as required.
For more information contact RTS Africa Engineering, +27 82 879 0734, info@rtsafrica.co.za, www.rtsafrica.co.za
Further reading:
Cable locator for failsafe cable fault diagnostics
May 2021, Comtest , Enclosures, Cabling & Connectors
What sets the UAT-600 Series apart from other underground locators is its CAT IV 600 V safety rating.
Read more...
---
Pratley develops another cable gland world-first
April 2021 , Enclosures, Cabling & Connectors
Pratley is well-known in the market for producing world-class electrical termination products.
Read more...
---
Legrand's Starfix ferrules, crimping tools and applicators
May 2021 , Enclosures, Cabling & Connectors
Legrand's Starfix ferrules, cable crimping tools and applicators are designed for new installations and renovations in commercial installations, offices and domestic environments.
Read more...
---
Monitoring for control cabinets
September 2020, Turck Banner , Enclosures, Cabling & Connectors
The IM18-CCM is particularly suitable for OEMs wishing to provide basic condition monitoring values in their IT system. It detects critical states of the control cabinet directly in the field.
Read more...
---
Automated marking of terminal strips
August 2020, Phoenix Contact , Enclosures, Cabling & Connectors
The Mark Master terminal strip marking system from the Phoenix Contact ClipX product range uses patented high-speed technology for the fast and efficient processing of marking tasks. In control cabinet 
...
Read more...
---
Rittal's range of compact and small enclosures
August 2020 , Enclosures, Cabling & Connectors
After more than 50 years and 35 million enclosures sold, Rittal has introduced its small and compact enclosures in the form of the AX and KX series. According to managing director of Rittal South Africa, 
...
Read more...
---
New range of compact enclosures
April 2020, Rittal , Enclosures, Cabling & Connectors
After more than 50 years and 35 million enclosures sold, Rittal has introduced its small and compact enclosures in the form of the AX and KX series respectively. According to managing director of Rittal 
...
Read more...
---
SMC offers services as well as components
April 2020, SMC Corporation South Africa , Enclosures, Cabling & Connectors
Besides being a leading supplier of industrial automation components, SMC South Africa also offers value-added services. One of these is in-house control panel design and construction. This takes a labour 
...
Read more...
---
Enclosures with modular design
April 2020, Vepac Electronics , Enclosures, Cabling & Connectors
CamdenBoss CNMB DIN rail enclosures, feature a modular design. Terminal guards and top covers can be snap-fitted for a quick and simple assembly. PCBs can be placed into the DIN rail enclosure in five 
...
Read more...
---
Self-venting compressed air safety couplers
April 2020, Parker Hannifin - Sales Company South Africa , Enclosures, Cabling & Connectors
Motion control technologies specialist, Parker Hannifin, has introduced a new series of safety couplings for compressed air systems. The new KP series is an ergonomic push-button, self-venting coupler 
...
Read more...
---