printer friendly version
Industry first for pump testing laboratory
June 2021
Maintenance, Test & Measurement, Calibration
When a local fire pump test facility needed to eliminate human error from its test procedures, it contacted Instrotech for advice. Sales account manager, Tinus Ludik, recommended an Optris Xi80 infrared camera, which combines the benefits of infrared cameras and infrared thermometers, be installed to replace the existing handheld temperature 'gun' that was in use to monitor the temperature of the pumps under test.
Levey's PumpTest Lab (LPL), in Pretoria, measures the temperature of the fire pump units it tests and certifies them for a wide range of industries. "Recently, we conducted a test run of the fire pump set of an industrial fire sprinkler system, which typically runs for six hours," says MD, Francois Levey. "During the test, the unit's thermostat failed to open. This led to its overheating and catastrophic failure, with a resultant replacement cost of R200 000. On Instrotech's advice, we decided to purchase the Optris Xi80 thermal camera to prevent such incidents happening again in the future."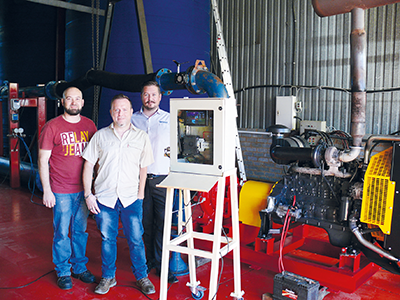 Francois Levey (left), Dewald Scholtz (centre) and Tinus Ludik attend a pump test.
While using the Xi80 and PIX Connect standard software for the temperature measurement, LPL realised that it needed even more features. Pieter Deysel, Instrotech MD, explains: "The possibilities and applications of Optris' Xi80's technology are virtually limitless. However, Optris is realistically not able to customise the unit for every specific customer application. And in this case, LPL wanted not only to measure temperature, but additional parameters like pressure and flow as well. In other words, LPL required a customised solution."
Enter Dewald Scholtz of Rhizoo Christos Technologies (RCT), who came in and utilised the Optris Software Development Kit, supplied with the Optris PIX Connect software, to develop software specifically to address the 'picture-in-picture' function LPL required. With an additional high-resolution camera, LPL can now access a custom-developed user interface and switch between the different live camera feeds, with customised probe placements, to see exactly how the pumps are performing.
Scholtz elaborates: "It is crucially important for any company that supplies sensors to provide some sort of interface for a custom solution, adaptable to a variety of industry and application needs. This enables solutions that satisfy the exact requirements of every client, which is exactly what was done for LPL."
In addition, RCT has written software for LPL's customers, giving them secure login access to see, in real-time, the performance of their pumps during their equipment's test run.
Credit(s)
Further reading:
Advances in pipeline leak detection
June 2021, KROHNE , Maintenance, Test & Measurement, Calibration
The high rate of false alarms in standard pipeline leak detection systems can force system operators to waste labour chasing down problems that do not exist. Fortunately, newer technology provides an alternative.
Read more...
---
The LinkIQ Cable+Network Tester
June 2021 , Maintenance, Test & Measurement, Calibration
With the launch of the LinkIQ Cable+Network Tester, users are now able to verify cable performance and solve network connectivity issues.
Read more...
---
Measuring viscosity made easy
June 2021 , Maintenance, Test & Measurement, Calibration
Condition monitoring specialists, WearCheck, recently launched a quick, cost-effective viscosity test kit known as the WearCheck Rheo-stick.
Read more...
---
Bypass level indicators
June 2021, Instrotech , Level Measurement & Control
Instrotech now offers Kobold's NBK level indicators for continuous measurement, display and monitoring of liquid levels in above or below-ground tanks.
Read more...
---
Kito hoists for safe and stable operation
June 2021 , Maintenance, Test & Measurement, Calibration
Becker Mining has secured an order for Kito electric and manual chain hoists and accessories, for a processing plant at a mine in the North West Province.
Read more...
---
Accurate power quality analysis
June 2021, Comtest , Maintenance, Test & Measurement, Calibration
Fluke range of three-phase power quality loggers gives users fast, easy access to the data they need to make critical power quality and energy decisions in real-time.
Read more...
---
Temperature calibration application note
June 2021, Comtest , Maintenance, Test & Measurement, Calibration
Here are a few tips and tricks from Fluke to help keep calibration going smoothly.
Read more...
---
Networked beer tanks delight both landlords and breweries
May 2021, Instrotech , Sensors & Transducers
Smart transmitters trigger automatic reorders when tanks levels run low.
Read more...
---
Extensive range of test instruments from RS Components
March 2021, RS Components SA , Maintenance, Test & Measurement, Calibration
The RS range includes digital multimeters, voltage/current calibrators, insulation testers, temperature calibrators, and voltage indicators.
Read more...
---
Battery powered digital temperature gauges
March 2021, Instrotech , Temperature Measurement
hese gauges offer a wide range of industrial and analytical possibilities for applications where high accuracy and clear indication are required.
Read more...
---