printer friendly version
Connect your pressure measurement
April 2021
Pressure Measurement & Control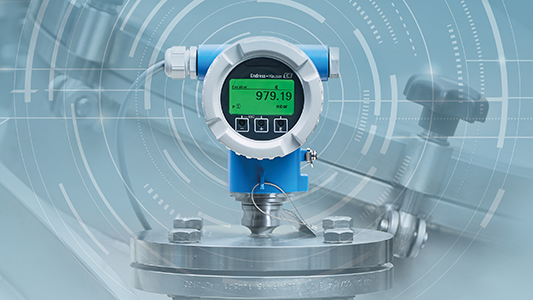 Endress+Hauser have launched the new Cerabar and Deltabar pressure transmitters. Thanks to their Bluetooth interface, they are easier to operate and more efficient to maintain in safety-critical systems. The high level of safety combined with enhanced productivity follows the company's smart safety approach to increase plant availability. Heartbeat Technology creates the basis for predictive maintenance and allows the devices' functionality to be verified without process interruption.
There are various reasons why ease of operation is a major advantage. Many industries are struggling with an increasing lack of qualified personnel. Major plant revisions often involve service providers whose personnel do not have a thorough knowledge of the equipment and systems on site. The amount of safety-related equipment has also increased significantly in recent years, for example, in the chemical industry, and with it the number of costly proof tests of the safety integrity level (SIL).
Easy operation increases productivity
To meet all these developments, Endress+Hauser has simplified the new Cerabar and Deltabar pressure measurement lines. This is reflected in the intuitive operation via the SmartBlue app, which includes guided operating sequences for parameterisation and commissioning of the pressure sensor. This is made possible by an additional Bluetooth interface, which bridges distances of up to 15 m, thus, even measuring points that are difficult to reach, or in hazardous areas, are easy to maintain, even if they are only integrated into the process via a 4–20 mA interface.
Personnel do not have to open the housing or connect a cable. Realtime data from the pressure transmitter is available at any time. The Bluetooth connection has a special protocol that meets the increased safety requirements in industrial applications. Tested by the Fraunhofer Institute, the interface is rated for its level of protection and protocol algorithm.
Unlock IIoT potential
The NAMUR roadmap Process-Sensors 4.0 names three key criteria for digital process sensors: wireless communication, sensor diagnosis and the provision of information about the sensor and the process. With the optionally available Bluetooth and Heartbeat Technology functions, the new Cerabar and Deltabar product lines meet these criteria.
For example, Heartbeat Technology supports maintenance staff in verifying their measuring points. This can be done via a Bluetooth connection and at the touch of a button with the SmartBlue app. The verification can be carried out in less than three minutes without process interruption. A verification protocol, which provides detailed information about all tests, is generated automatically. The basis for this is the continuous self-diagnostic function of the pressure transmitters. It achieves a diagnostic coverage rate of over 95%. With this information, it is possible to plan system revisions and maintenance work for measuring devices in advance and reduce downtimes. This significantly simplifies maintenance processes. Heartbeat Technology gives users the scope they need to optimise their production processes through data-based insights into the process.
Improve your process safety
Guided operating sequences support employees during the commissioning of measuring points and during SIL proof tests. They show the operator what to do, step by step. This prevents operating errors, so-called systematic errors, and increases safety. At the same time, these tasks can be completed a lot quicker, as there is no need to consult the safety manual.
The new Cerabar and Deltabar devices feature proven, reliable and robust sensor technology and a smart safety concept. This new pressure measurement technology features self-explanatory and efficient operating concepts that prevent systematic errors during device parameterisation. They maintain the high safety level of the system and at the same time reduce maintenance costs – during commissioning as well as repair.
Credit(s)
Further reading:
Pressure sensor for industrial applications
WIKA Instruments Pressure Measurement & Control
WIKA's model MTF-1 pressure sensor module is a simple and flexible option for integrating pressure measurement into a wide variety of applications.
Read more...
---
What does digitalisation mean for food product safety?
Endress+Hauser South Africa IT in Manufacturing
Product safety remains a vital topic for achieving food security across the globe. To date, many manufacturers still question whether digitalisation can help reduce the effort involved in process optimisation, production monitoring and system installation.
Read more...
---
Differential pressure transmitter with scalable measuring range
Vepac Electronics Pressure Measurement & Control
The Halstrup Walcher P 26 differential pressure transmitter is designed for pressure monitoring applications in cleanrooms, laboratories, pharmaceutical plants and operating theatres, as well as for special uses in machine and plant construction.
Read more...
---
IS interface for signal processing
Endress+Hauser South Africa IS & Ex
Endress+Hauser's RN series interface modules power the foundation of measurement instrument loops and safety instrumented systems.
Read more...
---
Digital transformation in mining
Endress+Hauser South Africa IT in Manufacturing
The mining industry is in a prime position to benefit from the adoption of digital technology across its operations.
Read more...
---
Electronic differential pressure transmitter
WIKA Instruments Pressure Measurement & Control
Differential pressure measurement using primary and secondary circuits offers several advantages over conventional differential pressure methods.
Read more...
---
Safe pressure monitoring for vaccine production
WIKA Instruments Pressure Measurement & Control
Since vaccines are injected directly into the body, safety and purity have the highest priority in production.
Read more...
---
Temperature profiling in hydro processing units
Endress+Hauser South Africa Temperature Measurement
Precise and reliable temperature mapping of densely packed reactor catalyst beds makes an essential contribution to stable and profitable unit operations.
Read more...
---
Correct choice of diaphragm seal for a pressure gauge or transmitter
SA Gauge Pressure Measurement & Control
This isolation is achieved by using a pressure-sensitive diaphragm made from a material resistant to the process medium and enclosed in a system fitted to the base of the instrument. The space between 
...
Read more...
---
Endress+Hauser integrates concentration measurement specialist
Endress+Hauser South Africa News
SensAction was founded in 2008 and has been part of the Endress+Hauser Group since 2017.
Read more...
---