printer friendly version
Optimising DeNOx plants with the in-situ gas analyser
February 2021
Analytical Instrumentation & Environmental Monitoring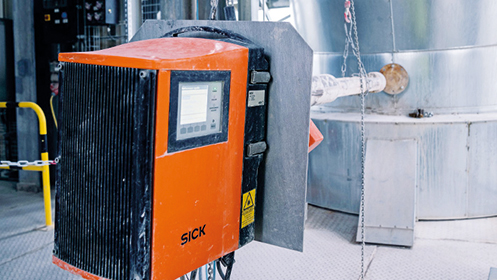 New environmental legislation and companies' self-imposed sustainability obligations have contributed to a marked increase in environmental awareness. This is especially so when it comes to the emission of hazardous substances and environmental pollution. Many industries are, therefore, taking steps to reduce or prevent these dangerous emissions. SICK Automation's innovative in-situ gas analyser, GM32, helps reduce emissions in DeNOx plants.
The analyser measures nitric oxide (NO), nitrogen dioxide (NO2), ammonia (NH3) and sulphur dioxide (SO2), as well as pressure and temperature, directly inside the plant's process gas stream. The analyser unit is equipped with a gas permeable probe, which is positioned inside the duct. The direct measurement enabled from this location facilitates a short response time, leading to fast measuring results.
The analyser is ideal for use with selective catalytic reduction (SCR) and selective non-catalytic reduction (SNCR), two of the accepted measures used to reduce NOx emissions.
Cement industry case study
To comply with local emission regulations, HeidelbergCement Group in southwestern Germany invested in an SCR plant to supplement its existing SNCR solution.
The main difference between the two technologies is the use of a catalyst. The SNCR is installed in the riser duct or calciner of the rotary kiln at temperature ranges of 900°C to 1000°C. The SCR, on the other hand, consists of a specific number of catalyst layers that operate at approximate temperatures of 300°C to 350°C. They can be placed in the high-dust raw gas stream or before the main stack in the low-dust gas stream.
The device would be placed at the SCR inlet between the ammonia water injection nozzles and the catalyst. The advantages of having the measuring location at the inlet is simultaneously measuring the NH3 and NO entering the SCR and, in this instance, NO from the combustion process can also be measured. To achieve sufficient SCR control, the analyser had to meet two requirements. It needed to have fast response times for efficient control of the ammonia water injection, and have extended maintenance-free intervals because of the challenging conditions in which it operates.
HeidelbergCement Group contacted SICK for a solution and the GM32, designed to cope with high dust, high temperatures and vibrations, was selected as the ideal solution. It was agreed that the analyser would be installed for a 12-month test period from March 2019 to March 2020.
The gas analyser and filter installed required checking, cleaning and maintenance only every nine to twelve months. Stack movements are possible due to higher temperatures and temperature fluctuations at the measuring station, and are compensated for with the analyser's auto alignment correction. This continuously aligns the light beam during operation to ensure stable, reliable measurement.
Compared to other measuring systems that require frequent test gas calibrations, the integrated filters for zero and span check automatically compensate drifts and ensure a correct and accurate measurement. This means less frequent test gas calibration and lower operational expenditure. Using the SICK Meeting Point Router remote service, onsite tests were conducted and a large amount of additional process data was collected and evaluated.
The test period proved that the analyser has a stable reaction time of less than 20 seconds without the need for cleaning or maintenance. The results show that with a delay of 2 to 17 minutes (depending on the measuring component) a continuous emission monitoring system alone is not sufficient for DeNOx process control.
The 12-month test was successful and, subsequently, another HeidelbergCement plant in Germany equipped its DeNOx system with two GM32 analysers for SCR control. The two devices were commissioned in June 2020.
How the GM32 works
Using the wavelength-specific light absorption by the gas mixture on the active measuring path, the sender/receiver unit determines the concentration of the gas components present. UV light sent from the sender/receiver unit passes the active measuring path of the GPP probe and is reflected by a triple reflector at the end of the probe.
The permeable filter element – the heart of the gas permeable probe – keeps all dust outside of the measuring path, while the gas permeates quickly through the pores, ensuring the required fast response time. The GM32 uses the DOAS (differential optical absorption spectroscopy) principle, where the absorption lines of specific gases in a particular wavelength range are evaluated.
With its GM32 in-situ gas analyser, SICK Automation has proven that companies in the cement industry can maintain a clean environment, effectively supporting climate protection.
For more information contact Grant Joyce, SICK Automation Southern Africa, +27 10 060 0558, grant.joyce@sickautomation.co.za, www.sickautomation.co.za
Credit(s)
Further reading:
Flexibility for disinfection measuring points
April 2021, Endress+Hauser South Africa , Analytical Instrumentation & Environmental Monitoring
Endress+Hauser's new modular Flowfit CYA27 flow assembly enables measurement of up to six parameters in process and drinking water.
Read more...
---
Alkylation processes in petroleum refineries
April 2021, Morton Controls , Analytical Instrumentation & Environmental Monitoring
The SensoTech LiquiSonic is an inline analytical system for determining the concentration of binary liquids directly in the production process.
Read more...
---
A safe and easy way to check water quality
March 2021, Endress+Hauser South Africa , Analytical Instrumentation & Environmental Monitoring
Ready-to-use water analysis panels from Endress+Hauser ensure water monitoring with minimum effort and maximum reliability.
Read more...
---
Automated berm monitoring system
March 2021, SICK Automation Southern Africa , Sensors & Transducers
SICK Automation's new berm monitoring system provides a truck-mounted solution that scans berms in real time.
Read more...
---
ABB urges adoption of high-efficiency motors to combat climate change
April 2021, ABB South Africa , Analytical Instrumentation & Environmental Monitoring, Electrical Power & Protection
Global electricity consumption could be reduced by 10%.
Read more...
---
3D machine vision for automated logistics
April 2021, SICK Automation Southern Africa , Sensors & Transducers
The central element of the solution is articulated robotics combined with the SICK Visionary-T 3D camera.
Read more...
---
SICK Automation introduces berm monitoring system
February 2021, SICK Automation Southern Africa , Maintenance, Test & Measurement, Calibration
The SICK Advanced Object Detection LiDAR System (AOS LiDAR) offers high reliability for outdoor applications.
Read more...
---
Legrand's Netatmo smart weather stations
November 2020, Legrand , Analytical Instrumentation & Environmental Monitoring
Legrand's Netatmo smart home weather stations are an easy and efficient way to understand and monitor a home's indoor and outdoor environment.
Read more...
---
Driver assistance for collision avoidance
January 2021, SICK Automation Southern Africa , IS & Ex
SICK Automation's Visionary-B CV 3D driver assistance system delivers real-time imagery with optical and acoustic warning signals.
Read more...
---
Gateway for industrial automation
November 2020, SICK Automation Southern Africa , Fieldbus & Industrial Networking
Sensor specialist company SICK recently announced its new SIG200 Profinet Sensor Integration Gateway. The product is the first of a new line of gateways created to work as both IO-Link masters and small 
...
Read more...
---