printer friendly version
Fibertex offers advanced solutions in filtration for a cleaner environment
November 2020
Pneumatics & Hydraulics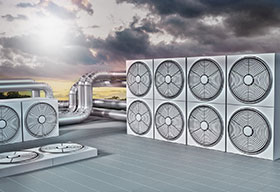 Fibertex Nonwovens, a leading manufacturer of a comprehensive range of nonwovens and performance-based materials used in diverse industries, has developed advanced filtration solutions that contribute to a cleaner environment.
"The global operation is committed to creating filtration solutions of tomorrow, today," explains Sefton Fripp, commercial executive, Fibertex South Africa. "Together with dedicated partners and customers, Fibertex is setting a new standard in filter media by challenging the way filtration is used and opening new avenues for a purer world. The local team works closely with customers to design filtration systems to suit exact requirements, by combining quality filter media, with the latest filtration technologies and advanced manufacturing processes.
"The global operation designs and manufactures a wide range of high-performance air and liquid filter media, including pleated, needlepunch, spunlace and thermally bonded filter media. These materials enhance filtration in diverse applications, including dust collection, gas turbines, heating, ventilation and air conditioning (HVAC), automotive, protective facemasks and liquid filtration."
Fibertex nonwoven materials, impregnated with activated carbon, are designed to absorb odours, smoke and liquids. This durable material, which ensures extended service life, is designed for clean handling and further processing of the media into filters. Typical applications of this durable material include air purifiers, HVAC, cabin air, cook hoods and fryers, packaging materials, vacuum cleaners and appliances and chemical protection suits, as well as facemasks and respirators.
Air filtration
Fibertex has developed advanced pleatable products for air filtration, based on in-house product nanofibers, which are combined with tailored nonwovens. The main benefits of nanofiber layers, being a purely mechanical filtration layer, are greater efficiency and durability during the lifetime of the product.
The Pleatex filter media range offers high-efficiency and a low pressure drop through pure mechanical filtration. Pleatex media does not lose efficiency due to electrical discharge in the presence of moisture and air pollutants, like electret meltblowns. Additionally, these filter products do not contain any harmful, small fibre shreds, as is the case with conventional fine glass fibre-based filtration products.
Pleatex filter media containing nanofibers can achieve filtration efficiencies up to High-Efficiency Particulate Air (HEPA) level 13, according to EN 1822 and ISO 35H, according to ISO 29463.
All products in this range conform with the latest ISO 16890 requirements and also adhere to the lowest energy consumption standards in ventilation systems.
In addition to Pleatex filter media, Fibertex manufactures a wide range of needlepunch, carded, thermally bonded and spunlace air filtration products.
Surface filtration products have been developed for many applications, including dust collection and air pollution control media for cartridges and bags, engine air intake media for heavy-duty vehicles, gas turbine inlet air media and dust collection appliances, like industrial vacuum cleaner media.
Depth filtration products are suitable for HVAC media, protective facemask and respirator media, cabin air and engine air intake media of passenger vehicles, as well as appliance media and HEPA filters.
Liquid filtration
The company's liquid filtration solutions encompass a full range of needlepunch filter media, with high flow capacity and good retention properties, from 1 micron to 200 microns.
Fibertex filter media is manufactured with FDA/EC compliant materials, for safe use in food applications and other critical functions.
Pleatable media is available with or without a nanofibre layer, on a pore size range from 0,8 micron to 100 microns. Fibertex nanofibers can be utilised in liquid filtration products and as separation media.
Typical applications for liquid filter media include industrial processes and oil filtration, chemical and ceramic filtration, industrial coolant oil filtration, food and beverage filtration, machine tool emulsion filtration, evaporation, swimming pools and spas, as well as EDM filtration and syringe filters.
For more information contact Fibertex, +27 31 736 7100, sefr@fibertex.com, www.fibertex.com
Further reading:
BMG's Hydraforce valves and solutions
April 2021, Bearing Man Group t/a BMG , Pneumatics & Hydraulics
BMG, distributors of the Hydraforce range of proportional valves in southern Africa, works closely with Hydraforce engineers and customers in diverse industries to design and manufacture customised hydraulic 
...
Read more...
---
Highly flexible pick and place with digitised pneumatics from Festo
February 2021, Festo South Africa , Pneumatics & Hydraulics
Motion Apps are revolutionising pneumatics by increasing flexibility, energy efficiency and accelerating production processes.
Read more...
---
An easier way to connect
February 2021, Hydrasales , Pneumatics & Hydraulics
Quick-release hydraulic couplings on agricultural equipment have enabled Faster Couplings to provide innovative solutions to meet this sector's needs.
Read more...
---
Protect machines with soft-start valves
February 2021, SMC Corporation South Africa , Pneumatics & Hydraulics
A slow increase in air pressure into a machine at startup helps facilitate a soft start of all downstream components.
Read more...
---
Gimatic expands product range with launch of vacuum product offering
January 2021 , Pneumatics & Hydraulics
New offering gives customers greater flexibility in designing optimal automation systems that aim to increase efficiency & productivity.
Read more...
---
Monitoring oil with the power of connectivity
November 2020, Hydrasales , Pneumatics & Hydraulics
The latest innovation in the MP Filtri range of condition monitoring products helps system engineers with the digitalisation of their monitoring processes. It identifies contaminants early in the service 
...
Read more...
---
Parker launches the icount LaserCM30
November 2020, Parker Hannifin - Sales Company South Africa , Pneumatics & Hydraulics
Next generation particle contamination monitor with test procedure in less than 90 seconds.
Read more...
---
SMC's energy efficient vacuum solutions
October 2020, SMC Corporation South Africa , Pneumatics & Hydraulics
SMC has placed great emphasis on the design of its vacuum range and helps its customers select the best vacuum system for their application.
Read more...
---
Rethinking pneumatic technology for the factories of the future
September 2020, Parker Hannifin - Sales Company South Africa , Pneumatics & Hydraulics
Does a technology such as pneumatics have a central role to play in the flexible, smart production lines of the factories of the future?
Read more...
---
Hydraulic hose installation and maintenance
September 2020, Bearing Man Group t/a BMG , Pneumatics & Hydraulics
BMG's portfolio of components includes the full range of Eaton Winner hydraulic braided and spiral hose and fittings.
Read more...
---