printer friendly version
When not just any battery will do
January 2021
Electrical Power & Protection
Only high-quality batteries from reputable suppliers should be used for security and other mission critical equipment, to avoid potentially costly failures. This is according to the director of one of the country's fastest growing battery distributors, Greg Pritchard from GSS Group, who adds that intermittent load shedding and other environmental factors can quickly damage batteries that are not specifically designed and manufactured for these applications.
Heavyweight battery
"One of the easiest ways to gauge the quality of a lead acid battery is its weight," explains Pritchard. "Lead is one of the most expensive components of a battery and is often where some manufacturers try to save. Our commonly sold 8 Ah battery, for example, is very heavy and has the required amount of lead to make it one of the most durable available. Beneath the skin are other design features that set these batteries apart, such as the type of acid used, layout and design.
"Unfortunately for the installer or layman, these facts are not commonly known and it usually falls to trial and error to figure out which batteries are better, last longer and are best able to handle mission critical applications under any power conditions. That is where our GSS batteries have performed excellently and is the reason for our company's rapid growth in the four years we have been trading.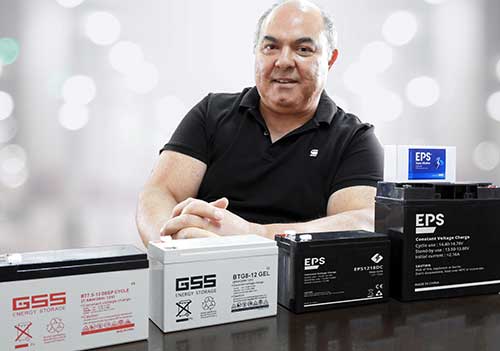 Greg Pritchard showing current and newly rebranded batteries.
"Our batteries have been specified, designed and built according to our own requirements, using knowledge based on thirty years of industry experience. We have applied the lessons learned and come up with a number of different types and sizes of batteries specifically for mission critical applications in South Africa."
Good reputation
He says there are a number of reasons why monitoring companies should use quality GSS batteries and why end users should insist on them. In security applications, a battery can mean the difference between life and death, while a failure in IT infrastructure can lead to data and telecommunication interruptions, or even the failure of instruments in manufacturing plants.
Faulty batteries also lead to false alarms and unnecessary call-outs which cost monitoring companies money, while an excessive number of false alarms can taint their reputations in the long run. What is more, the homebred GSS batteries are competitively priced and available online from the company's website, via delivery or direct from the company's premises in Benoni.
Pritchard has also worked for the country's leading security product suppliers and interfaced with all the major electronic installation companies, overseas manufacturers, technicians and end users. He is eager to share his knowledge and welcomes customers to work with him and his team to supply quality batteries and power products for their applications.
Growing range
GSS batteries are available in a range of sizes and types from 6 V/4,5 Ah used mainly in emergency lighting, 12 V/1,3 Ah and 2,4 Ah for garage automation, 12 V/4,5 Ah for uninterruptible power supplies, 12 V/7,2 Ah for gate automation, as well as 12 V/7,5 Ah deep-cycle batteries used mainly for solar, UPS and gate automation applications.
The company also has ranges of lithium polymer and lithium phosphate batteries, power supplies and transformers, as well as security communication cable, Cat5, Cat6 and control cable (EN0575, IEC60332-1 standards), and security products including detectors, beams and CCTV.
New name in batteries
One of the country's most sought after battery brands in security and other mission critical applications, GSS batteries, is changing its name to better reflect its outstanding features.
Manufactured for GSS Group in South Africa, the newly-branded EPS (Energy Power Storage) battery trade name has been adopted by the company and stands for quality and commitment to the local market. Pritchard says that due to the vast number of batteries stockpiled during lockdown and the sheer number of batteries sold on a monthly basis, the two brands may appear together on shelves for a while until stock is depleted.
"The reason for the name change is simply to separate the company from the brand and give a significant meaning to the name of our batteries," he concludes.
For more information contact Greg Pritchard, GSS Group, +27 10 140 7137, greg@gssgroup.co.za, www.gssgroup.co.za
Further reading:
UPS series with One Cable Technology
April 2021, Beckhoff Automation , Electrical Power & Protection
Beckhoff's new CU81xx UPS series is designed for universal use. Due above all to the flexible connection options extending up to One Cable Technology for uninterruptible power supply (UPS-OCT), the series 
...
Read more...
---
Flameproof switchgear for system protection
April 2021, Becker Mining South Africa , Electrical Power & Protection
Becker Mining South Africa's Energy Distribution division manufactures customised switchgear, designed for the efficient distribution of electrical power.
Read more...
---
Schneider Electric extends UPS range
April 2021, Schneider Electric South Africa , Electrical Power & Protection
Schneider Electric has announced the extension of Easy UPS 3L from 250 kVA to 600 kVA (400 V) with the addition of 250, 300, and 400 kVA UPSes for external batteries.
Read more...
---
Complete Beckhoff system for power supply, protection and energy monitoring
April 2021, Beckhoff Automation , Electrical Power & Protection
Transparent energy data solutions increase machine efficiency and open up optimisation potential.
Read more...
---
Schneider Electric redefines power distribution through digitalisation
March 2021, Schneider Electric South Africa , Electrical Power & Protection
Introducing MasterPact MTZ next generation low-voltage breaker with embedded Class 1 metering to save time and energy.
Read more...
---
Customised dry-type transformers from Trafo
March 2021 , Electrical Power & Protection
A focus on application engineering allows Trafo Power Solutions to supply customised dry-type transformers for a range of sectors including renewable energy.
Read more...
---
A tailored way to stay up to date
April 2021, Omniflex Remote Monitoring Specialists , News, Electrical Power & Protection
Remote monitoring specialist relaunches its highly anticipated newsletter.
Read more...
---
ABB urges adoption of high-efficiency motors to combat climate change
April 2021, ABB South Africa , Analytical Instrumentation & Environmental Monitoring, Electrical Power & Protection
Global electricity consumption could be reduced by 10%.
Read more...
---
#EnergyEfficiency – the buzzword for 2021
February 2021, Danfoss , Electrical Power & Protection
Danfoss Drives South Africa recently concluded a campaign of webinars, with energy efficiency as the main topic, in the mining energy and extraction sector.
Read more...
---
Compact universal DC power supplies
January 2021, Beckhoff Automation , Electrical Power & Protection
The three new PS power supply series from Beckhoff comprises 18 single-and three-phase DIN-rail mountable power supply units that are compact and supply output currents from 2,5 to 40 A.
Read more...
---