printer friendly version
Siemens Energy turbines generate low-emission power
November 2020
Electrical Power & Protection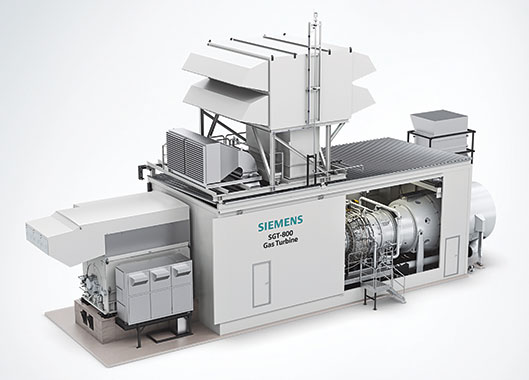 CCS JV (a joint venture between Saipem and McDermott) recently selected Siemens Energy to supply emissions-reducing power generation equipment and boil-off gas compressors for the Mozambique LNG Project in the Cabo Delgado province on Africa's east coast. The project, led by Total E&P; Mozambique Area 1, includes the development of offshore gas fields in Mozambique's Area 1 and a liquefaction plant with a capacity in excess of 12 million tons per year.
As part of the contract, Siemens Energy will supply six SGT-800 industrial gas turbines that will be used for low-emissions on-site power generation.
With more than eight million total fleet operating hours and more than 400 units sold, the SGT-800 turbine is ideally suited for power generation, particularly in LNG applications, where reliability and efficiency are critical. The 54 MW turbine rating selected for this project has a gross efficiency of 39 percent. It is equipped with a robust, dry low-emission (DLE) combustion system that enables world-class emission performance over a wide load range.
"Mozambique LNG is the country's first onshore LNG development project and will play a key role in meeting the increasing demand for energy in the Asia-Pacific, Middle East, and Indian sub-continent markets," said Thorbjoern Fors, executive vice president for Siemens Energy Industrial Applications. "We look forward to helping Total drive toward the lowest possible plant emissions profile and contributing to its goal of delivering clean, reliable energy to customers across the globe."
Siemens Energy will also supply four centrifugal compressors for boil-off gas service. A key feature of these compressors is the inlet guide vane (IGV) system that allows for optimisation of power consumption according to changes in operational parameters such as inlet temperature and outlet pressure. The gas turbines are slated for delivery in the second half of 2021 and the first half of 2022. The delivery of the compressors is scheduled for 2021.
The equipment order for the Mozambique LNG project comes on the heels of a recent agreement between Total and Siemens Energy to advance new concepts for low-emissions LNG production. As part of the contract, Siemens Energy is conducting studies to explore a variety of possible liquefaction and power generation plant designs, with the goal of decarbonising LNG facility development and operation.
For more information contact Sarita Gouws, Siemens Energy, +27 82 469 9160, sarita.gouws@siemens.com, www.siemens-energy.com
Further reading:
Simple acquisition of energy consumption values
November 2020, Phoenix Contact , Electrical Power & Protection
By developing the new components of the EMpro product family, Phoenix Contact has found a solution that satisfies most energy data gathering applications.
Read more...
---
Maintaining battery backup systems
November 2020, Comtest , Electrical Power & Protection
Standby battery backup systems play a critical role in keeping essential operations functional in the event of a utility outage.
Read more...
---
Electrical loggers for energy savings
October 2020, Comtest , Electrical Power & Protection
Fluke energy loggers deliver a complete picture to reduce energy costs and improve the bottom line.
Read more...
---
Power supply components and services for marine applications
October 2020 , Electrical Power & Protection
Vert Energy works closely with the marine and offshore sector offering the supply of quality branded components and the support of a comprehensive repair and maintenance service.
Read more...
---
Mines reduce fire hazards
August 2020 , Electrical Power & Protection
Underground mines in southern, central, and west Africa have been seeing the safety benefits of dry-type transformers from Johannesburg-based Trafo Power Solutions. According to managing director 
...
Read more...
---
RS Components stocks Eaton contactors
August 2020, RS Components SA , Electrical Power & Protection
RS Components now stocks Eaton's complete Moeller series of compact DILMT contactors. Easy to integrate in a variety of industrial machines and systems, the contactors enable space savings of up to 40%, 
...
Read more...
---
Power supplies for building automation
June 2020, Phoenix Contact , Electrical Power & Protection
The new Step Power power supplies from Phoenix Contact are specifically tailored to the needs of modern building automation. With their comprehensive approval package, which includes the standard 
...
Read more...
---
Skid-mounted dry-type transformer
June 2020 , Electrical Power & Protection
In a specialised application on a coal mine, Trafo Power Solutions recently supplied a dry-type transformer mounted on a mobile skid. "The harsh environment of a coal mine required us to specially 
...
Read more...
---
Customised transformers for renewables and beyond
June 2020 , Electrical Power & Protection
A focus on application engineering allows Trafo Power Solutions to supply customised dry-type transformers for a range of sectors including renewable energy. "We begin at the proposal stage by engaging 
...
Read more...
---
Electrical certificate of compliance (COC) for instrumentation: non-hazardous installations
June 2020, Everest Equipment & Control , Electrical Power & Protection
An instrument and control installation's scope of work often never makes a request for a certificate of compliance: it is assumed to be an electrical function and hence many installations are non-compliant. 
...
Read more...
---