printer friendly version
PC-based control reduces complexity in folio applications
October 2020
System Integration & Control Systems Design
When converting paper and cardboard rolls to sheets in various formats, high demands are placed on sheet and stack quality. BW Papersystems relied on PC-based control for the development of the eCon folio-size sheeter. This has greatly reduced costs compared to the legacy system and increased simplicity from commissioning to operation. The resulting machine meets the requirements of smaller end-user companies in the printing and packaging industry.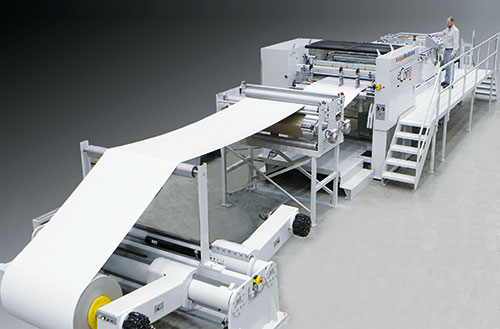 Image copyright: BW Papersystems, USA.
With more than 50 years of experience as a provider of paper, paperboard and cardboard cutting and packaging machinery, BW Papersystems maintains its global headquarters in Phillips, Wisconsin, with additional manufacturing plants in Germany, Italy, Hungary and China. The company's folio sheeter systems are used for converting massive reels of paper and paperboard at high speed to folio-size sheets. In order to enable trouble-free processing in downstream printing and packaging applications, various prerequisites must be fulfilled. "A key feature of our products is sheet and stack quality," says Jeff Gafner, senior vice president of engineering and service for BW Papersystems. "These criteria include edge quality and minimal dust and debris, which lead to more downtime due to frequent printer cleaning. Dimensional consistency and stack quality permit the highest possible feed rates with minimal jamming."
Apart from that, BW Papersystems had an aggressive goal when designing the eCon folio sheeter: The machine needed to cost 50% less than the legacy system it would replace. This way it could meet the requirements of companies with a smaller investment budget in the highly competitive printing and paper industry. "The intention of this US-built machine was to provide industry-leading sheet and stack quality at a price that's competitive with imported machines," explains Gafner.
Simplicity in application and support
Apart from meeting the cost reduction goals with Beckhoff technology, it was also important to create a design that showcased innovation and simplicity. According to Erik Paulson, project engineer for BW Papersystems: "Simplicity in terms of electrical design includes connectivity between the different components and the eventual replacement of components in the field. It also includes the ease of machine startup, such as downloading drive parameters once drives have been installed or replaced."
The concern for simplicity also extended to simple user interfaces. It was realised with the intuitive Beckhoff CP2907 multi-touch control panel displaying the HTML5-capable HMI, which supports remote access to the TwinCAT control system of the eCon Sheeter. In this way, even smaller companies are able to troubleshoot equipment on site and can avoid costly downtime, without service engineers having to travel to the factory. In addition, TwinCAT 3 automation software not only supports remote access, but also includes indispensable diagnostic tools, including Scope View. "We have the ability to monitor a multitude of signals, even in the 250-microsecond range, and display them using TwinCAT Scope View," Paulson says. "We use Scope View frequently to troubleshoot problems or simply to tune the system, and I believe it is one of the biggest selling points of the TwinCAT software platform."
From running the PLC to handling motion control and the HMI, a CX2020 embedded PC automates the entire machine. According to BW Papersystems, this is a great improvement from previous machines that required hardware PLCs for each function.
The EtherCAT terminal system from Beckhoff proved to be a great space saver, and EtherCAT enabled the system to communicate in real time and provide extremely fast servo loops. TwinSAFE terminals integrated throughout the system architecture allow the eCon machine to operate large rollers and high-speed cutters and ensure functional safety by monitoring all hazard points.
Cutting cost and cabinet size in half
Compact EtherCAT I/O helped reduce the control cabinet size by 50% for some units and closer to 70% for others. The space-saving CX2020 embedded PC also allows the machine to run a 30 000-line count encoder, which is a functional improvement over the legacy system. Combined with high-performance EtherCAT servo drives, TwinSAFE technology and the intuitive multi-touch HMI, the end result offers simplicity without sacrificing innovation for end users. On top of that, the eCon Sheeter also simplifies commissioning by reducing installation times by 65%.
For more information contact Dane Potter, Beckhoff Automation, +27 79 493 2288, danep@beckhoff.com, www.beckhoff.co.za
Credit(s)
Further reading:
SCiBOTRON's quality culture the key to success
May 2020 , System Integration & Control Systems Design
The company was founded on lean principles and quickly grew into a QSE (Qualifying Small Enterprise). Ricardo Paddy, managing director and founding member, attributes one of the reasons for the company's 
...
Read more...
---
Portion cutter for fish and poultry
November 2020, Beckhoff Automation , System Integration & Control Systems Design
Extremely fast and highly precise meat portion cutter leverages PC control.
Read more...
---
Omniflex enables mine water quality
October 2020, Omniflex Remote Monitoring Specialists , System Integration & Control Systems Design
Water licences carry a 'Burden of Proof' that the licence holder will not harm the environment or the water system through its activities. This covers the use of water from the system and the responsible 
...
Read more...
---
Safe and efficient water and wastewater treatment
October 2020, Endress+Hauser South Africa , System Integration & Control Systems Design
Depending on the application and the industry, water needs to have different properties to ensure the quality of finished products and the overall safety of production.
Read more...
---
PC-based control monitors road tunnel with flexible scalability
October 2020, Beckhoff Automation , System Integration & Control Systems Design
With more than 200 industrial PCs in operation, the Kaisermühlen Tunnel in Vienna shows that scalable PC-based control technology from Beckhoff is an optimum automation platform in this environment.
Read more...
---
Improved production capacity and efficiency
September 2020, Omron Electronics , System Integration & Control Systems Design
BOLÇİ Bolu Chocolate (Bolci) was formed in 1992. It now has over 300 employees and produces over 800 different products. The company produces over 200 tons of chocolate items each month in a factory that 
...
Read more...
---
Modular towel production lines
September 2020, Beckhoff Automation , Motion Control & Drives
Rapid development and configuration of manufacturing systems for terrycloth towels with PC-based control.
Read more...
---
Open Beckhoff technology sets adoption record
September 2020, Beckhoff Automation , News
Now, with 3000 officially registered device manufacturers, EtherCAT has the broadest base of adoption in the industrial Ethernet market.
Read more...
---
EtherCAT I/O for conveyor control
September 2020, Beckhoff Automation , System Integration & Control Systems Design
Integrated compact motor controller reduces cabling effort and increases diagnostic capabilities for roller conveyor systems.
Read more...
---
Robots could solve the social distancing problem
September 2020 , System Integration & Control Systems Design
While South Africa has seen a significant uptake in robotic technology, there are signs it will grow in the years to come as businesses make provision for these types of advancements.
Read more...
---